Waldo, Jonathan (fl. 1774-1779) to William Knox
High-resolution images are available to schools and libraries via subscription to American History, 1493-1943. Check to see if your school or library already has a subscription. Or click here for more information. You may also order a pdf of the image from us here.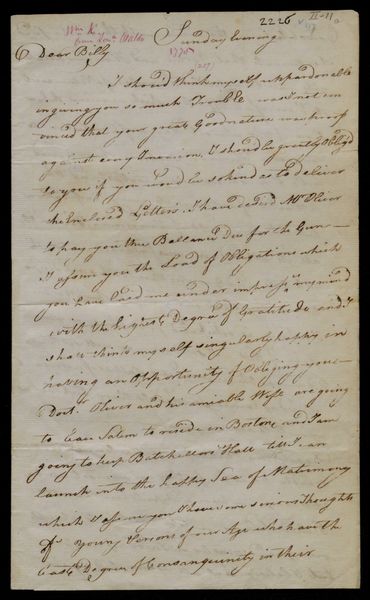 A high-resolution version of this object is available for registered users. LOG IN
Gilder Lehrman Collection #: GLC02437.00230 Author/Creator: Waldo, Jonathan (fl. 1774-1779) Place Written: Salem, Massachusetts Type: Autograph letter signed Date: 1775 Pagination: 3p.+docket. 30.6 cm. x 18.4 cm.
Thanks Knox for so often obliging him. Reports that Mr. Oliver, possibly Andrew Oliver, will pay Knox for the gun he got for Waldo (see GLC02437.00190 and GLC02437.00194). Assures him that Knox's requests are foremost on his mind. Expresses his desire to get married, placed in the context of a discussion on human nature. Reports that tories in Salem are "scar'd to Death" and leaving the area. Has heard that British soldiers will soon come to attempt to "intercept our Grand muster" but doubts that General Gage could ever "hinder their mutiny." Expresses that he would not like to see Salem turned into a bloody battle ground, but ultimately places political salvation in the hands of providence. Promises an account of the activity after it occurs.
[draft]
"…I have desird Mr Oliver to pay you the Ballance Due for the Gun … [2] Dear Billy I believe our Salem Tories are all scar'd to Death, for they are allmost all decamping, we have a Report here that 500 Picked Soldiers are to be sent here to intercept our Grandmaster on Tuesday next but I believe that all General Gage's [3] united Force would not hinder their meeting. I shou[l]d however be exceeding sorry to have Salem's Loyal fair happy Town the fatal Bloody scene of Action - To the unremediable Dictates of unerring Fate with Patience we must all submit, and leave to the Goodness of Indulgent Providence to work out our Political Salvation, which I believe will be with Fear and trembling …"