Jamison, David (fl. 1691-1717) to Robert Livingston re: report from trial of William Kidd
High-resolution images are available to schools and libraries via subscription to American History, 1493-1943. Check to see if your school or library already has a subscription. Or click here for more information. You may also order a pdf of the image from us here.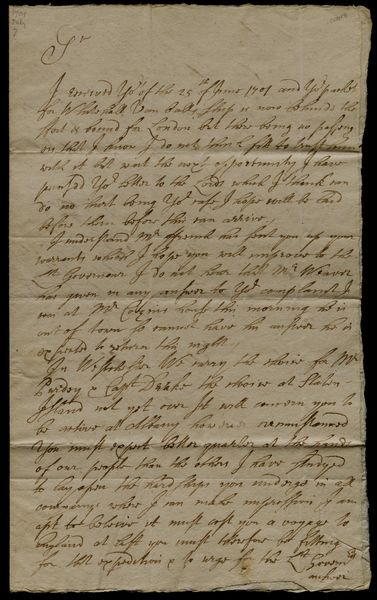 A high-resolution version of this object is available for registered users. LOG IN
Gilder Lehrman Collection #: GLC03107.00618 Author/Creator: Jamison, David (fl. 1691-1717) Place Written: New York, New York Type: Autograph letter signed Date: 1701/07/07 Pagination: 2 p. + addr. 30.6 x 18.9 cm
Summary of Content: Jamison writes discussing Livingston's difficulties with the Provincial Council, and forwards the false rumor that Kidd "has stood tryall & is acquitted." Docketed on address leaf.
Full Transcript: Sr
I [ress'eved] Yors of the 25th of June 1701 and Yor packet for White hall Van balls ship is now [behinds the effort] & bound for London but [their being] no ...passing on that I know I do not think fitt to trust him with it but want the next opportunity I have [pointed] Yor letter to His Lords whish I think can do no hurt being Yor case I hope will be laid before them before this can arriv.,
I understand Mr Hermeh has sent you up your warrants which I hope you will improve to the Lt Governour I do not hear that Mr Weaver has given me any answer to Yor complant I was at Mr Cozins house this morning he is out of town so cannot have his answer he is [expected] to return this night.
In Westchester We carry the [whos is] for Mr Purdoy & Capt Drake the [whos is] at Statin Island not yet [our set will concern] you to be [active] at Albany however [circumstanced] You must expect better [quarter] at the hands of our [people] than the others I have [studyed] to lay open the hard ships you undergo in all companys where I [can] make impression. I am apt to believe it must cost you a voyage to England at [last] you must [therefore] but filling for that expedition & to [urge] for the Lt [Governer's] answer
[2] A sloop from Antigo yesterday brings a report that Kid has stood tryall & is acquitted a vessell from England arrived in that Island two days before [she said this] it may be true. Give my favour to the [illegible] & tell him that Mr Cosins has an order for [illegible] to the books of [Patents] to make an abstract of the [quvillents] which Mr Sherpas did acquaint me with & he is advised not to part with the books out of the Office without [strikeout] [inserted: his] order this gave Mr Cosins [illegible] who [cared] not to wish it in the [illegible] Office his thought We should cary the [swason] on Statin Island - my farvir to Yor Lady & family I shall dispatch you probably next safe conveyance

Newyork Yor humble Servant
July 7th 1701
David Jamison

[address]
To Robt Livingson Esq
of His Maties Honble Councill
for the Provence of Newyork
Albany

[docket]
rec 13 July 1701
Daivd Jamisons Att
to me
See More
People:
Historical Era: Colonization and Settlement, 1585-1763
Subjects: PrivateeringPiratesLawMaritimeGovernment and Civics
Sub Era: