Washington, George (1732-1799) to John Francis Mercer
High-resolution images are available to schools and libraries via subscription to American History, 1493-1943. Check to see if your school or library already has a subscription. Or click here for more information. You may also order a pdf of the image from us here.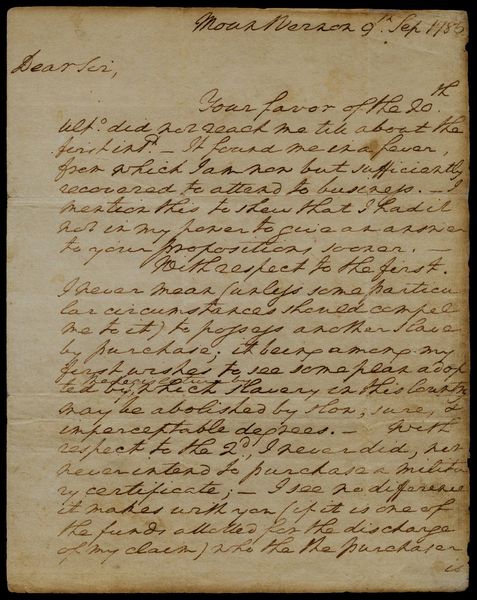 A high-resolution version of this object is available for registered users. LOG IN
Gilder Lehrman Collection #: GLC03705 Author/Creator: Washington, George (1732-1799) Place Written: Mount Vernon, Virginia Type: Autograph letter signed Date: 9 September 1786 Pagination: 3 p. : docket ; 22.8 x 18.2 cm.
Summary of Content: Washington replies to a letter from Mercer, noting that he would have replied sooner, but he had a fever. Expresses his plan to never purchase another slave, and his wish that slavery be abolished by "slow, sure & imperceptible degrees." Discusses financial matters, mentioning a debt he owes Governor George Clinton of New York, which was supposed to have been repaid within twelve months of "the Peace" (1783). For what remains of the loan, Washington is paying seven percent interest. Mentions another, higher debt he owes to an unspecified individual, and that repayment of this loan may be postponed.
Background Information: Mercer served in the Revolutionary War and was a member of Continental Congress. He attended the Constitutional Convention, served in various state political posts (for Virginia and then Maryland), and ...was Governor of Maryland 1801-1803.
In this brief note, written at a time when he owned some 277 slaves, George Washington expresses his hopes for the gradual abolition of slavery. This letter not only reveals Washington's principles and distaste for slavery, but also an outlook shared by many of the founders, including many from the upper South. Many of the new nation's leaders desperately wanted to find gradualistic solutions to America's deepest-rooted problem. In his will, Washington provided for the emancipation of his slaves following his wife's death.
Signer of the U.S. Constitution.See More
Full Transcript: Mount Vernon 9th. Sep 1786
Dear Sir,
Your favor of the 20th. ulto. did not reach me till about the first inst. - It found me in a fever, from which ...I am now but sufficiently recovered to attend to business. - I mention this to shew that I had it not in my power to give an answer to your propositions sooner. -
With respect to the first. I never mean (unless some particular circumstances should compel me to it) to possess another slave by purchase; it being among my first wishes to see some plan adopted by, [inserted: The Legislature by] which slavery in this Country may be abolished by slow, sure, & imperceptable degrees. - With respect to the 2d., I never did, nor never intend to purchase a military certificate; - I see no difference it makes with you (if it is one of the funds allotted for the discharge of my claim) who the the purchaser is [2] is. - If the depreciation is 3 for 1 only, you will have it in your power whilst you are at the receipt of Custom - Richmond - where it is said the great regulator of this business (Greaves) resides, to convert them into specie at that rate. - If the difference is more, there would be no propriety, if I inclined to deal in them at all, in my taking them at that exchange.
I shall rely on your promise of Two hundred pounds in five Weeks from the date of your letter. - It will enable me to pay the work men which have been employed abt. this house all the Spring & Summer, (some of whom are here still). - But there are two debts which press hard upon me. One of which, if there is no other resource, I must sell land or negroes to discharge. - It is owing to Govr. Clinton of New York, who was so obliging as to borrow, & become my security for £2500 to answer some calls of mine. - This sum was to be returned in twelve [3] twelve months from the conclusion of the Peace. - For the remains of it [struck: this sum], about Eight hundred pounds york Cy. I am now paying an interest of Seven prCt.; but the high interest (tho' more than any estate can bear) I should not regard, if my credit was not at stake to comply with the conditions of the loan. - The other debt tho' I know the person to whom it is due wants it, and I am equally anxious to pay it, might be put of a while longer. - This sum is larger than the other
I am. Dr Sir
Yr. Most Obedt. Hble Sert
Go: Washington
Jno. Francs. Mercer Esqr.
[docket]
Washington George.
Sep. 9. 1786See More
People: Washington, George, 1732-1799
Mercer, John Francis, 1759-1821
Clinton, George, 1739-1812

Historical Era: The New Nation, 1783-1815
Subjects: PresidentHealth and MedicalSlaverySlave SaleAfrican American HistoryAbolitionMount VernonFinanceDebtRevolutionary WarTreatyPeaceAfrican American History
Sub Era: Creating a New Government