Brunt, William (fl. 1863-1865) to Martha Weir
High-resolution images are available to schools and libraries via subscription to American History, 1493-1943. Check to see if your school or library already has a subscription. Or click here for more information. You may also order a pdf of the image from us here.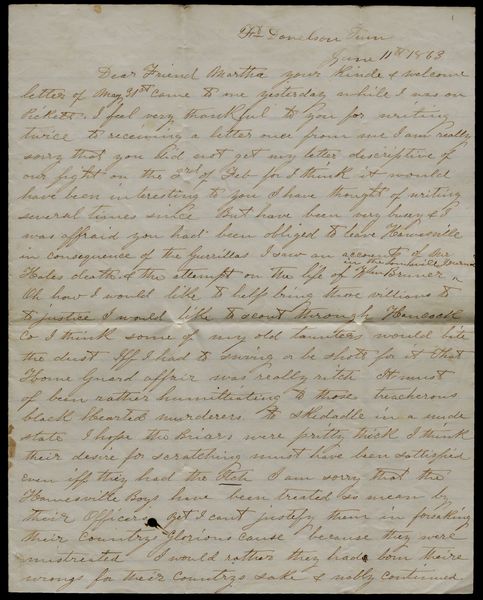 A high-resolution version of this object is available for registered users. LOG IN
Gilder Lehrman Collection #: GLC07006.01 Author/Creator: Brunt, William (fl. 1863-1865) Place Written: Fort Donelson, Tennessee Type: Autograph letter signed Date: 11 June 1863 Pagination: 4 p. : envelope ; 24.5 x 19.5 cm.
Summary of Content: Writes to Martha about his contempt for deserters from his home town, the Hawesville Boys, who "have been treated so mean by their Officers yet I can't justify them in forsaking their Countrys Glorious cause because they were mistreated." Expresses his own pride at being a soldier. Discusses the respect between officers and soldiers in his company: "There is a strong warm attachment between Officers & men & a mutual pride in each class for the other." Sends news about the health of his own family and asks after Martha and her family; has sent Martha a flag and writes that it is "in my Estimation, truly worthy of the historians penn Preserve it Martha it is truly a rellic." William's wife, Olive, has recently visited him at his camp.
Background Information: William Brunt was, at the start of the correspondence, a soldier in the 83rd Regiment, Ft. Donelson, Tennessee. He was later made Captain of Company Division 16th Colored Infantry. Brunt's ...wife, Olive, and his two children virtually accompanied him to war, living in the nearby camps while Brunt was on the battlefield. William and Olive had lived in Kentucky prior to the war, but were disliked for their strong support of Union politics. By 1864, Olive was helping to run a contraband camp with Brunt, but by 1865 the two had divorced after Olive was unfaithful to William. Brunt retained custody of their two children and, despite the emotional strain which came from marriage of one and the death of the other, remained devoted as a soldier and anti-slavery advocate.See More
People: Brunt, William, fl. 1863-1865
Weir, Martha, fl. 1863-1865

Historical Era: Civil War and Reconstruction, 1861-1877
Subjects: African American TroopsAfrican American HistoryCivil WarMilitary HistorySoldier's LetterUnion Soldier's LetterUnion ForcesDesertionAmerican FlagWomen's HistoryMilitary CampChildren and Family
Sub Era: The American Civil War