Meet the 2019 Gilder Lehrman History Scholars
Posted by Gilder Lehrman Staff on Friday, 06/07/2019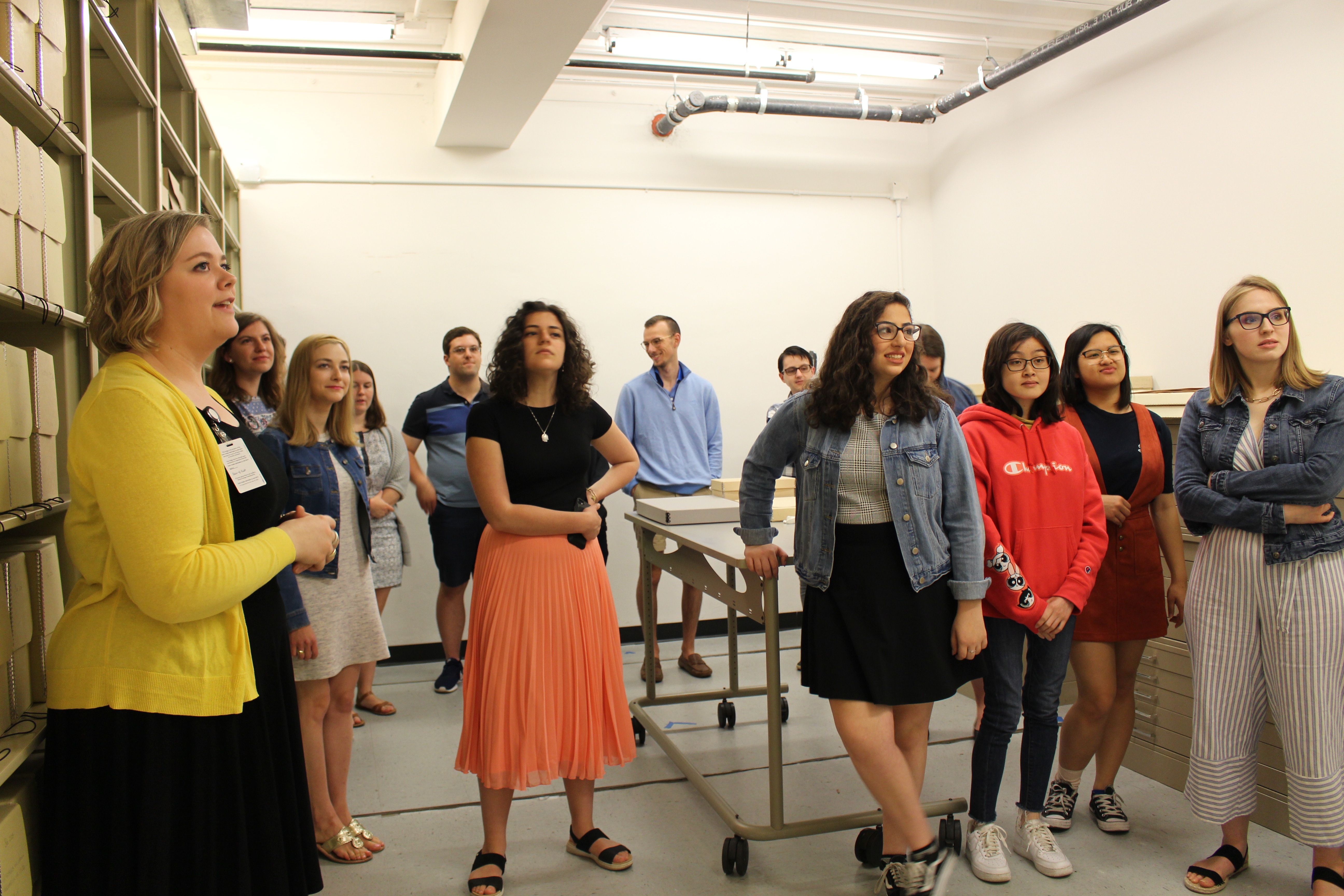 Since 2012, the Gilder Lehrman Institute has recognized up to fifteen outstanding college students for excellence in American history or American studies as well as commitment to public service, leadership, and community involvement as Gilder Lehrman History Scholars.
The Scholars come to New York City to participate in a program of special presentations, including meetings with eminent scholars. They experience an exclusive behind-the-scenes tour of a unique archive of primary sources and receive the Gilder Lehrman History Scholar Award at a celebratory dinner.
Meet the 2019 Gilder Lehrman History Scholars
Jacob Andersen
Brigham Young University, Class of 2020
Jacob Andersen is a senior at Brigham Young University. His historical interests include labor, social movements, and radicalism in US history. Outside history, his interests include reading fantasy and Latin poetry, and watching baseball. He plans to apply to graduate school this fall.
Aya Beydoun
Wayne State University, Class of 2020
Aya Beydoun is a senior at Wayne State University studying history with a focus in global campaigns for human rights and the development of women's roles in society. She is a member of the Honors College at her school and was recently admitted into Phi Alpha Theta (the history honor society). Aya hopes to move on to law school where she will get a dual JD/master's in legal history and eventually become a civil rights attorney.
Catherine Devlin
Boston University, Class of 2022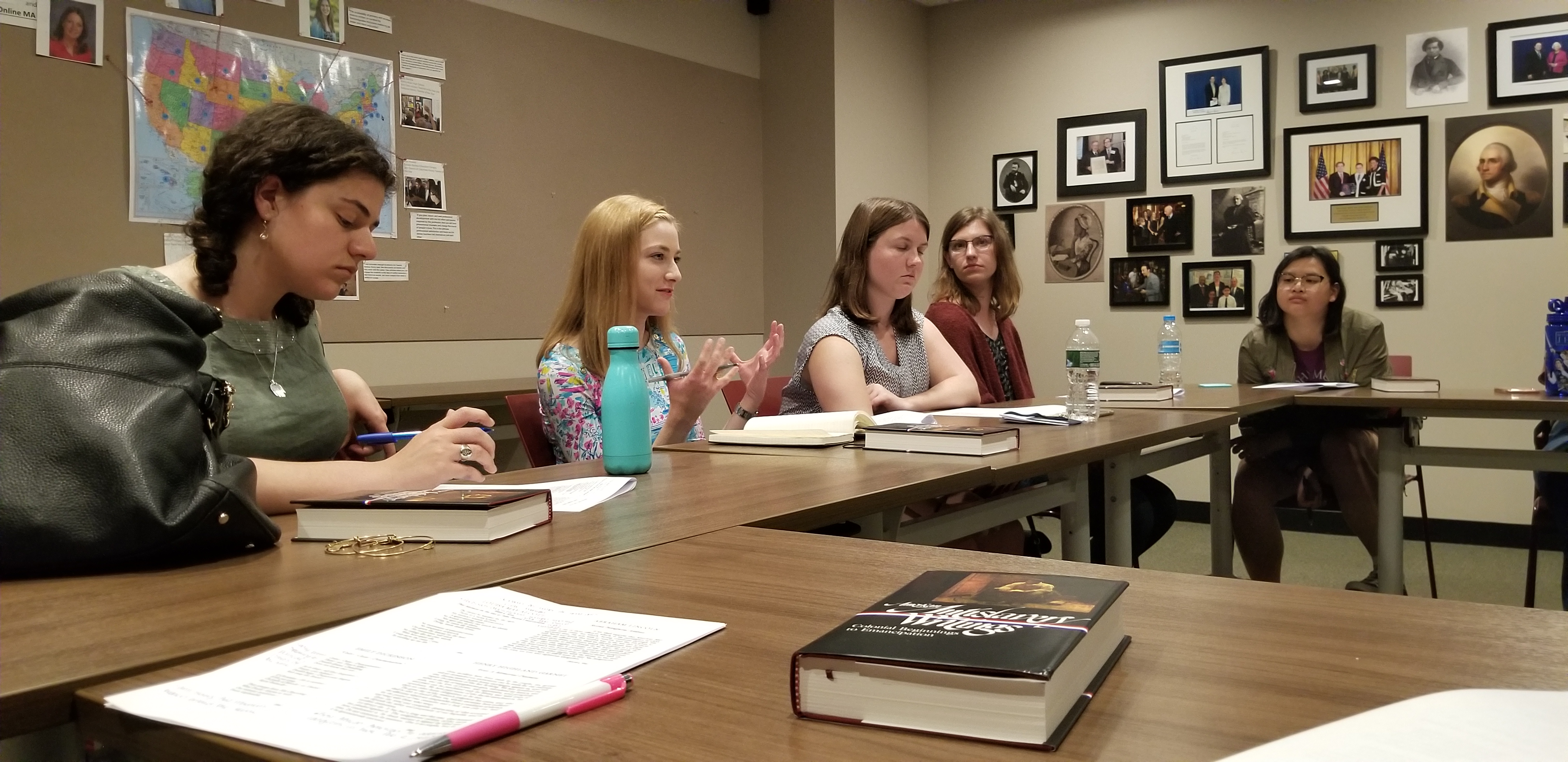 Catherine Devlin is a freshman at Boston University. She is majoring in history and intends to concentrate in American history. At BU she is a member of Phi Alpha Theta and Kilachand Honors College. During the past academic year, she worked as a documentary researcher for a film project sponsored by a national NGO and a global media company. She was also the recipient of a grant funded by her university to pursue independent research on historical trends in medical home care for veterans. Over the summer, she will be working as an intern at Albacore Park. She is both honored and excited to be a Gilder Lehrman Scholar.
Emily Gruber
Columbia University, Class of 2019
Emily Gruber is a member of the Columbia University Class of 2019. Inducted into Junior Phi Beta Kappa this past winter, Emily majored in history (specializing in American political history) and concentrated in classics. She spent her junior fall at the University of Oxford as a Columbia College Oxbridge Scholar, where she was selected for Oxford Union Committee. Emily received Columbia's Chanler Historical Prize for her History Department senior thesis, "'Knowledge, for what?' Seth Low and Governance of Brooklyn, Columbia University and New York City (1881-1903)." She is also the recipient of Columbia University's Robert Lincoln Carey Memorial Prize and Departmental Honors from the History Department. At Columbia, Emily served as co-chair of seniors for the Columbia College Fund, philanthropy chair of the Columbia College Student Ambassadors, and vice president and political writing fellowship founder of the Columbia Political Union. Emily has appreciated opportunities to support public service initiatives on the local and federal levels through internships with the US Department of Justice's Civil Rights Division, the Office of the New York State Attorney General, Columbia Law School, and the Gracie Mansion Conservancy. Emily is deeply honored to receive the History Scholar Award from the Gilder Lehrman Institute of American History.
Adam Hines
University of Oklahoma, Class of 2019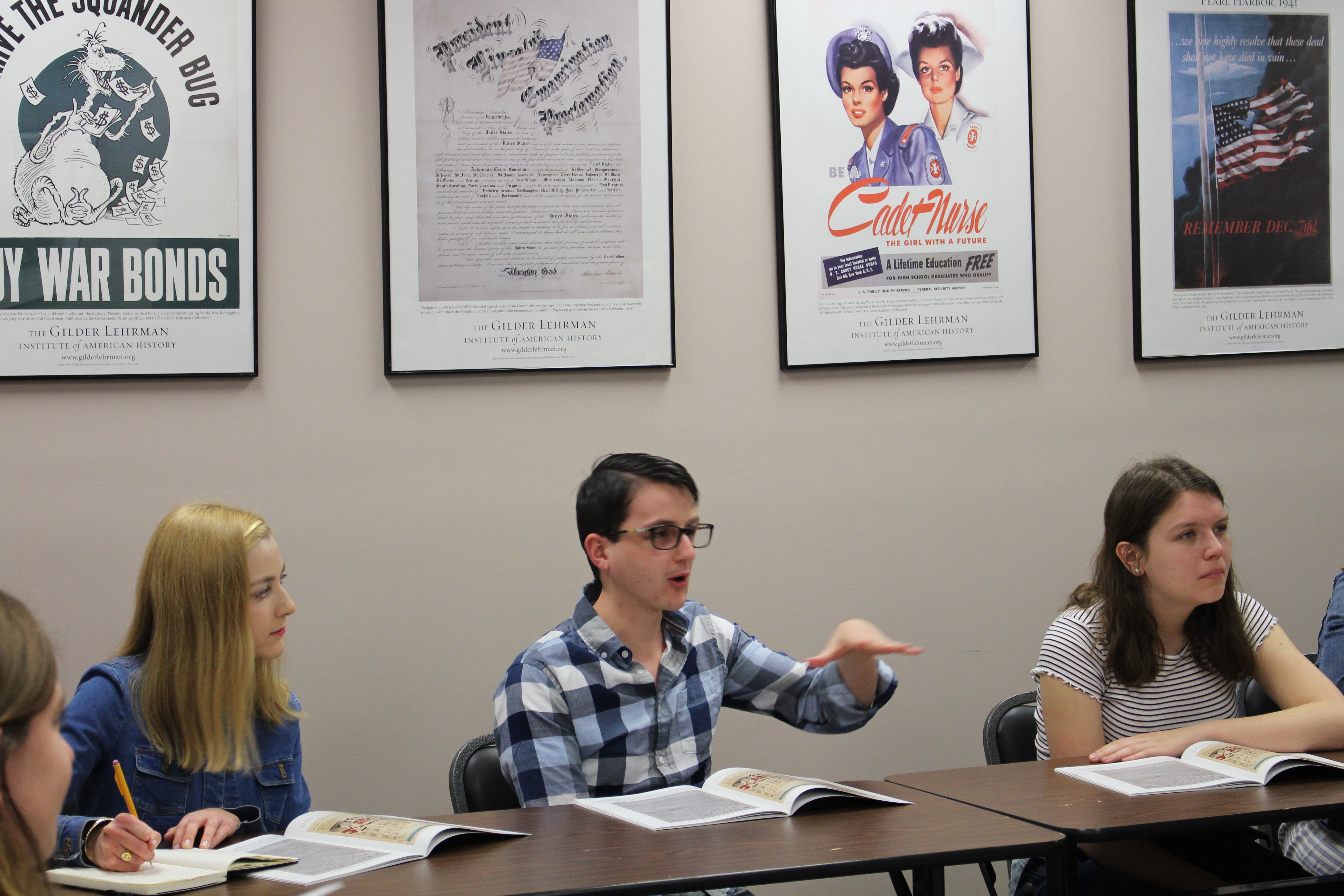 This summer, Adam Hines will receive his bachelor's degree from the University of Oklahoma in letters and constitutional studies. He plans to attend law school starting in fall 2020 before returning to Oklahoma to practice non-profit public interest law. His love for American history grew out of his exposure to American literature and legal history as an undergraduate.
Andrew Juchno
Hamilton College, Class of 2019
Andrew Juchno is currently a graduating senior at Hamilton College, where he is a government major and undergraduate fellow at the Alexander Hamilton Institute. Currently, he is writing his honors thesis on the different meanings of equality in early republican Virginia, a project he began while earning a certificate in early American history at the College of William and Mary in his junior year. In the fall, he is matriculating at Yale to pursue an MA concentrating on the history of Christianity. Andrew is originally from Paxton, Massachusetts.
Christina Klein
University of Toledo, Class of 2019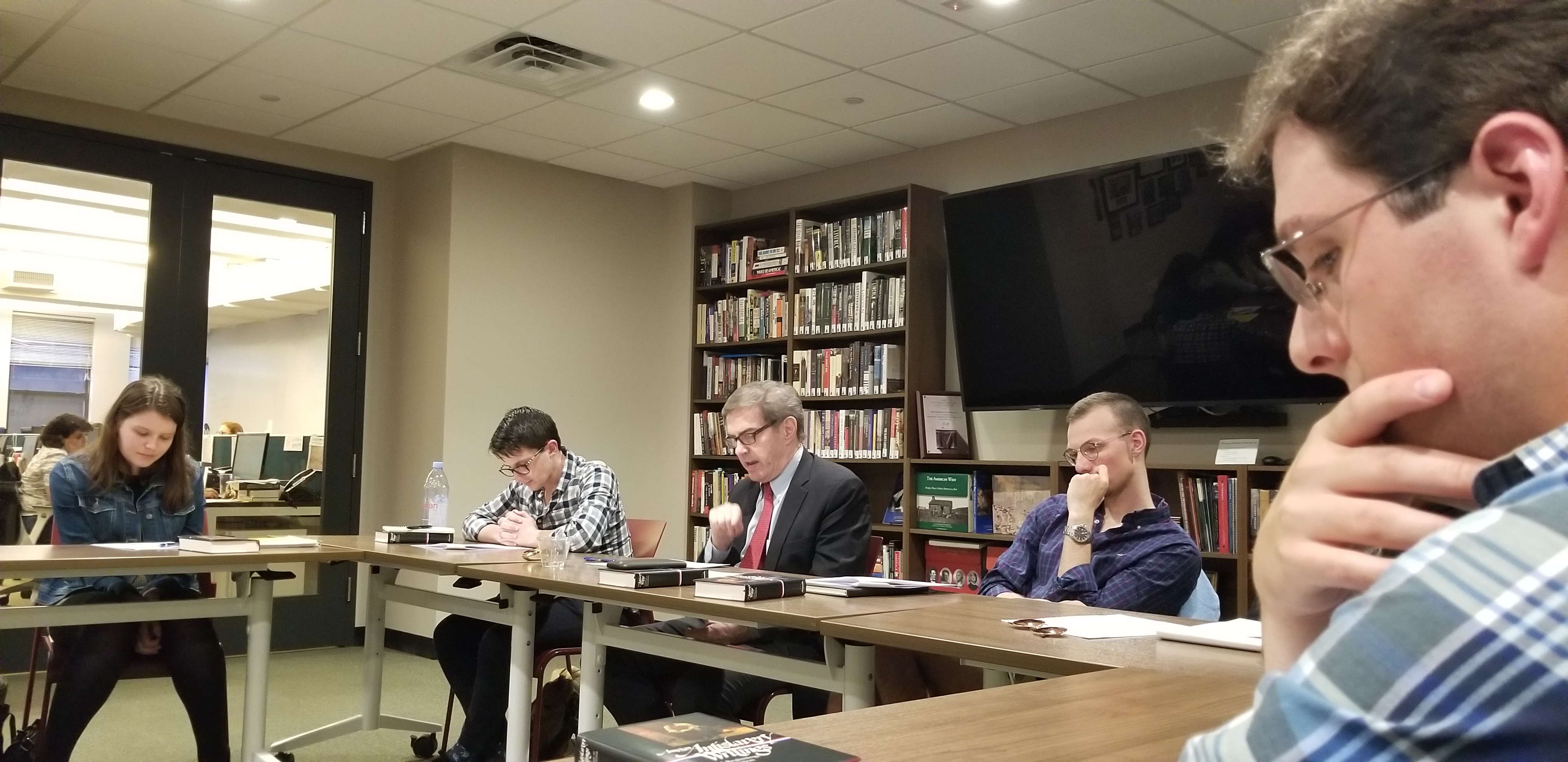 Christina Klein recently graduated from the University of Toledo with a BA in history. She will be a graduate student in history at UT in the fall. Her focus will be women in the post-WWII era.
Rose Lang-Maso
Brown University, Class of 2020
Rose Lang-Maso is a rising senior at Brown University studying American history and public policy. She is interested in the intersection of social justice and politics through the lens of American history. Rose is a 2019 Harry S. Truman Scholar, a senior editor of the Brown Journal of History, and the president of the College Democrats of Rhode Island. She looks forward to devoting her life to public service by taking a historical approach to contemporary civil rights issues.
Michelle Le
University of California San Diego, Class of 2020
Michelle Le is a third-year undergraduate in US history and minoring in ethnic studies at UC San Diego. As an intern at her school's Department of Arts and Humanities, she works closely with the PATH Academy in welcoming Arts & Humanities transfers from the local community college. Her love for Asian American studies has led her to help self-publish an anthology of Asian American stories.
Sam Nakahira
Grinnell College, Class of 2019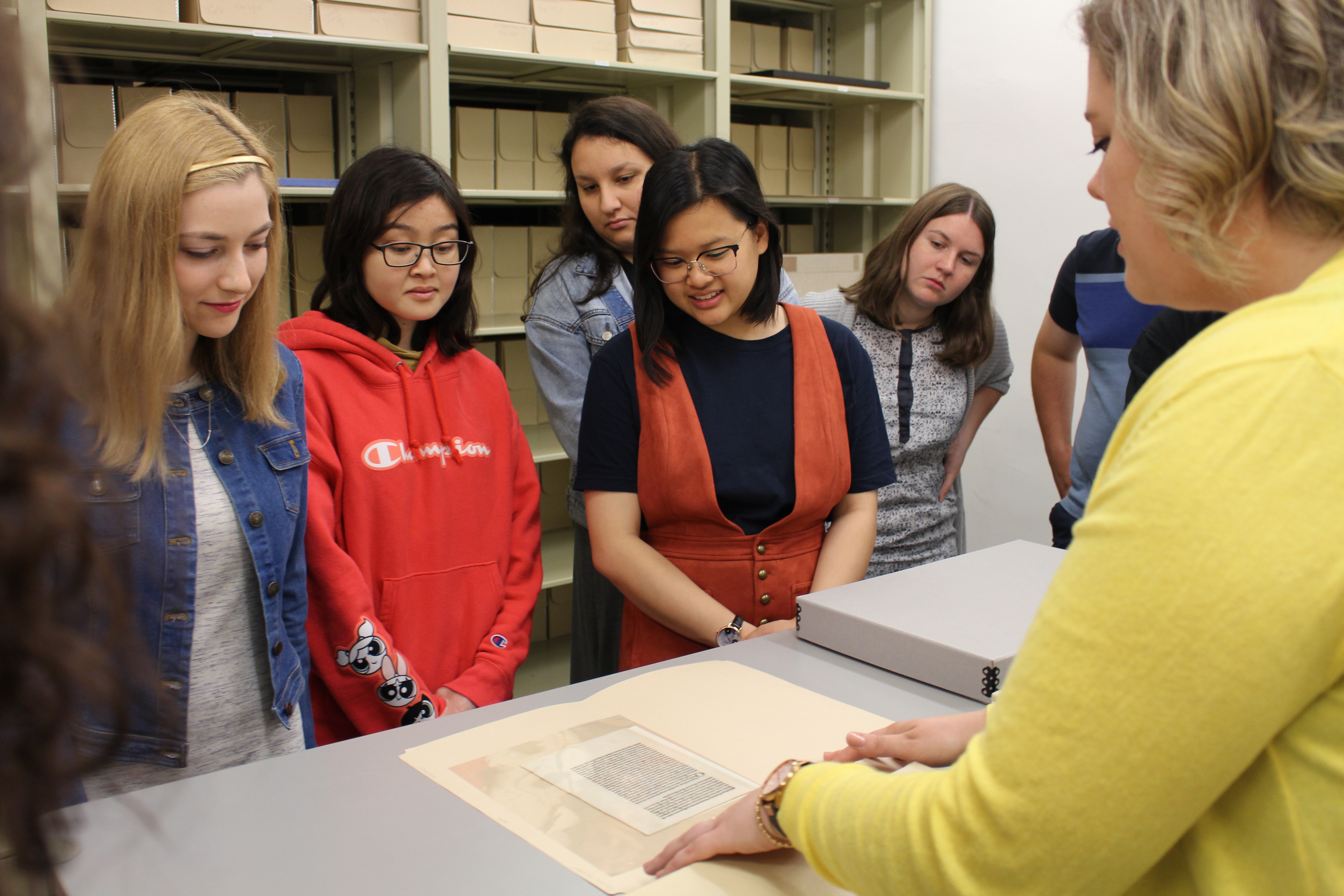 Sam graduated from Grinnell College in May 2019 as a history major with an American studies concentration. Next year, he will attend the Center of Cartoon Studies to receive an MFA while applying to PhD programs for history or American studies.
Emily Parrow
Liberty University, Class of 2019
Though born and raised in Connecticut, Emily relocated to Virginia in 2014, where she recently completed a BS in history at Liberty University. She will return to Liberty in the fall to pursue an MA in history and intends to specialize in Gilded Age and Progressive Era America. Last summer, she received a university-sponsored grant to perform archival research in Manhattan; Newport, Rhode Island; and Washington DC on the late nineteenth-century literary and social contributions of Jacob Riis and Ward McAllister. Emily presented the resulting paper at the 2019 Phi Alpha Theta Virginia Regional Conference, where it won Most Outstanding Student Paper in the pre-1900 American History category.
Karli Schivitz
Miami University, Class of 2020
Karli is an economics and history major at Miami University with interests in women's economic history in America. She is a Dean's Scholar and director of finance for Alpha Xi Delta at Miami.
Tommy Song
Columbia University, Class of 2020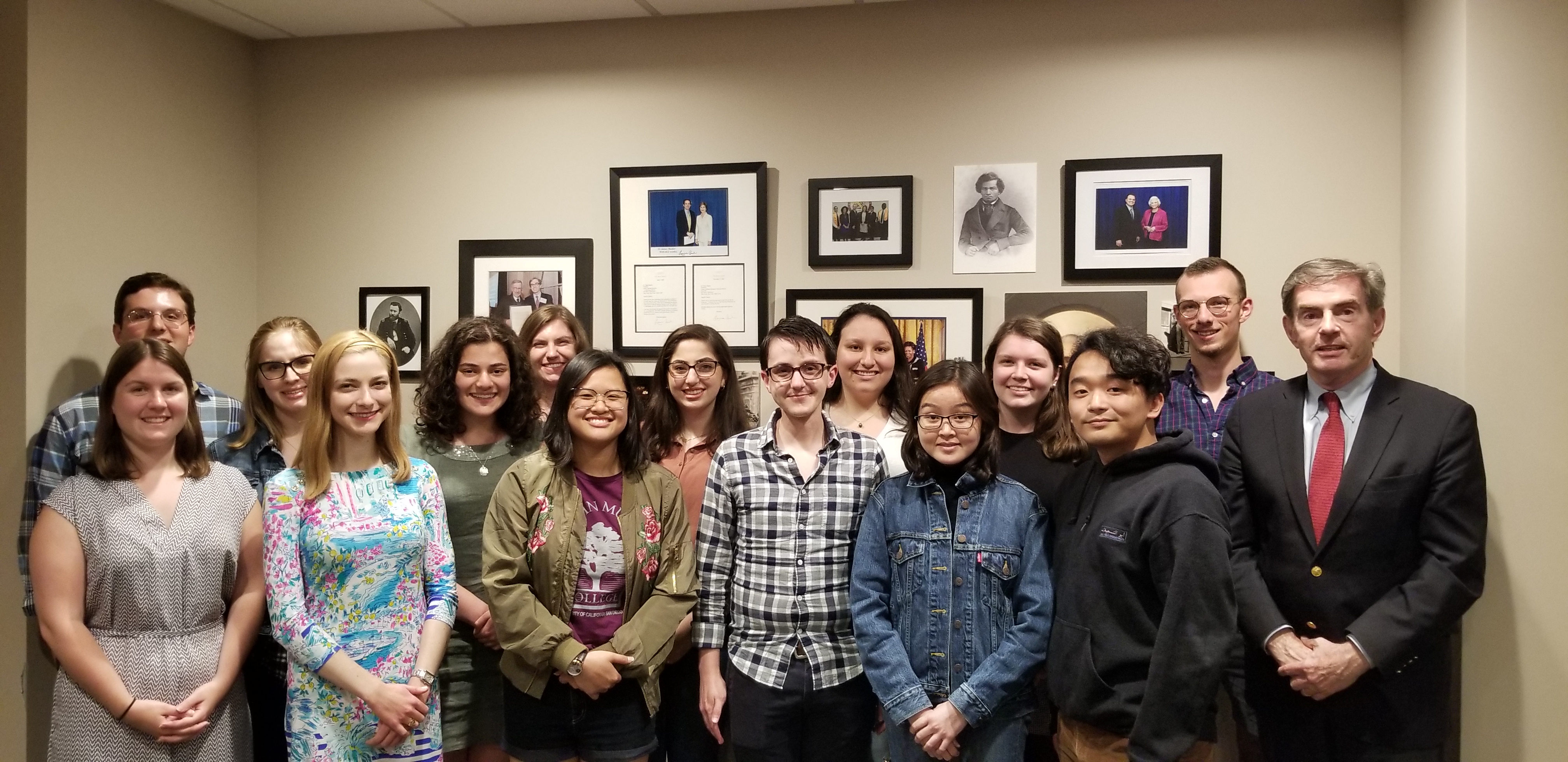 Tommy is a rising senior in Columbia College studying history and political science. Since his first year in college, Tommy has been part of the Columbia University & Slavery project, founded by Professor Eric Foner. Last summer—with Professor Karl Jacoby as his advisor—Tommy created the Columbia University Historical Justice Initiative, an ongoing research project on the marginalized narratives of the university that provides a self-guided walking tour of the undergraduate campus through a website and mobile app. Apart from this, Tommy also works as editor-in-chief of the Columbia Journal of History on campus. This summer, Tommy is working on several research projects at Columbia and will continue to do part-time research for the Gilder Lehrman Institute.
Cooper Wingert
Dickinson College, Class of 2020
Cooper Wingert is a history major Dickinson College in Carlisle, Pennsylvania. He has published topics relating to the American Civil War, slavery, and abolitionism, and has also appeared on CSPAN Book-TV. He recently returned from a semester abroad in Australia where he had the opportunity to study Australian history and try his hand at some great Aussie golf courses.
Alexandra Zborovsky
The Ohio State University, Class of 2020
Alexandra Zborovsky is going to be a senior at the Ohio State University. She is a double major in history and English literature with a minor in Hebrew. In her spare time, she serves as the secretary general of the university's Model UN team.