Hemans, Nancy A. (b. 1843) to Frances B. Shiras
High-resolution images are available to schools and libraries via subscription to American History, 1493-1943. Check to see if your school or library already has a subscription. Or click here for more information. You may also request a pdf of the image from us here.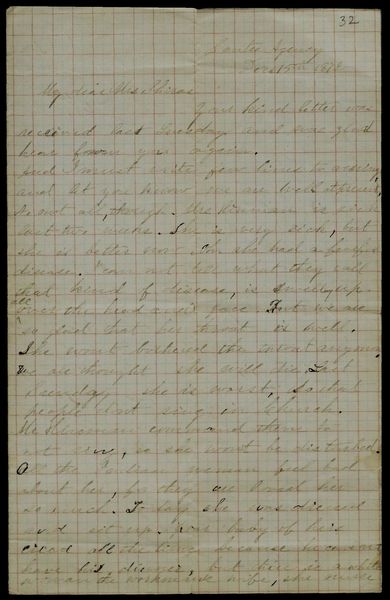 Summary of Content: Discusses Mrs. Hinman's illness and other ill women at the Santee Mission. Indicates she is making a dress and that her husband and son are in need of new clothes. Comments about how she should be thankful to God at Christmas for living another year. Discusses her need for a thick shawl. Also comments on the death of Christian Taopi. Notes her receipt of Shiras's photo, and her want of a similar one of herself, in a post script.
Full Transcript: Quotes

"Mrs Hinman is sick last two weeks…very sick, but she is better now. Oh. she had a fearful disease…swelling up all over the head and face…we ...all thought she would die. Last Sunday she is worst, so that people dont sing in Church. Mr Hinman command them…so she wont be disturbed. All the Indian women feel bad about her, for they are loved her so much."
Re: Hinman's baby "there is a white woman the workman's wife, she nurse the baby now."
"Mrs Bury was sick…and one of the Mrs Hinman's hired girls…I hope they all well before Christmas. I am afraid we wont have good time if Mrs Hinman's sick in bed."
"I am making a new dress for myself that I want to be done before Christmas…It is a black alpaca dress."
"Poor little Ally I did not make any new dress for him. He did not have any decent clothes to wear in Christmas, and Daniel too. I dont care how I am looked, well dressed or not for I am an old lady now, but I always want Daniel dressed up nice and clean and the baby too. I make into two dresses for him that piece of gingham which you give to Ally. I wish I had something to give Daniel for Christmas gift. We ought to be very thanks God for he brought us in another year. Last year I thought I would not see another…People can not tell when they will die, you know, but God is so merciful that He spared our lives in another year. We ought to very thankful."
"I am in great need thick shawl such cold whether as this…If I was keeping house and work out of doors I shall be frize to death by this time, but I am very glad that I was in warm room, and not do any work, but sat and sewing, tending my two folks…"
"Did you not know Christian Taopi is died dead long ago? you talk of him as if he is still living. Poor his wife, he left his wife so poor. She had a little baby boy about month old, was baptized two weeks ago. he was named after his father"
"P.S. I have got your photograph…But I want to have a new one very much like yours."See More
People: Shiras, Frances B., b. 1814
Hemans, Nancy A., b. 1843
Taopi, Christian, d. 1872

Historical Era: Civil War and Reconstruction, 1861-1877
Subjects: American WestReligionWomen's HistoryHealth and MedicalAmerican Indian HistoryArtisansClothing and AccessoriesHolidays and CelebrationsDeathPhotographyTuberculosis
Sub Era: Reconstruction