Knox, Henry (1750-1806) to Alexander McDougall
High-resolution images are available to schools and libraries via subscription to American History, 1493-1943. Check to see if your school or library already has a subscription. Or click here for more information. You may also order a pdf of the image from us here.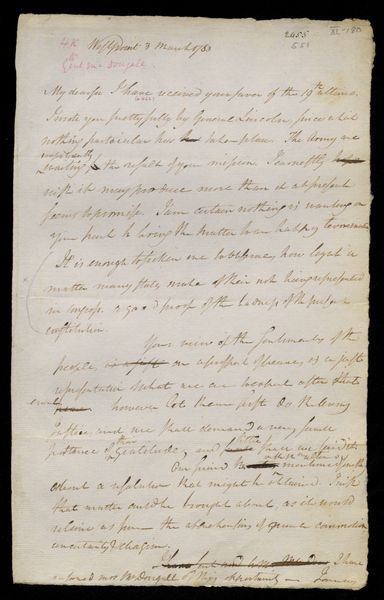 A high-resolution version of this object is available for registered users. LOG IN
Gilder Lehrman Collection #: GLC02437.01975 Author/Creator: Knox, Henry (1750-1806) Place Written: West Point, New York Type: Autograph letter signed Date: 3 March 1783 Pagination: 2 p. : docket ; 33.6 x 20.9 cm.
Summary of Content: Discusses with McDougall the possible result of his mission, informing him that everyone is anxious for it and continues to deplore the lack of a strong Congress.
Full Transcript: [draft]
West Point 3 March 1783

My dear sir I have received your favor of the 19th ultimo. I wrote you pretty fully by General Lincoln, since which nothing particular has [struck: ...had] taken place. The Army are [inserted: impatiently] waiting [struck: for] the result of your mission. I earnestly [struck: hope] wish it may produce more than it at present seems to promise. I am certain nothing is wanting on your part to bring the matter to an happy termination.
It is enough to sicken one to observe, how light a matter many states make of their not being represented in Congress. A good proof of the badness of the present Constitution.
Your view of the sentiments of the people, [struck: is a gift] on a prospect of peace, is a just representation of what we are to expect after that [struck: peace] [inserted: event]. however let them first do the Army Justice, and we shall demand a very small pittance of [inserted: their] gratitude, and [struck: praise] [inserted: little] shall we find it.
Our friend B. [strikeout] [inserted: on the 12th ultimo] mentioned something about a resolution that might be obtained. I wish that matter could be brought about, as it would relieve us from the expectations of great commotion, uncertainty & chagrin.
[struck: I have sent word to Mrs McDoug] I have informed Mrs McDougall of Miss opportunity - I am my [2] Dear with great sincerty
Your affectionate
HKnox

General McDougall
[docket]
To
Genl McDougall 3 March 1783.See More
People: McDougall, Alexander, 1732-1786
Knox, Henry, 1750-1806

Historical Era: The New Nation, 1783-1815
Subjects: Newburgh ConspiracyRevolutionary WarRevolutionary War GeneralMilitary HistoryContinental ArmyContinental CongressCongressSoldier's PayFinancePensionsGovernment and Civics
Sub Era: