Pemberton, Robert (fl. 1775-1787) to Henry Knox
High-resolution images are available to schools and libraries via subscription to American History, 1493-1943. Check to see if your school or library already has a subscription. Or click here for more information. You may also order a pdf of the image from us here.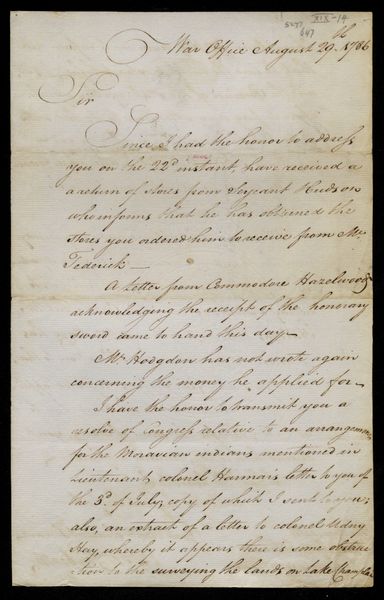 A high-resolution version of this object is available for registered users. LOG IN
Gilder Lehrman Collection #: GLC02437.03298 Author/Creator: Pemberton, Robert (fl. 1775-1787) Place Written: s.l. Type: Autograph letter signed Date: 29 August 1786 Pagination: 2 p. ; 31.5 x 19.2 cm.
Summary of Content: Written from the "War Office," which in 1786 was likely in New York City. Reports on business at the War Office. Explains that since his last letter to Knox, they have received a return of stores from Sergeant Hudson and a note from Commodore Hazelwood acknowledging receipt of his last letter. Mr. [Samuel] Hodgdon has not written back regarding the money he applied for. Has included a resolve of Congress regarding the Moravian Indians which was mentioned in Lieutenant Colonel [Josiah] Harmar's recent letter, as well as a letter to Colonel Hay regarding an obstruction to the survey of the lands on Lake Champlain. Hay gave it to Congress and the Governor of the state and both paid no attention. This does not affect, however, the lands being settled by Canadian refugees in the region. Adds that Mr Stagg has still not received any money from the Board of Treasury. They gave him a warrant to collect the money from a debtor, but the debtor could not pay it; declares, thus, that "repeated applications have been made to the board but to no effect, therefore the sums of money, you directed him to pay, remain unpaid."
People: Knox, Henry, 1750-1806
Pemberton, Robert, fl. 1775-1788
Harmar, Josiah, 1753-1813
Hodgdon, Samuel, 1745-1824

Historical Era: The New Nation, 1783-1815
Subjects: Revolutionary War GeneralGovernment and CivicsMilitary HistoryMuster Rolls and ReturnsMilitary SuppliesFinanceContinental CongressCongressLawSurveyingLand TransactionWestward ExpansionFrontiers and ExplorationCanadaRefugeesDebtRevolutionary WarContinental ArmyGlobal History and US Foreign PolicyGlobal History and US Foreign Policy
Sub Era: Creating a New Government