2019 Fall Newsletter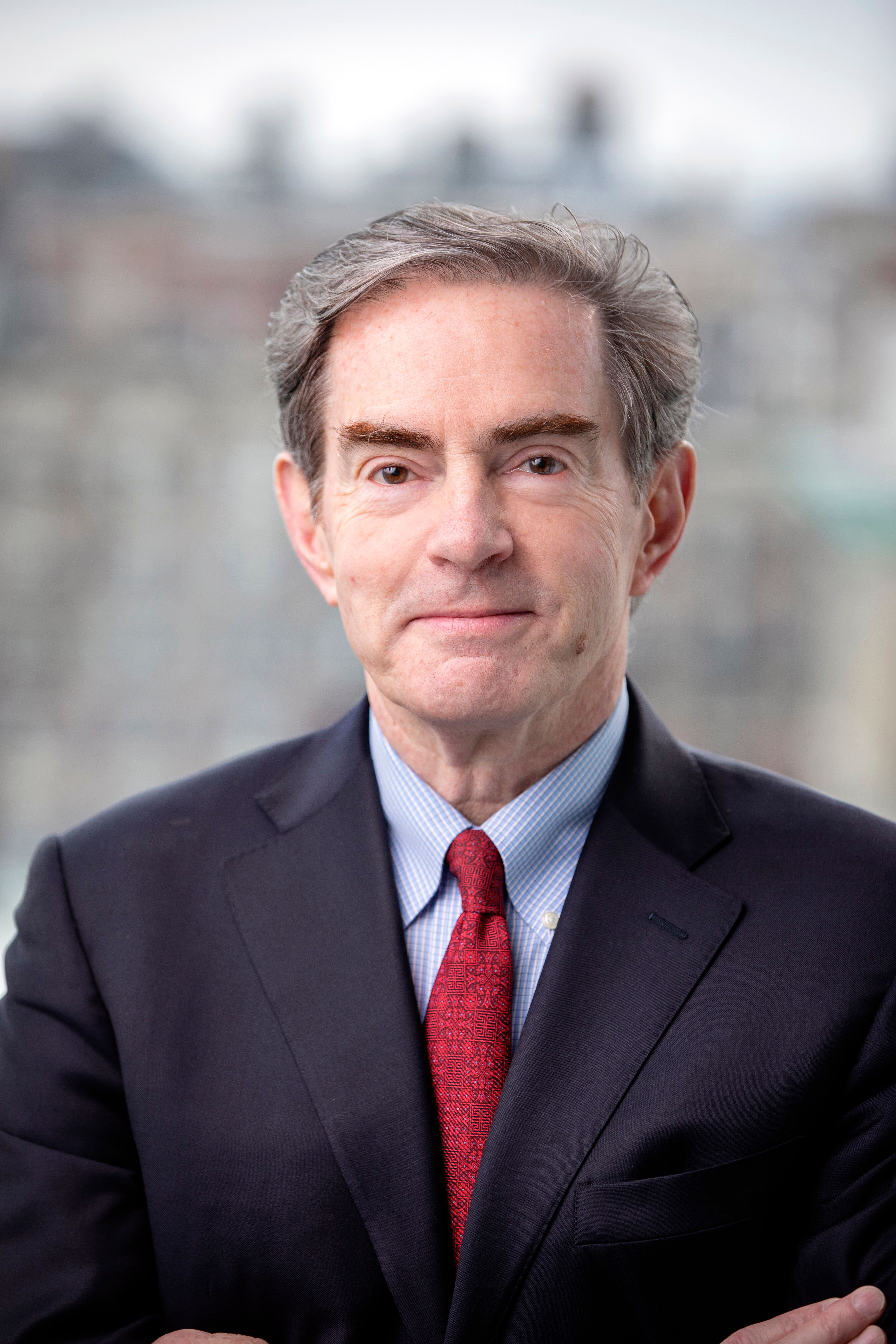 A Message from President Jim Basker
Dear Teachers, Supporters, and Friends of the Gilder Lehrman Institute,
I am pleased to join you for the 2019–2020 school year with our fall Newsletter, which will now come to you four times a year with updates on recent developments and new projects at the Institute.
We have now reached almost 23,000 Affiliate Schools in all fifty states and in fifty-two countries, with an array of national programs. We are launching our Hamilton Education Program Online; we are announcing our History Teacher of the Year for 2019, Alysha Butler from Washington, DC; and we are excited to share news about programs, new and ongoing.
Keep an eye on our website this month for a very special video story on our homepage.
Thank you all for everything that you do to make American history meaningful to today's students.
As ever,
Jim Basker
President
---
2019 HISTORY TEACHER OF THE YEAR FINALISTS AND WINNER ANNOUNCED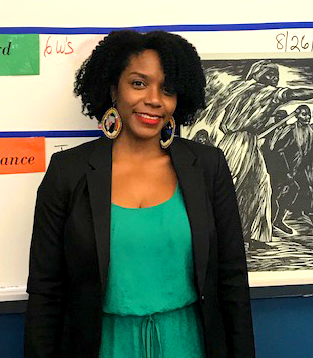 This summer the History Teacher of the Year committee selected the top ten finalists out of fifty-three state, Defense School, and US territory winners, and the winner of the national award for this year, Alysha Butler of McKinley Technology High School in Washington, DC, who will be honored on October 2, 2019, in New York City. Read the full press release here.
Jamie Marcus, education program coordinator for the Gilder Lehrman Institute, has increased the outreach to Gilder Lehrman Affiliate Schools over the past three years to help grow the quantity and quality of nominations and submissions in all fifty states, Department of Defense schools, Washington DC, and US territories. As a result, we received a 10 percent increase in nominations this year over 2018. The numbers of nominees per state vary, with some of the highest coming from California, Texas, and New York.
Throughout the year, the Gilder Lehrman Institute invites parents, students, administrators, and other educators to nominate teachers who have made measurable differences in their students' lives through American history education. The teachers are notified when they are nominated and invited to submit supporting materials. State coordinators, usually from state education departments, form committees to pick state winners. All selection committees include elementary school educators as adjudicators, putting elementary school nominees on equal footing with middle and high school teachers through a specialized rubric for evaluation.
Ceremonies for state winners are held in every state. Many state HTOY winners become future master teachers for the Institute, contributing to our broader mission across the nation. Support for the 2019 National History Teacher of the Year Award has been provided by HISTORY®.
A finalist selection committee ranks the state winners to reach a top ten. A national committee scores that group and arrives at the National History Teacher of the Year. The award comes with a $10,000 prize and a ceremony in the winner's honor in New York City.
The finalists for 2019 were:
Alysha Butler, a social studies teacher at McKinley Technology High School in Washington, DC
Karen M. Cook, a history teacher at the Norwich Free Academy in Norwich, Connecticut
Ellen Fisher, a social studies teacher at Frances Richmond Middle School in Hanover, New Hampshire
Carla Flanhofer, a secondary social studies instructor at Peak to Peak Charter School in Lafayette, Colorado
Amy King, a history teacher at Chatham Central High School in Bear Creek, North Carolina
Doug Logan, a social studies teacher at Randall K. Cooper High School in Union, Kentucky
Karalee Nakatsuka, a US and world history teacher at First Avenue Middle School in Arcadia, California
Michael Neagle, a history teacher at the Pyne Arts Magnet School in Lowell, Massachusetts
Scott Noet, a 7th and 8th grade social studies teacher at Owatonna Public Schools in Owatonna, Minnesota
John Zingale, a history teacher at iTech Preparatory in Vancouver, Washington
We are pleased to honor these outstanding educators who are giving their students the foundation to become engaged and civic-minded adults.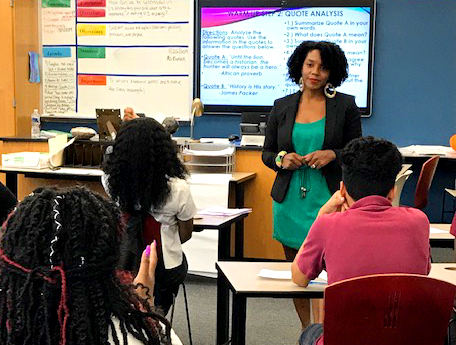 The 2019 National History Teacher of the Year, Alysha Butler, has won the 2019 Daughters of the American Revolution Outstanding Teacher of United States History Award, was a 2019 GrantEd Recipient, and was selected as the 2010 Miramar High School Teacher of the Year.
The selection committee noted Ms. Butler's commitment to the field of American history. They were continually drawn to her philosophy of teaching, which centers on the desire to give students confidence in their abilities through incorporating education in how historically marginalized groups have overcome their circumstances to take their places in American society. Her lessons engage students in history, civics, and civic activism through hands-on experiences in their communities and innovative use of primary source documents.
"I am honored to be recognized by an institution that supports teachers and their efforts to provide students with a deeper understanding of history," said Butler. "It is my hope to continue to help students of all backgrounds and communities gain access to and explore the known and unknown voices of the past so that they may develop a more accurate understanding of our present and serve as hope for our future."
---
THE HAMILTON EDUCATION PROGRAM GOES ONLINE
The Hamilton Education Program Online (#EduHamOnline) has launched a pilot program this fall with 76 schools across the country.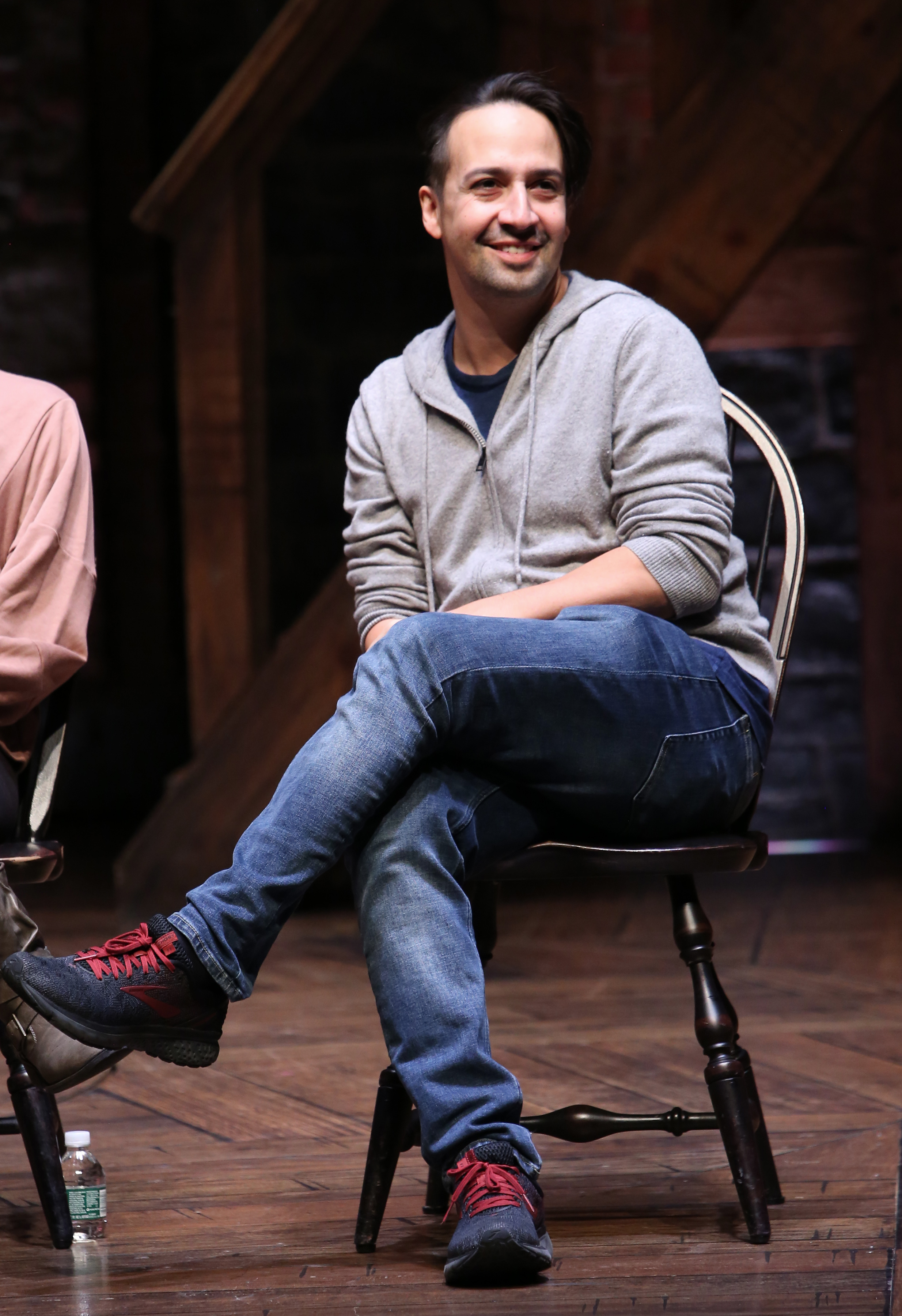 Middle school students will have access to the education program for the first time. They will join high school students who will engage in a custom-designed education program that integrates the study of American history with the performing arts.
Among the program features all students will have access to are a wealth of materials on the #EduHamOnline website, including information about more than 45 Founding Era figures, 14 events, and 24 key documents as well as 175 supporting documents, video clips from Hamilton, and more.
All participants will have the opportunity to enter their work in both a national competition and a lottery. Winners will be selected once a year and invited to New York City to attend an all-expenses-paid, full-day theater experience, which will include attending a matinee performance of Hamilton.
Teachers interested in signing up for the Hamilton Education Program Online for the Fall of 2020 should visit gilderlehrman.org/hamilton.
"From everything that has come out of Hamilton, I am most proud of EduHam and of the students who have created their own incredible work from primary sources," said Hamilton creator Lin-Manuel Miranda. "I'm thrilled by the storytelling that comes out of the EduHam curriculum and the hunger it awakens in students who are empowered to dig deeper and find inspiration from our collective history."
The original education program launched in the spring of 2016 with a goal of serving 250,000 students and teachers in Title I–eligible high schools in select cities throughout the country by the end of 2020. #EduHamOnline will be open to all public, private, parochial, and charter schools, grades 6–12.
The pilot program is being funded by The Rockefeller Foundation, which generously supported the creation and expansion of the Hamilton Education Program in 2016. Program partners are currently fundraising for the national launch in the fall of 2020 and for the annual recurring program costs to ensure the program remains free for all participating students.
To read more about the program and to see a list of participating schools, see https://www.gilderlehrman.org/about/digital-version-celebrated-hamilton-education-program-be-offered-free-schools-nationwide.
To explore both the Hamilton Education Program and the Hamilton Education Program Online, and to sign up for the online program for the 2020–2021 school year, see https://www.gilderlehrman.org/hamilton.
---
CONTESTS AND RESOURCES FOR STUDENTS
A New Writing Contest for Elementary School Students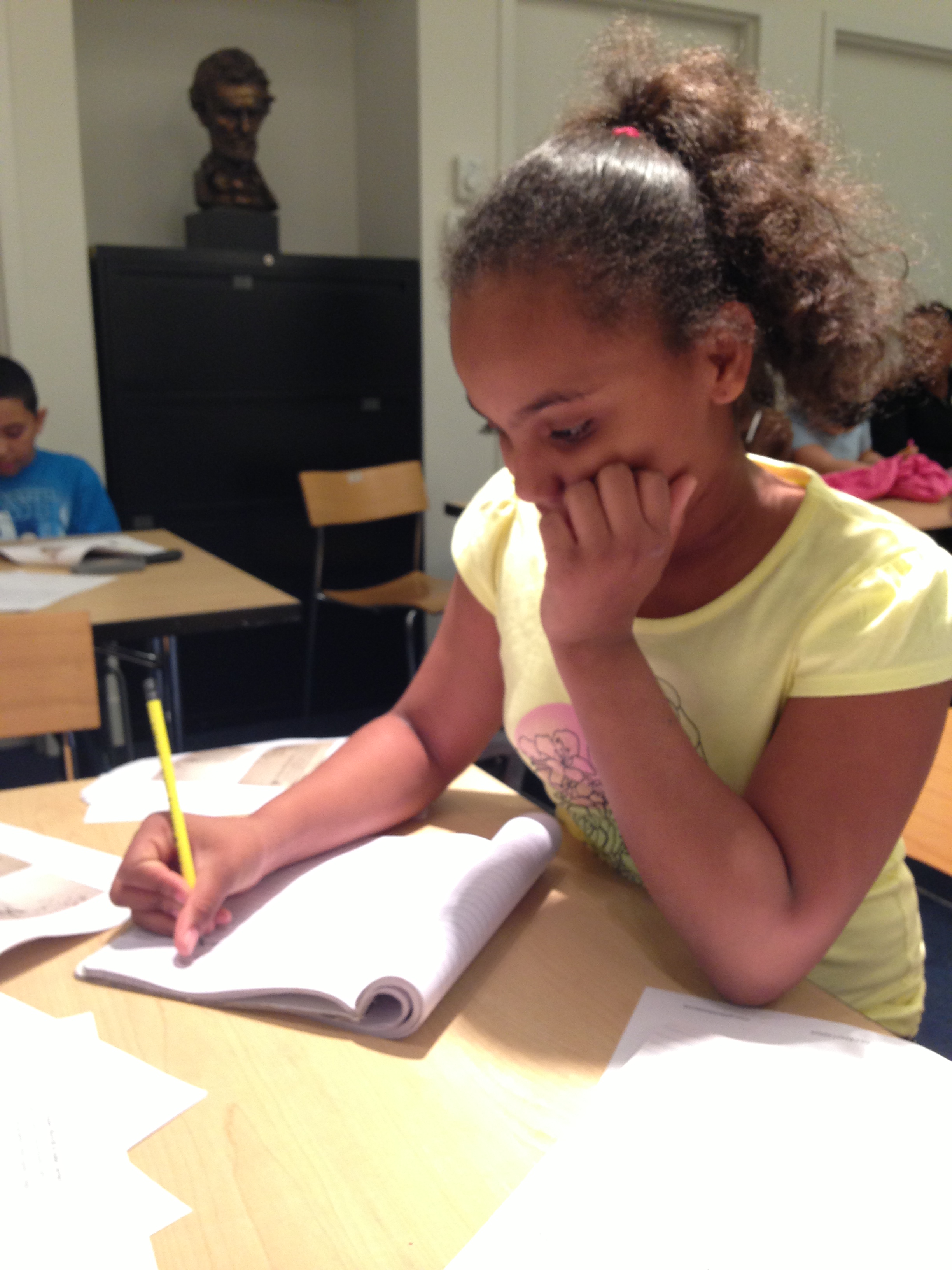 After eight exciting years of the Dear George Washington Essay Contest, which has yielded creative and thoughtful responses from elementary school students across the country, the Gilder Lehrman Institute is pleased to announce a new contest for elementary school students for the 2019–2020 school year.
Elementary school students in fourth and fifth grade are encouraged to take part in a writing contest inspired by the work that most elementary school teachers do with students examining family, local, state, and US history. Our goal for this contest is to help expand students' understanding of how their families, towns, and states connect with each other and with American history, while providing them with a critical opportunity to hone their analytical and creative writing skills through an essay, short story, or poem.
Sixth graders in elementary school (rather than middle school) who are studying US history are also eligible to participate.
In future years, we expect to add second and third grades to contest eligibility.
All participants will receive a certificate of participation, delivered to their school. Winning entries will receive cash prizes and publications by the Gilder Lehrman Institute:
1st Prize for each category (essay, short story, poem) in each grade level: $100 and a set of three Gilder Lehrman Institute posters
2nd Prize for each category in each grade level: $75 and a set of three Gilder Lehrman Institute posters
3rd Prize for each category in each grade level: $50 and a set of three Gilder Lehrman Institute posters
Two honorable mentions (in the form of a special certificate and a bundle of Gilder Lehrman Institute books) will be awarded to strong entries in each grade level.
Teachers of each prize winner and honorable mention recipient will receive a copy of Teaching With Documents: Colonial America to Reconstruction, which includes seven elementary-school-level lesson plans.
Entries will be accepted on a rolling basis starting in mid-November. To be considered for the 2019–2020 program year, entries must be received by March 30, 2020. Winners for 2019–2020 will be announced on April 21, 2020.
National History Day and the Gilder Lehrman Institute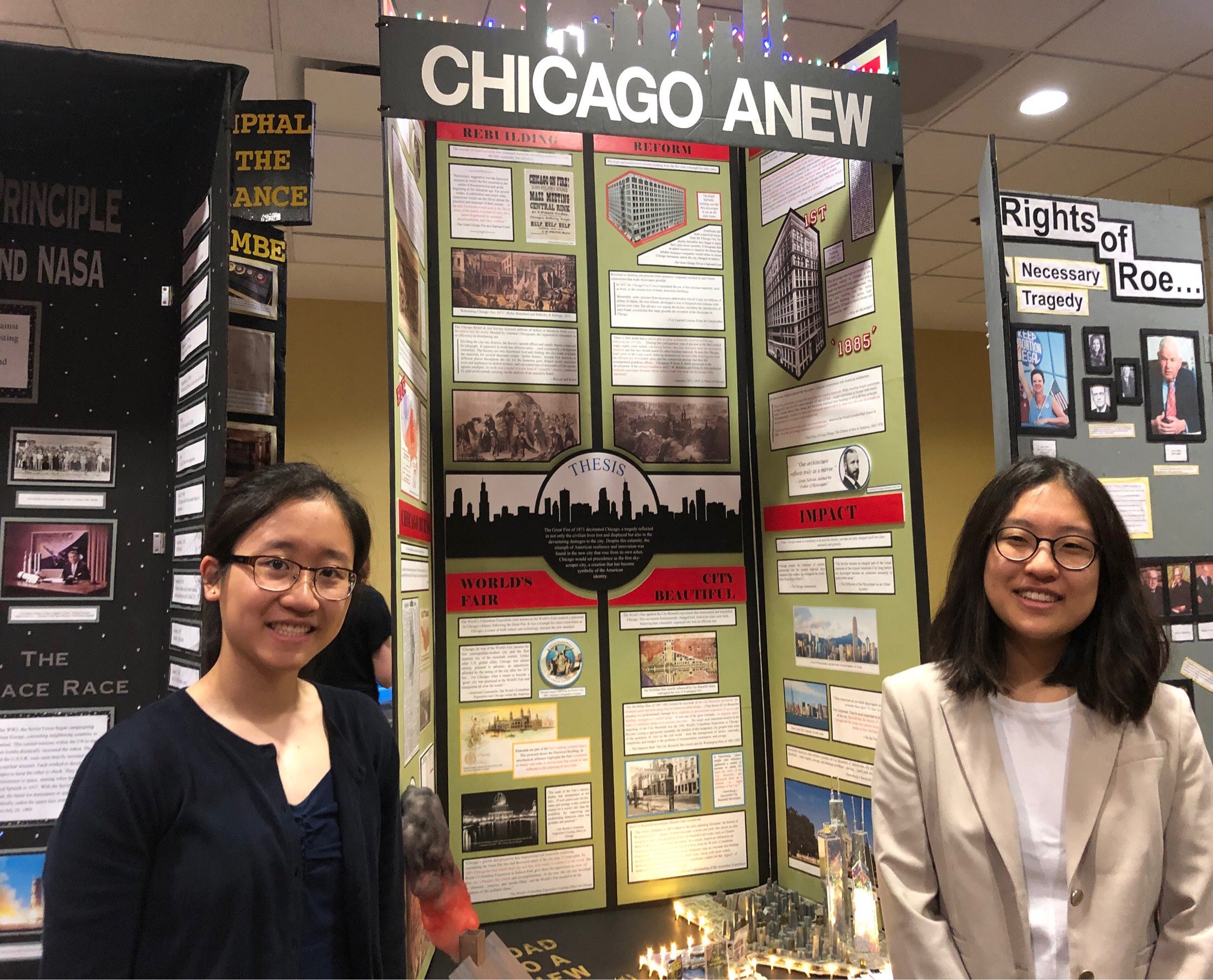 Affiliate and Flagship Schools in the Gilder Lehrman Network have increasingly been well-represented as participants in and winners of the National History Day Contest on the local, state, and national levels. This year GLI's original Flagship School, Academy of American Studies in Queens, saw two of its students, Nicholas Cinnamo and Mariam Kaawar win first and third place awards in the New York State History Day Finals for website and documentary film projects respectively. Christy Guan and Hana Kim from Gilder Lehrman Affiliate Stuyvesant High School won the National History Day 1st place prize with their project: "Tragedy of the Great Fire and Triumph of Skyscraper City."
Across the country, students have used Gilder Lehrman Institute resources for inspiration and research as they prepare for National History Day. To better serve middle and high school students, the Gilder Lehrman Institute has developed a curated guide for students participating in National History Day, which engages more than half a million students around the world. We hope that the resources on this year's topic, Breaking Barriers in History, are useful for your students.
We look forward to hearing from you and your students about what you have found useful in the resources we provide for this contest. We would also like to hear your success stories as Gilder Lehrman Affiliate Schools participating in National History Day and similar programs during the year.
Find the Gilder Lehrman Institute National History Day resource page here:https://www.gilderlehrman.org/content/national-history-day-resources-gilder-lehrman-institute
---
NEW CIVICS PROFESSIONAL DEVELOPMENT FOR TEACHERS
Teaching Civics through History for California and Massachusetts Teachers
The Gilder Lehrman Institute of American History is pleased to announce that we are partnering with the Stuart Foundation in California and the Snider Foundation in Massachusetts to pilot the Teaching Civics through History (TCTH) professional development program.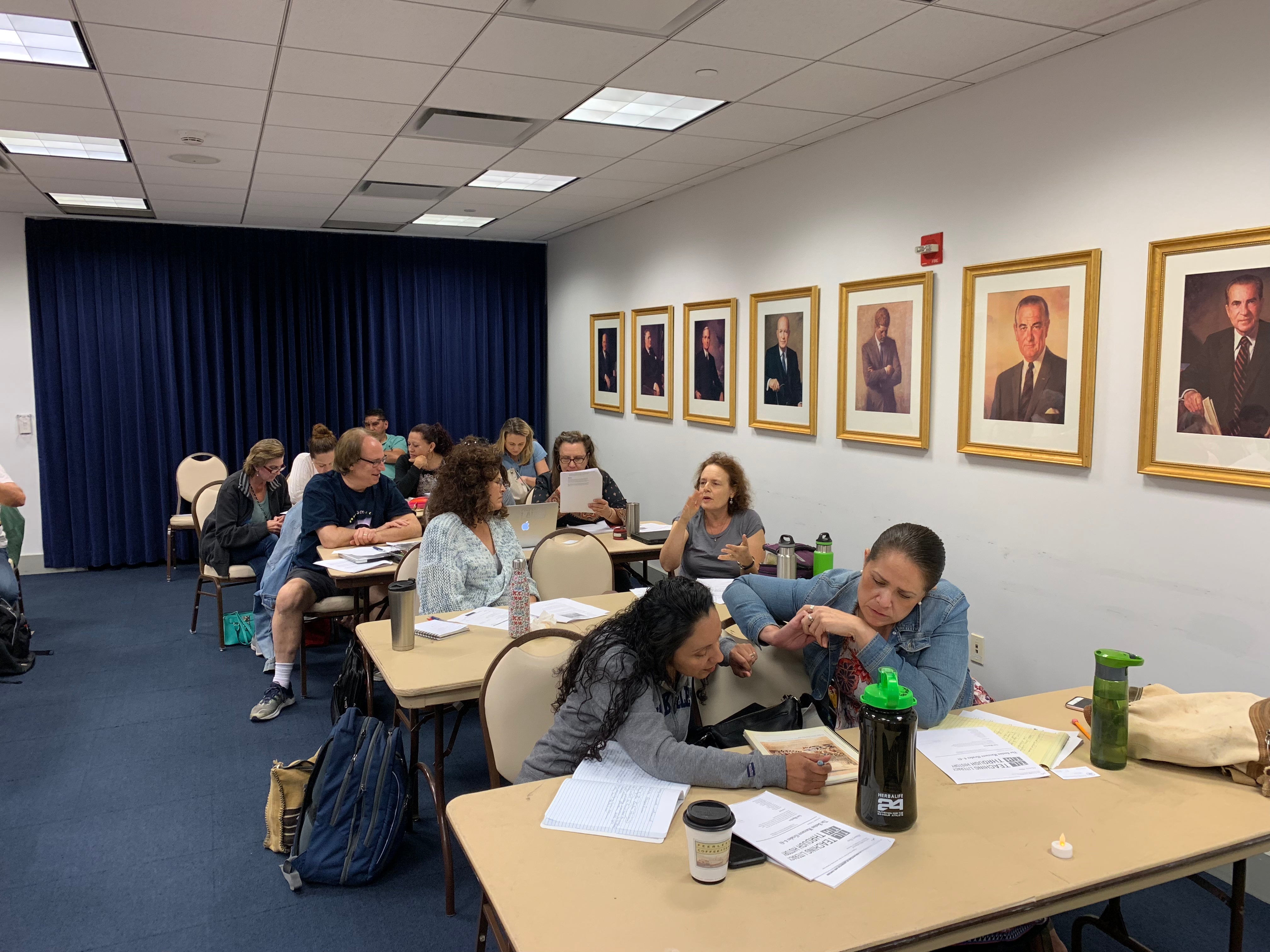 Developed using the successful Teaching Literacy through History (TLTH) approach, this innovative program will prepare 90 high school teachers in California and 35 middle school teachers in Massachusetts to provide their students with a foundational knowledge of civic and social issues facing the nation while building their literacy, research, and critical thinking skills.
Participants will focus on connecting the past with current events, which will enable students to understand that history comprises individual actions, empower students to develop their civic voices, encourage them to take civic action, and help students recognize their ability to influence history in their own communities and nationwide.
Elements of the pilot include two-day professional development sessions for teachers led by eminent historians and master teachers incorporating historical content knowledge on topics such as freedom of speech and voting rights, and pedagogical strategies to help students unlock primary source documents; lesson plans on freedom of speech and voting rights based on primary source documents, with digital resources and a classroom guide; classroom implementation with teachers connecting the historical content to current events and issues of interest to students, leading to their engagement beyond the classroom in civic activities; and evaluation, which will include history assessments and surveys.
In Massachusetts, the Gilder Lehrman Institute is partnering with Lesley University, which will provide facilities for the program and select participating teachers.
For California, 11th and 12th grade teachers are welcome to register their interest in participating in the program here: gilderlehrman.org/tcthinterest.