2019 Spring/Summer Newsletter
A Message from President Jim Basker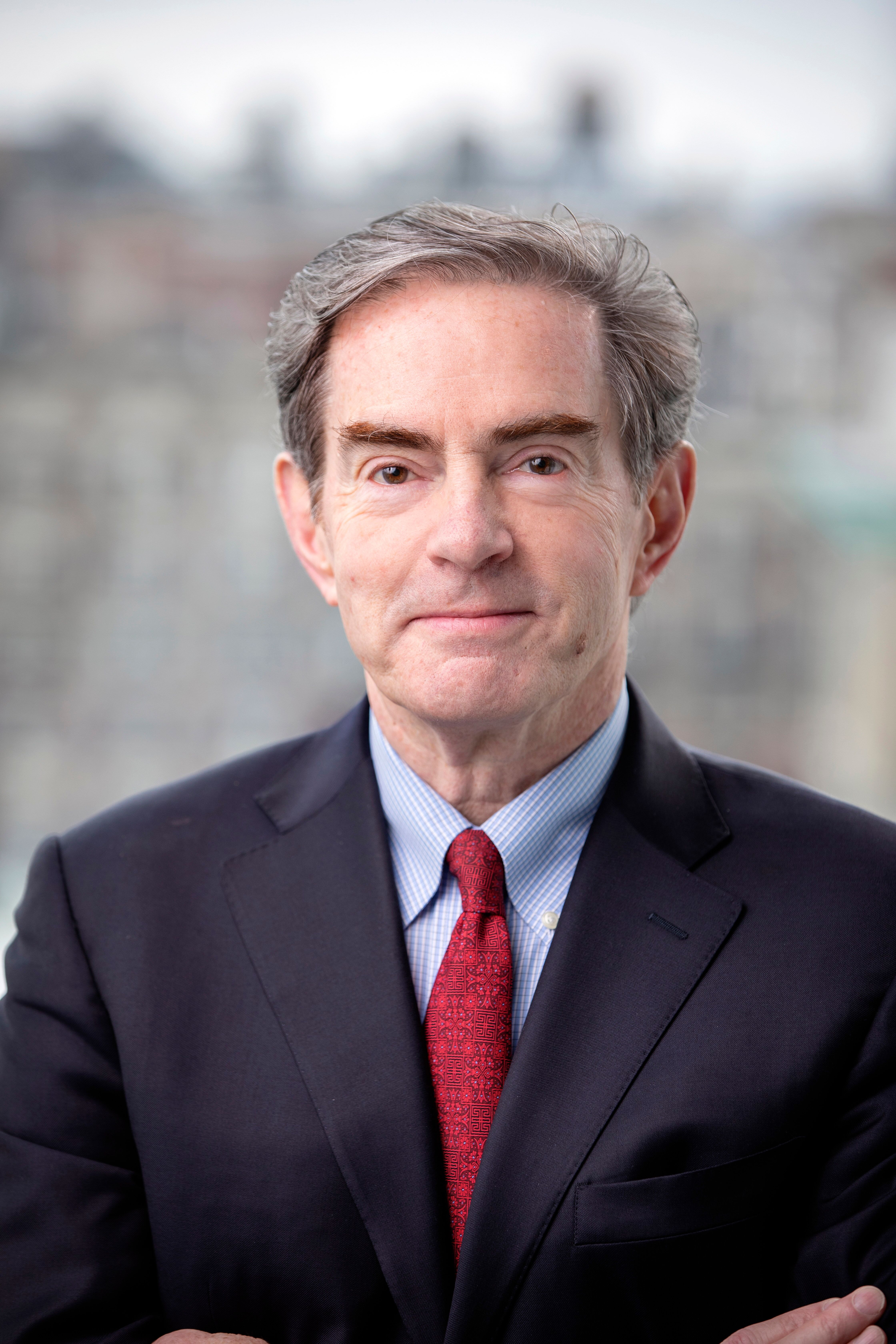 Dear Teachers, Supporters, and Other Friends of the Gilder Lehrman Institute,
I write to you directly after a highly successful Gilder Lehrman Institute event featuring our new Trustee, Henry Louis Gates, Jr., at which 260 high school students from Gilder Lehrman Affiliate Schools (of 400 plus attendees) received free copies of Professor Gates's latest book, Stony the Road: Reconstruction, White Supremacy, and the Rise of Jim Crow, and had the opportunity to preview his new PBS documentary series, Reconstruction: America after the Civil War. Professor Gates offered his insights in a Q&A after the screening on how the era of Reconstruction and the violent reaction to it mirror our own time. After the event, he wrote to me to say, "It was one of the great evenings in my career."
In this, our 25th Anniversary year, the Gilder Lehrman Institute is all about the students and what we can provide them and their teachers. We now have 22,000 Affiliate Schools and are underway with our thirty Teacher Seminars for the summer, plus summer courses for the Pace–Gilder Lehrman MA in American History Program. We are rolling out new programs and innovative versions of our ongoing programs this summer and fall. Our endowment grows. We are so thankful for all that you give to and do for the students, teachers, and scholars who make the Gilder Lehrman Institute what it is.
We invite you to celebrate our 25th anniversary year and look forward to many more.
As ever,
Jim
---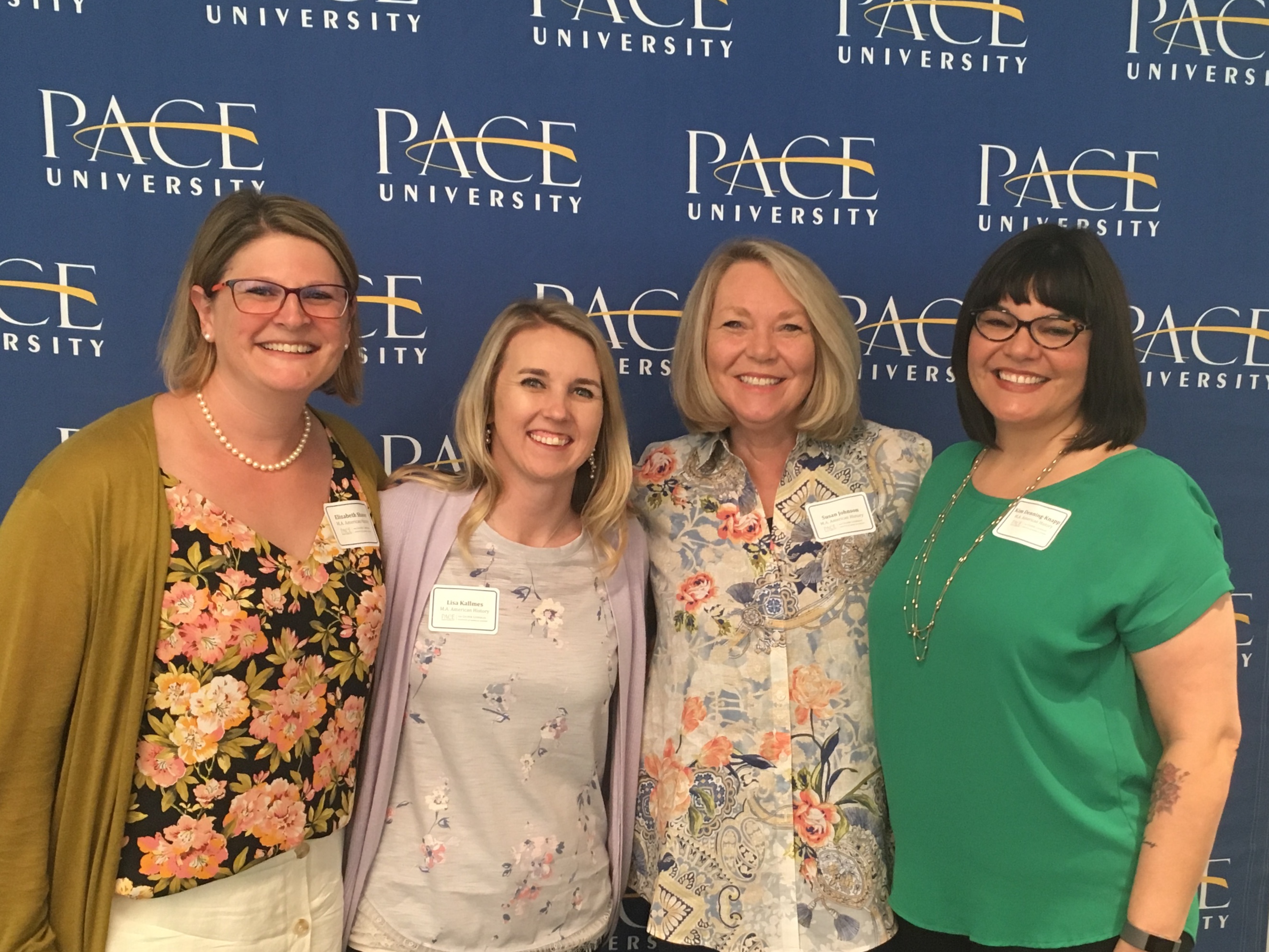 Congratulations to the First Graduates of the Pace–Gilder Lehrman MA in American History Program!
In May 2019, forty-eight educators from across the country completed their master's degree in American history through the Pace–Gilder Lehrman MA in American History Program. Approximately half of them attended the graduation ceremony at Radio City Music Hall with other graduates of Pace University programs on Thursday, May 23. Marvin Krislov, president of Pace University, presided, and Nira Herrmann, dean of Dyson College of Arts and Sciences, distributed the degrees.
The graduates, all teachers at Gilder Lehrman Affiliate Schools, completed nine 3-credit courses and the thesis/capstone course for a fully online, fully accredited, 30-credit degree program.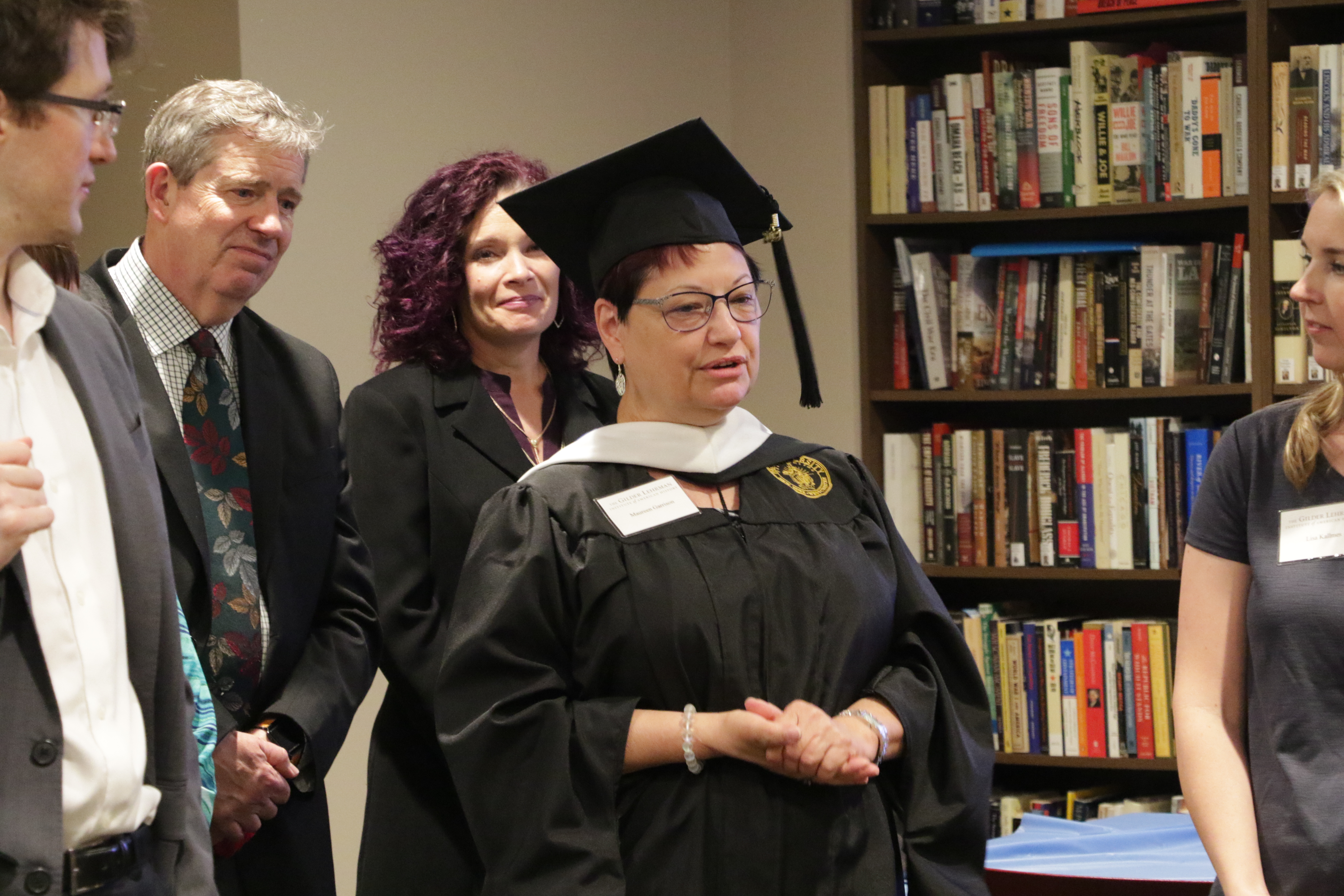 At the reception after the ceremony, many spoke about their reasons for enrolling in the program, what they were already putting to use in their classrooms, and the benefits they received during and upon completion of their course work. A common theme was confidence, found both in themselves through building on their historical knowledge and in their interactions within their communities, which recognized their quest for professional development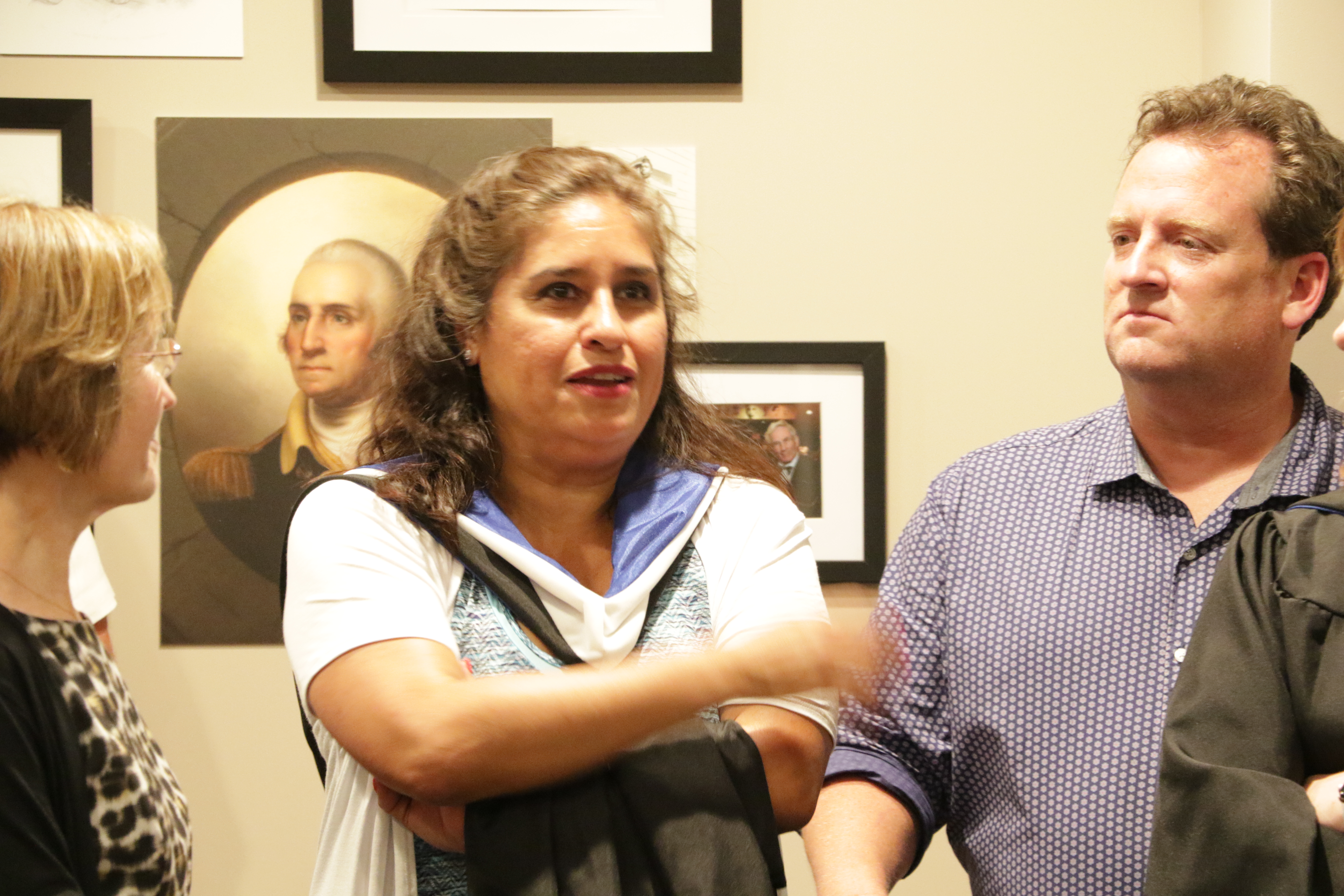 to help them provide more resources for their students. Many acknowledged the practical content that offered immediate inspiration for their own lesson plans. Along with receiving professional development credit, completing the degree allowed many to move up the pay scale.
The community of teachers from states as far afield as California and Arizona enjoyed meeting after spending the last three years in virtual classrooms. Most brought family and friends along to share the celebration. All were welcomed by Gilder Lehrman Institute president Jim Basker and by the program's academic director, Carol Berkin, who also taught "Women in the American Revolution" in Fall 2018.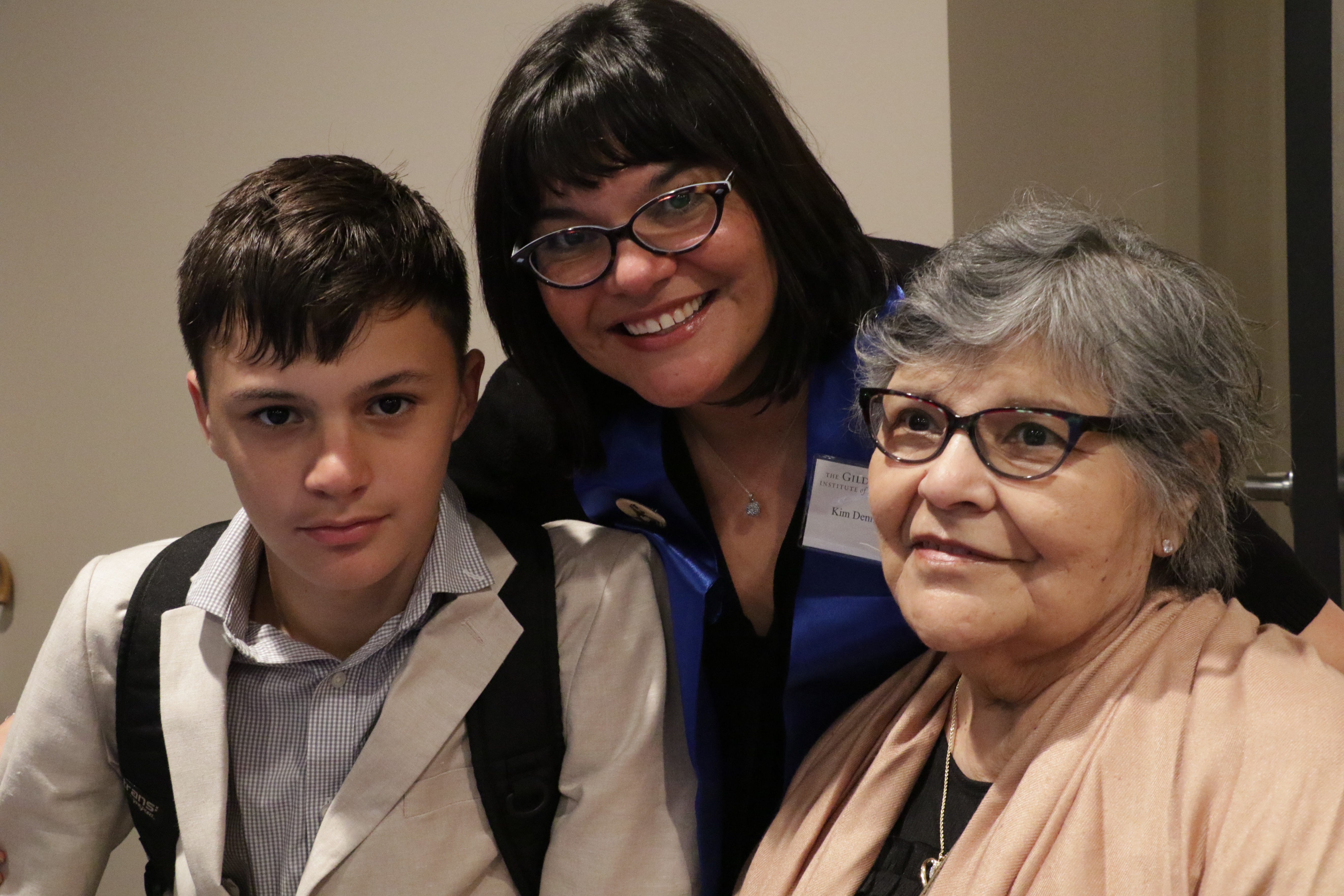 In the words of graduate Kim Denning-Knapp, "It was like an education in my dreams! I'm a mom and a full-time teacher and a caregiver to my mom. I always felt I was connected with the program, even when we went through hard times as a family. These are scholars from schools that I only dreamed about having the opportunity to attend earlier in my life. I made my mother, husband, and son very proud today."
To learn more about the program and explore the courses being offered this fall 2019, click here.
---
Gilder Lehrman Institute Enriches Student Civil Rights Pilgrimage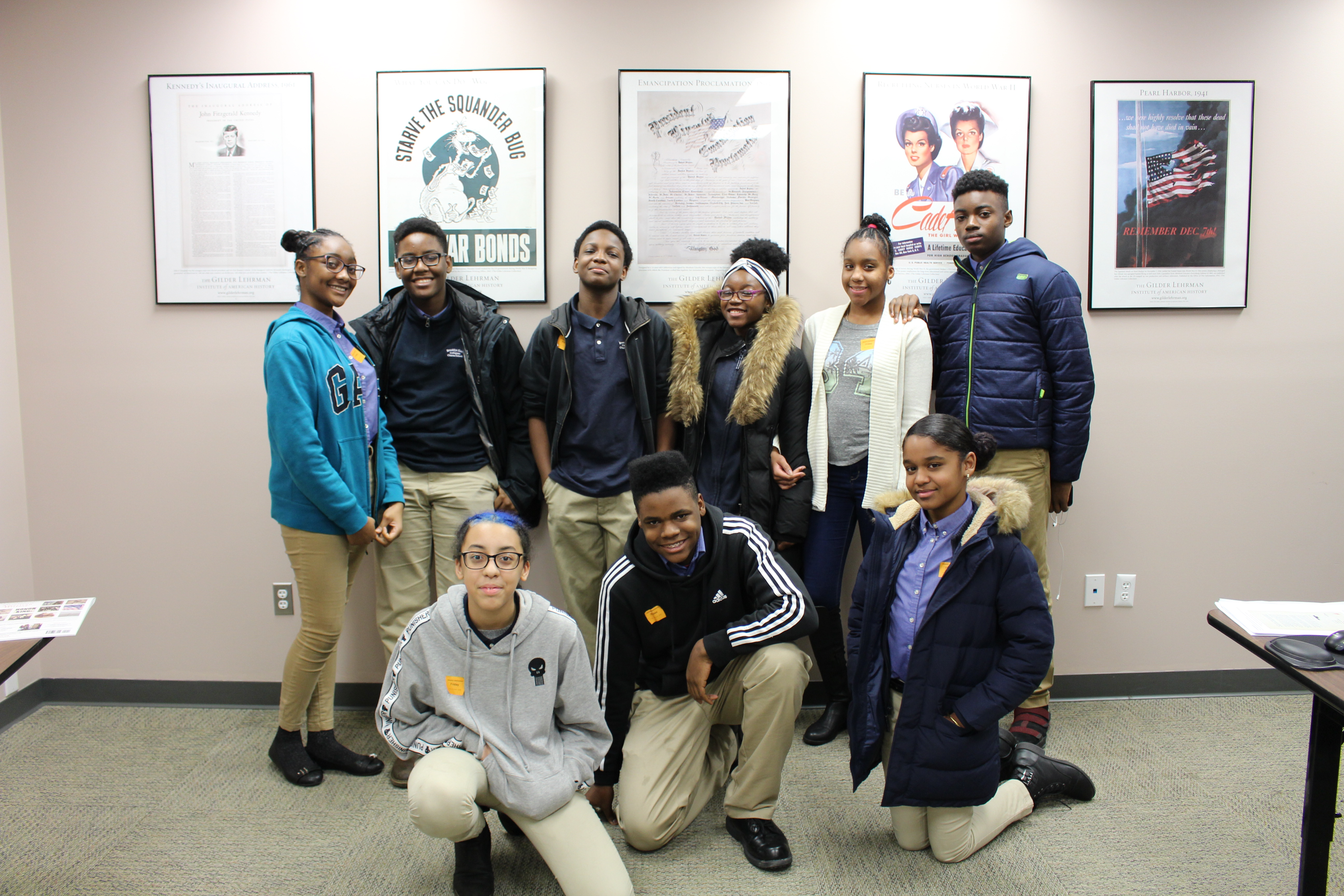 On January 18, 2019, eight students from Brooklyn East Collegiate, a Gilder Lehrman Affiliate School, visited the Gilder Lehrman Collection with their teacher, Mike Pavlis, to augment their civil rights knowledge and prepare for their spring break trip to Alabama and surrounding states in a program called BEC2BAMA. Mike Pavlis has been taking students from Brooklyn East Collegiate down south for the past two years. He was first inspired to coordinate the trip when he attended a Gilder Lehrman Teacher Seminar in Chicago and met another participant who suggested it.
Along with examining documents at the Gilder Lehrman Collection, the students watched a clip of Birmingham civil rights leader the Reverend C. Herbert Oliver being interviewed at the Gilder Lehrman Collection last September on the 55th anniversary of the Sixteenth Street Baptist Church bombing. The students were particularly struck by what it must have been like for the Reverend Oliver's son Claude, a 10th grader in 1963, to grow up in the middle of the civil rights movement with one of its leaders as his dad. Claude Oliver helped his father document instances of alleged police brutality and other violence, such as the bombing of the Sixteenth Street Baptist Church, by folding his letters and putting them in envelopes, which were mailed to elected officials and the press.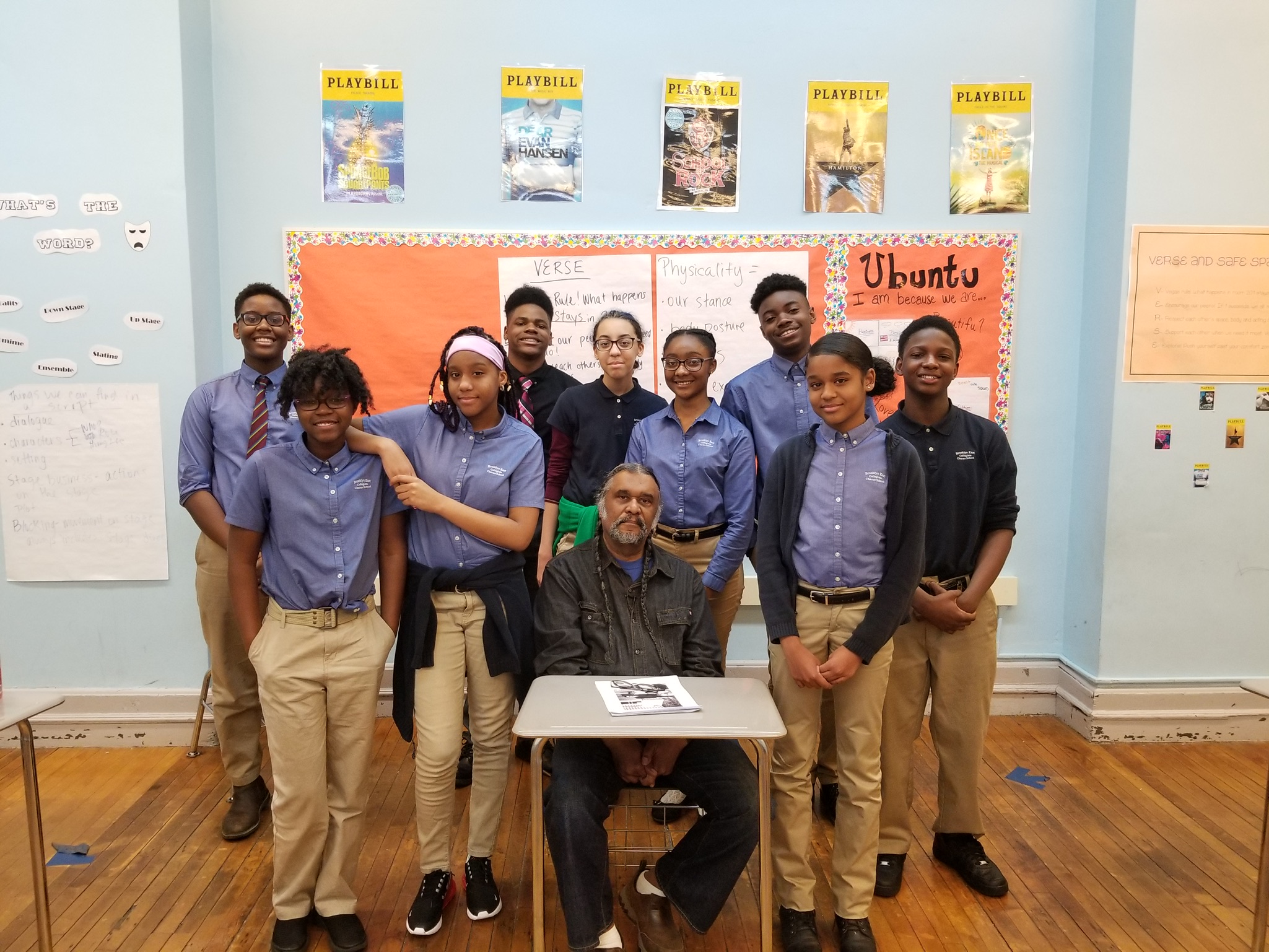 In March 2019, thanks to the developing relationship between the Institute and the Oliver family, Claude Oliver visited the same BEC students at their school for a discussion of his experiences during and thoughts about the civil rights era and its aftermath. For ninety minutes the students listened and asked informed and meaningful questions of Mr. Oliver, who took time answering them with great appreciation and depth.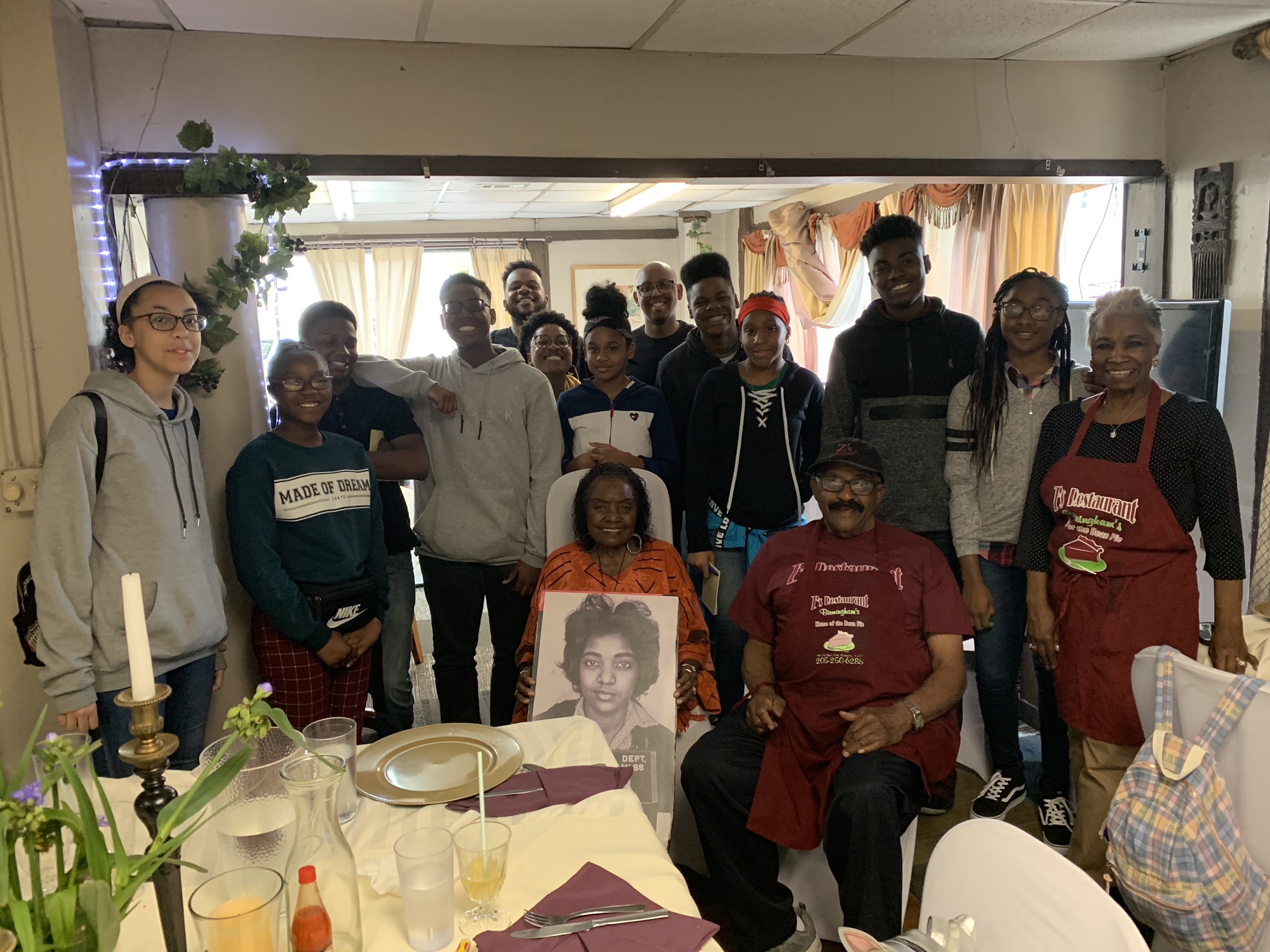 In April, the students traveled to Alabama, focusing primarily on Birmingham, Selma, and Montgomery, visiting such sights as the National Memorial for Peace and Justice and the rebuilt Sixteenth Street Baptist Church. They spoke with civil rights leaders and workers, such as Charles Person, one of the original Freedom Riders; Sheyann Webb-Christburg, the youngest marcher on the 1965 Bloody Sunday march from Selma to Montgomery; and the current mayor of Selma, Dario Melton. The students, who prepared all year for the trip, continue to process the experience, which has undoubtedly had a profound effect on them.
The Institute looks forward to continuing the relationship with "BEC2BAMA" and will soon feature a short video documenting the experience thus far.
 
---
The Institute's Three Biggest Events of the Year: The Lincoln Prize, Frederick Douglass Book Prize, and 25th Anniversary Gala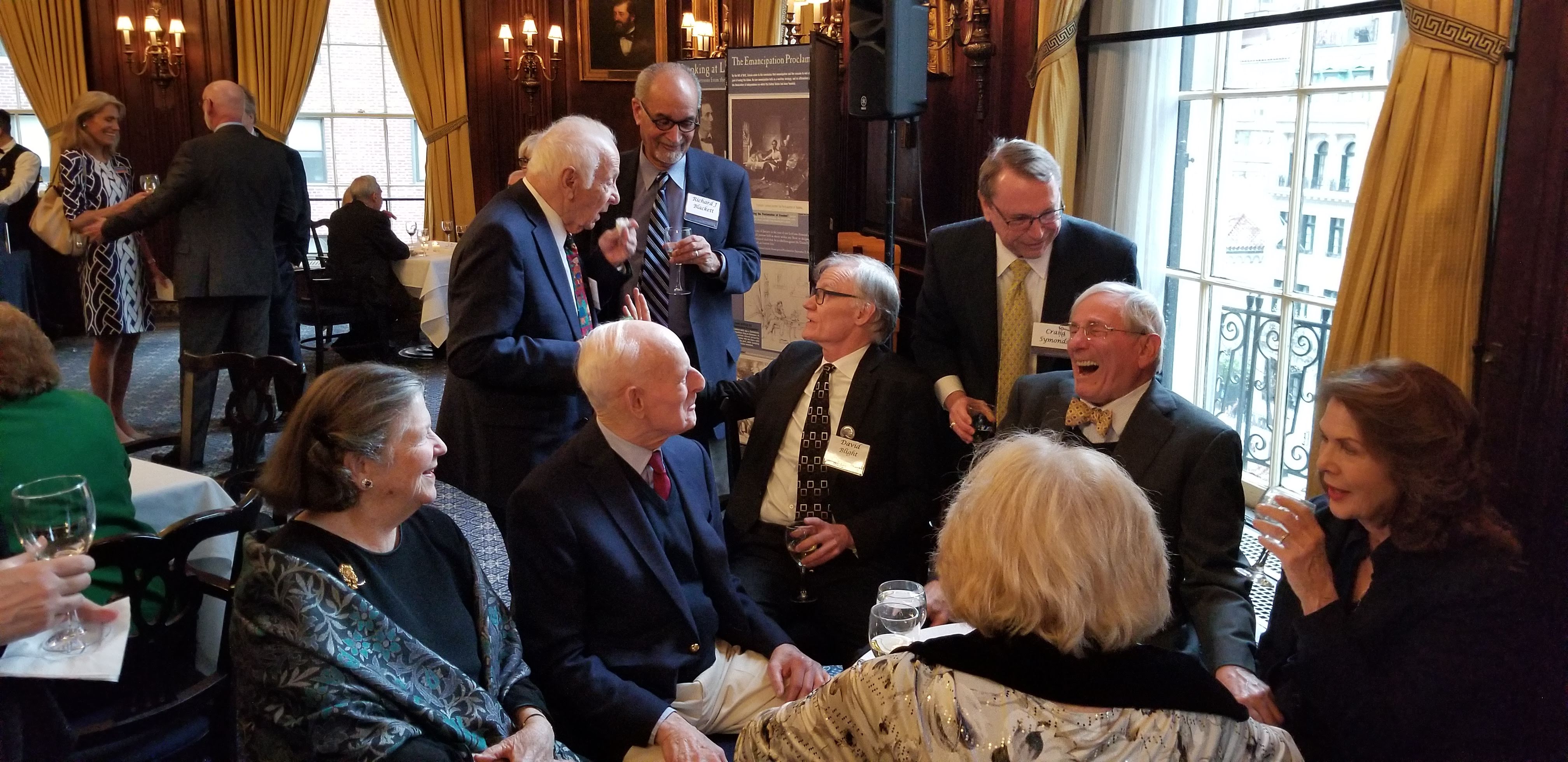 Spring brings three events that friends of Gilder Lehrman Institute cherish, each a part of the rich 25 year history of the Institute in different ways.
The 2019 Gilder Lehrman Lincoln Prize
The Lincoln Prize, created in 1990 by Richard Gilder and Lewis E. Lehrman, was awarded this year to Professor David Blight for his authoritative biography Frederick Douglass: Prophet of Freedom (Simon & Schuster) at a ceremony held in the Union League Club of New York City on April 16, 2019. The day before, Professor Blight had won the Pulitzer Prize in History for the same book, a convergence that has only happened once before, for Eric Foner's Pulitzer and Lincoln Prize–winning book The Fiery Trial: Abraham Lincoln and American Slavery (Norton) in 2011.
Earlier in the week, the revered historian David Brion Davis, the founding director of the Gilder Lehrman Center for the Study of Slavery, Resistance, and Abolition at Yale University, passed away at the age of 92. Institute founders Richard Gilder and Lewis E. Lehrman as well as President Jim Basker and Professor Blight paid homage at the Lincoln Prize ceremony to the scholar who revolutionized the study of slavery by making it central to the understanding of the country. Davis's work was a particular inspiration to Richard Gilder in his founding of the Gilder Lehrman Institute.
Prior to the awarding of the Lincoln Prize to Blight, winners of the Civil War Student Essay Contest were awarded their prizes. President Janet Riggs of Gettysburg College, the co-sponsor of the Lincoln Prize, attested to the resources at Gettysburg College for the study of American history, particularly the Civil War. Larry Walker, a board member of the Gilder Lehrman Lincoln Prize and trustee of Gettysburg College, saluted the finalists for 2019: Richard J. M. Blackett, William W. Freehling, Joanne B. Freeman, and Diane Miller Sommerville. The jury, Walker explained, reviewed 114 books in total for the prize selection.
Upon receiving his award, Professor Blight said, "This Gilder Lehrman phenomenon has certainly changed my career and put me in a place I would never have been in." He closed his speech by quoting Frederick Douglass's most powerful words, in a succession of quotes: "Power concedes nothing without a demand" and "It is easier to build strong children than to repair broken men."
The 20th Annual Frederick Douglass Book Prize
For the first time in the history of the Frederick Douglass Book Prize, two African American women were selected as co-winners—Erica Armstrong Dunbar for Never Caught: The Washingtons' Relentless Pursuit of Their Runaway Slave, Ona Judge (Atria / 37 Ink) and Tiya Miles for The Dawn of Detroit: A Chronicle of Slavery and Freedom in the City of the Straits (New Press). Both books focus on black and, in Miles's case, indigenous women's experiences. Also a notable first, four women were finalists. In addition to Miles and Dunbar, Daina Ramey Berry was a finalist for The Price for Their Pound of Flesh: The Value of the Enslaved, from Womb to Grave, in the Building of a Nation (Beacon Press) and Sharla M. Fett was a finalist for Recaptured Africans: Surviving Slave Ships, Detention, and Dislocation in the Final Years of the Slave Trade (University of North Carolina Press).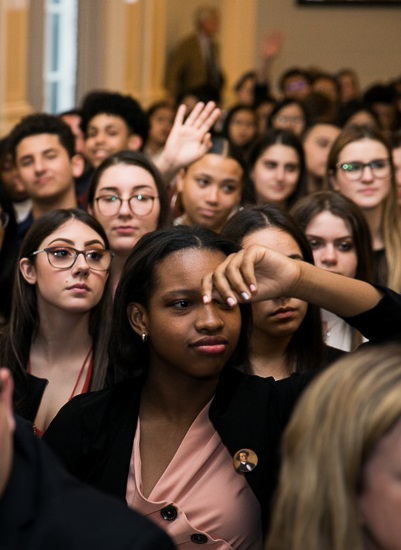 The ceremony, on February 28, 2019, at the Yale Club in New York City, was preceded by a question-and-answer session with the award-winning authors for an audience of Affiliate School students and their teachers. Dunbar and Miles were visibly moved and delighted to be talking to the next generation about their work and lives as historians. The two hundred students attending the event took home signed copies of the prize-winning books.
Erica Armstrong Dunbar, in speaking about the award, said she stood on the shoulders of pioneers—black women scholars who fought to receive recognition. In reference to her subject, Ona Judge, who to escaped from Philadelphia while George and Martha Washington prepared to take her back to Virginia, "Tonight, I accept this award on her behalf. She waited a long time for it."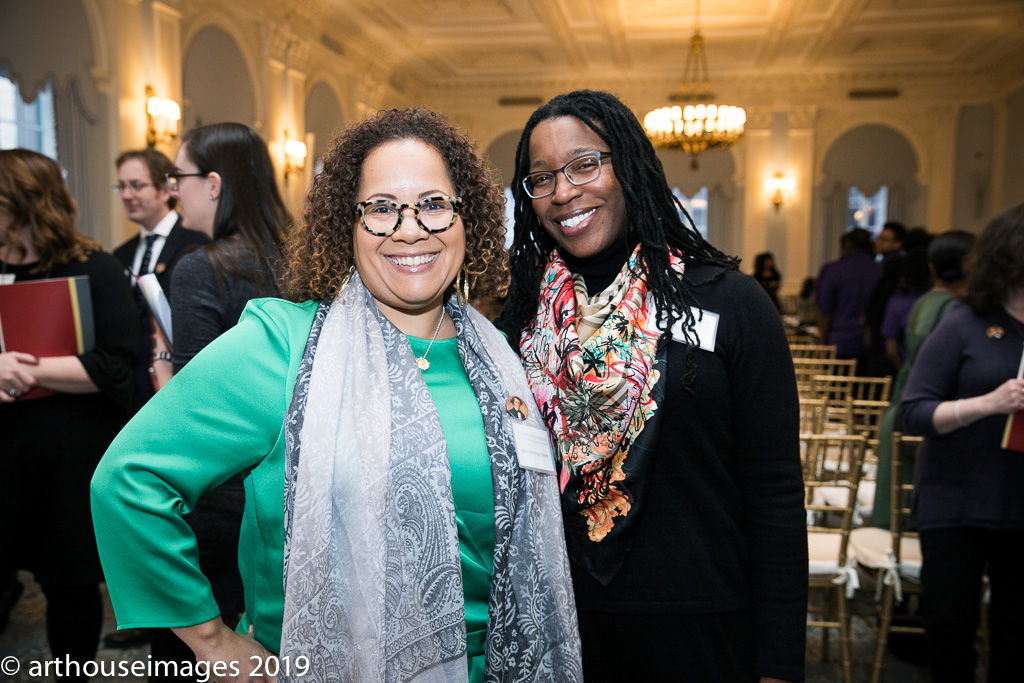 Tiya Miles, in her acceptance speech, said, "To this day, I don't know why I study slavery. Many of us who do this work seem to feel called to it." She recalled her early experiences reading Frederick Douglass's and Harriet Jacobs's accounts of their enslavement and escape: "I was riveted and torn apart." She shortly after made a late night phone call to her grandmother, whose father had memories of slavery.
"The curtain of time," said Miles, "is thin. And all of us stand as a mirror."
An interview with Tiya Miles and Erica Armstrong Dunbar conducted by Institute Staff Writer Jim Knable was published on Medium.com and the Gilder Lehrman Institute website in conjunction with the prize.
The 25th Anniversary Gala
On Tuesday, May 14, 2019, at the Mandarin Oriental Hotel in New York City, the Gilder Lehrman Institute celebrated 25 years at a gala rich in history and looking to the future.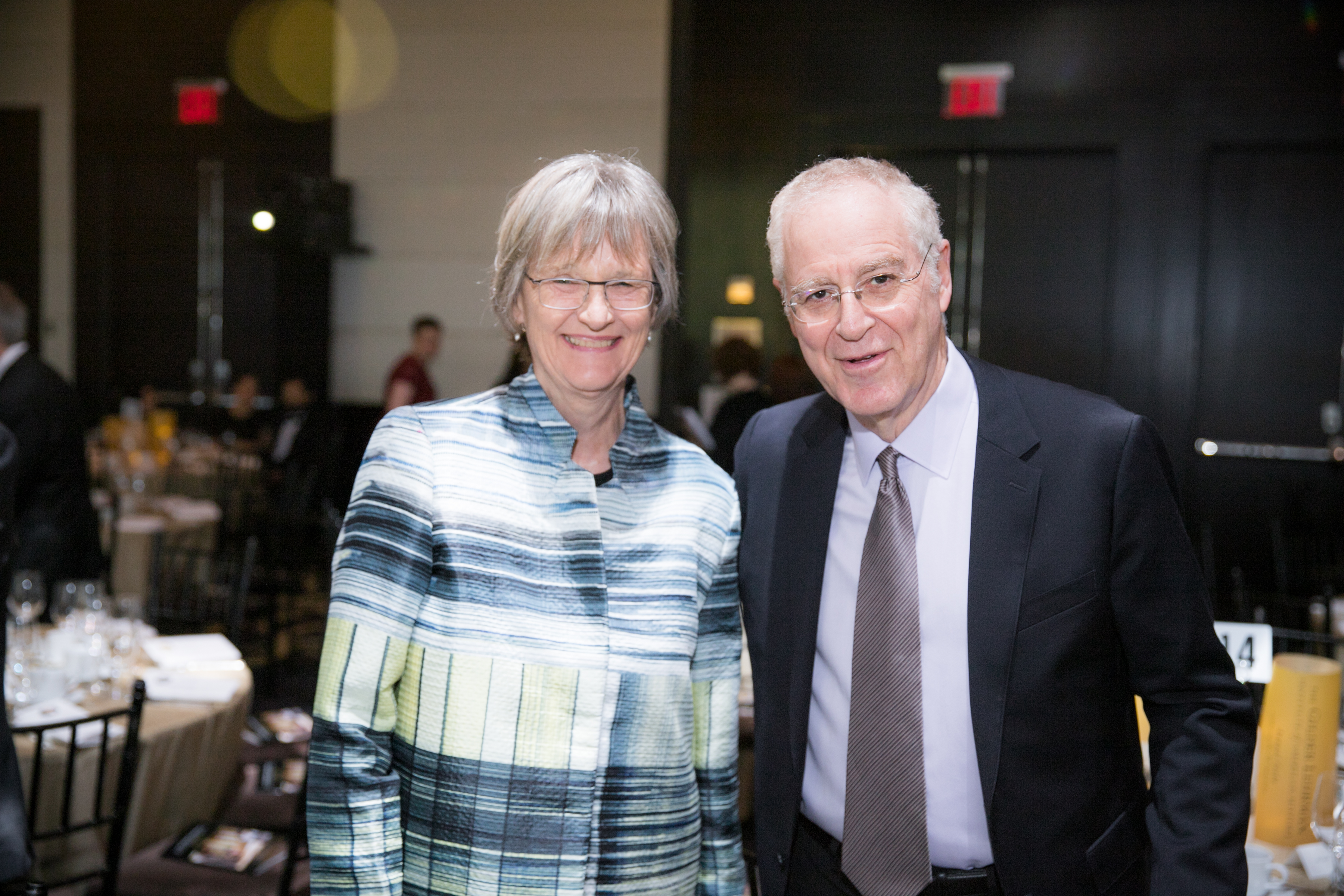 In attendance were 300 friends of the Institute; students and teachers; and the evening's three honorees, award-winning biographer Ron Chernow, President Emerita of Harvard University Drew Gilpin Faust, and Chairman and Founder of GCP Capital Partners LLC, Bob Niehaus. The event raised nearly $1,550,000 that will be used to support the Institute's programming and resources.
Student presenters guided the audience through the evening, introducing each honoree and leading a fun and interactive history quiz during dinner.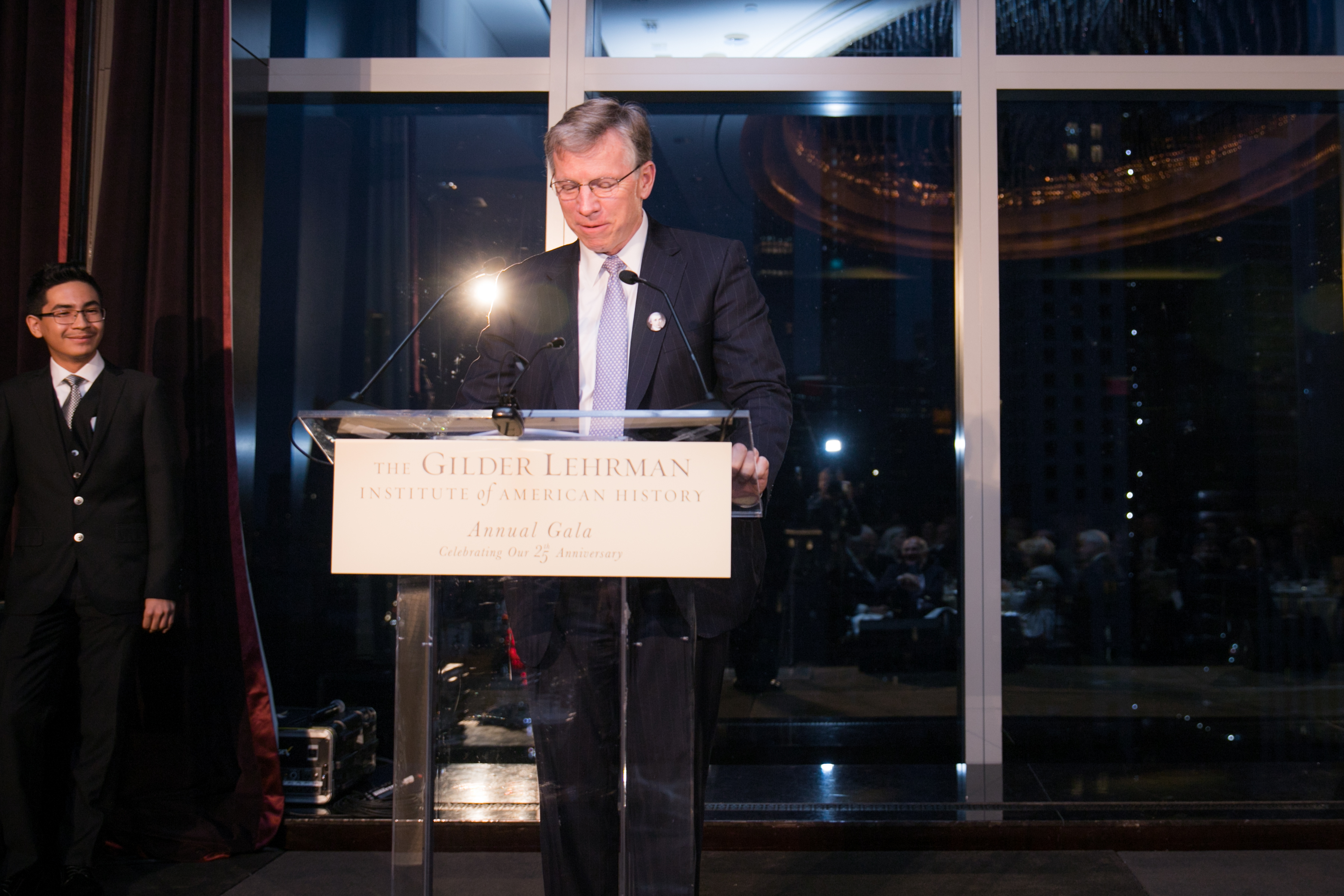 Mr. Niehaus, Professor Faust, and Mr. Chernow spoke to the power of history in each of their lives, from the way in which Mr. Niehaus grew up with a deep awareness of it, through Professor Faust's acknowledgment that her background as a historian is what helped her lead the complex and dynamic institution of Harvard, to Mr. Chernow's recognition that he was a historical "marriage broker" for the Gilder Lehrman Institute and the musical phenomenon of Hamilton, via the Miranda family, helping to create the Hamilton Education Program.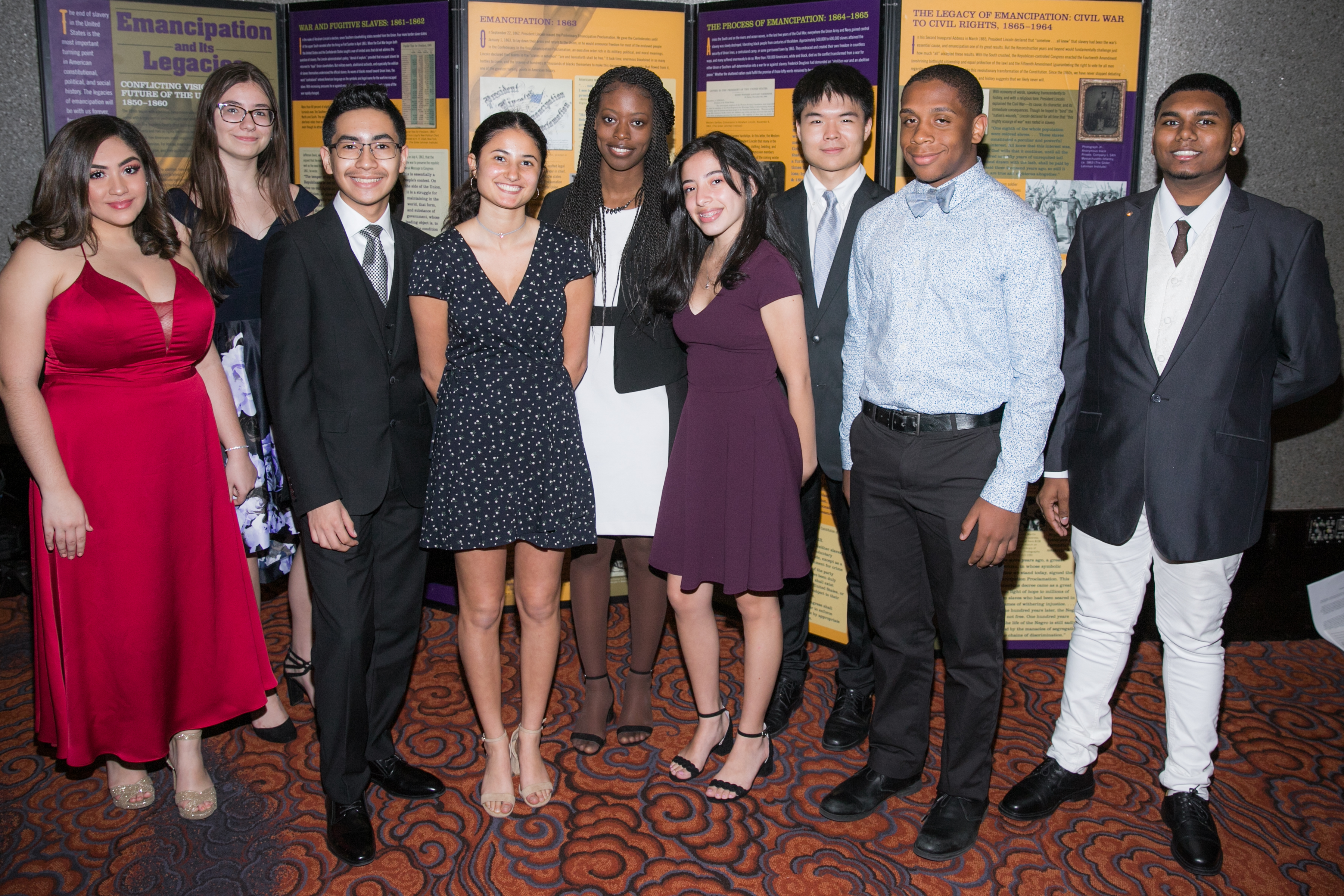 Ron Chernow was the first recipient of the George Washington Prize—co-sponsored by Washington College, the Gilder Lehrman Institute of American History, and George Washington's Mount Vernon—in 2005 for Alexander Hamilton, on which Lin-Manuel Miranda based his musical. Ten years later, Miranda was awarded the same prize for his work.
The Gilder Lehrman Institute continues on through its 25th Anniversary year with a celebration that reaches beyond New York through the soon-to-be-announced #mygli25 initiative and a digital timeline of the Institute's milestones, coming this June!