WINTER 2019 NEWSLETTER
A Message from President Jim Basker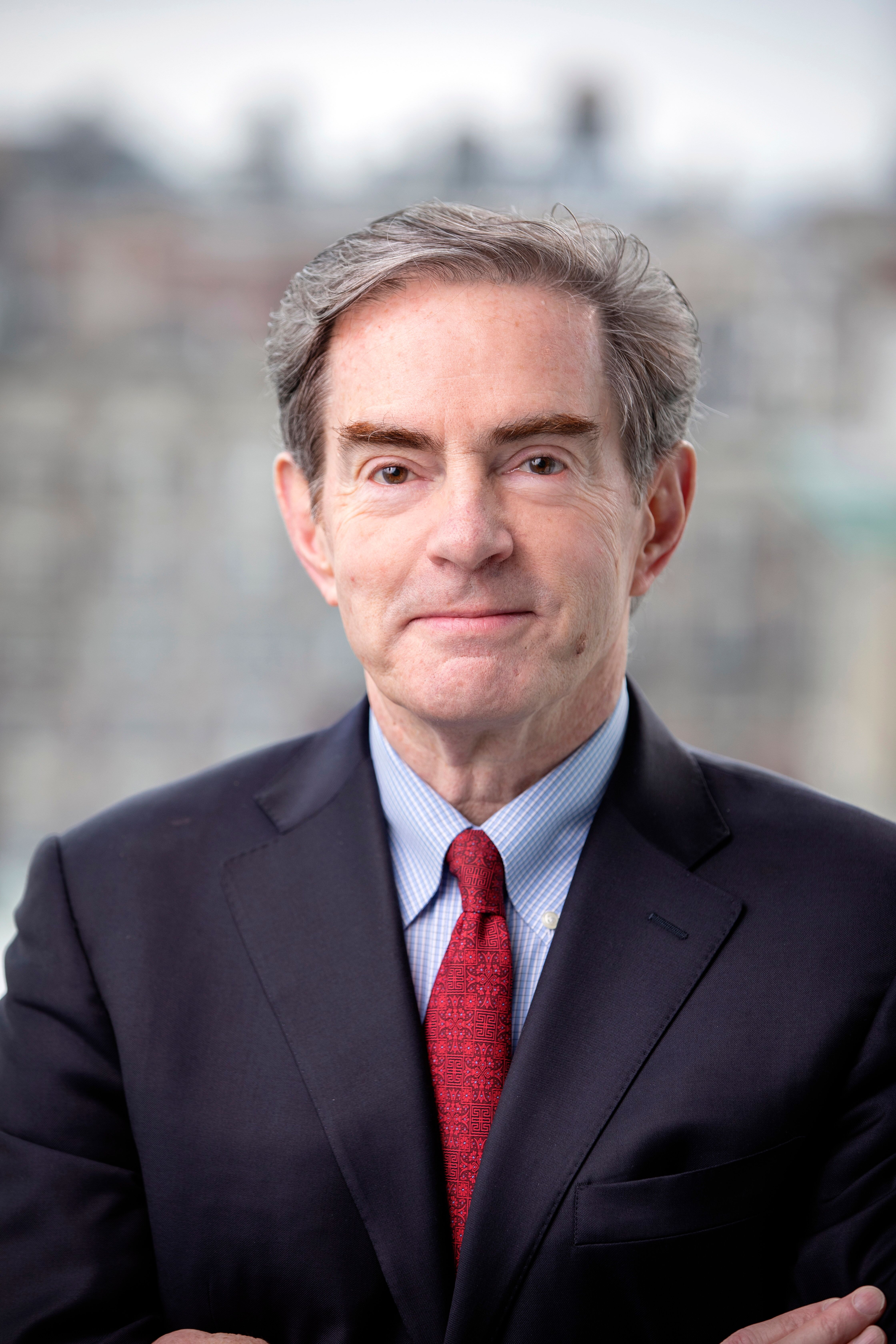 Dear Teachers, Supporters, and Other Friends of the Gilder Lehrman Institute,
As we celebrate our 25th anniversary in 2019, we pursue our mission with more determination than ever. We have 21,000 Affiliate Schools (as of February 14, 2019) and 4,000 applicants for our Teacher Seminars next summer. We are building a digital version of the Hamilton curriculum that will roll out in Fall 2019 and become available to every school in the country in 2020. Meanwhile, we are raising funds for our endowment so that our programs will be available for the next 25 years—and beyond!
We thank you for your support and generosity in working together to form the next generation of educated, engaged Americans.
As ever,
Jim Basker
---
THE GILDER LEHRMAN PRIZE FOR MILITARY HISTORY AWARDED TO CATHAL NOLAN IN A LIVELY CEREMONY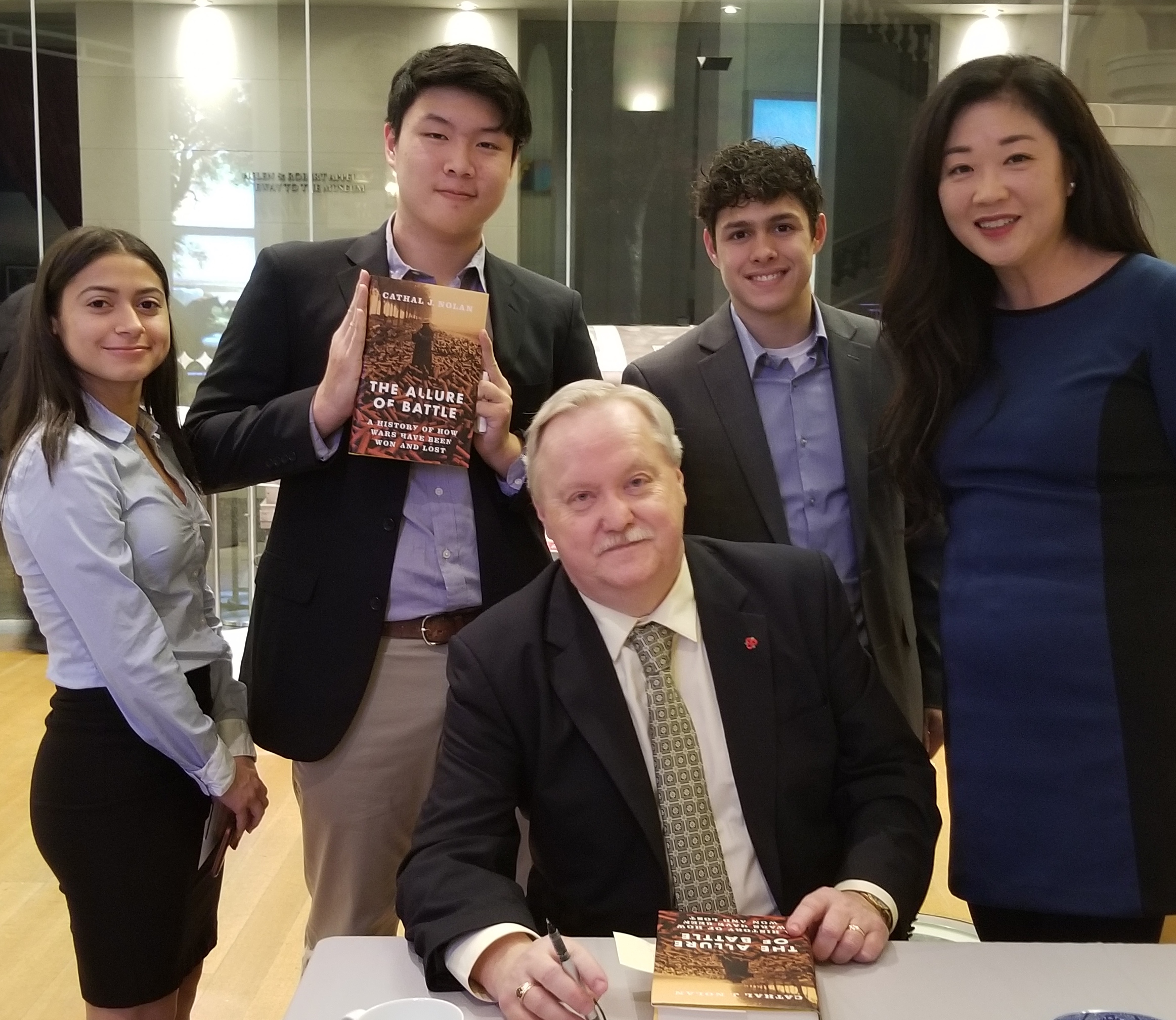 On Monday, November 26, 2018, the Gilder Lehrman Prize for Military History, co-sponsored by the New-York Historical Society, was awarded to Cathal Nolan for his book The Allure of Battle: A History of How Wars Have Been Won and Lost (Oxford University Press, 2017) at the New-York Historical Society.
Following remarks by President and CEO of the New-York Historical Society Louise Mirrer, Basker awarded the Military History Prize and set the stage for the main event: a conversation between Andrew Roberts, visiting professor at the Department of War Studies, King's College London and chair of the Prize jury, and author Cathal Nolan, who is associate professor of history and executive director of the International History Institute at Boston University.
Professor Roberts, whose recent book, Churchill: Walking with Destiny, has been called "undoubtedly the best single-volume life of Churchill ever written" by Dominic Sandbrook of the Sunday Times, summarized the thesis of Professor Nolan's book: Military genius is wildly overestimated and individual battles do not matter. Nolan corrected Roberts, setting the sparring tone for the evening, saying that "battles do matter, but attrition matters more."
A lively discussion followed, with Roberts joking about his book on the Battle of Waterloo being undercut by Nolan's dismissal of the actual importance of Waterloo to Napoleon's defeat and Nolan commenting on the outcome of the American Revolution. On the more serious side, both scholars agreed that military history is often given less respect than it deserves by academia, and Roberts referred to Nolan's book as "profoundly moral."
Nolan, who admits to "making his students cry" with his vivid and painful lectures about the realities of war, said he did not set out to write an anti-war book, but found, in the end, that he did.
Both historians covered thousands of years of military history through their discussion—from Hannibal to Hitler—noting how the American Civil War predicted modern trench warfare but ultimately did not influence how countries waged future wars, and explored the implications of Nolan's work regarding nuclear and cyber warfare via audience questions.
The high school students in the crowd, all from Gilder Lehrman Affiliate Schools, sat in rapt attention, taking notes, particularly when Nolan made statements about war such as "Vanity is the problem. Humility is the solution. Therefore, I think we're stuck [with war]."
After the conversation between Roberts and Nolan, enthusiastic audience members, waiting in line to have their copies of Nolan's The Allure of Battle and Roberts's Churchill: Walking with Destiny signed, continued their own discussions about the "allure of battle," the significance of attrition, and the high quality of the program they had just attended.
---
$500,000 GRANT GIVEN TO THE GILDER LEHRMAN INSTITUTE FOR FUNDING 200 AFFILIATE SCHOOLS, TEACHER SEMINARS, AND STUDENT INTERNS
The Gilder Lehrman Institute of American History has been awarded a $500,000 grant over two years from the Robert David Lion Gardiner Foundation to support schools and teachers on Long Island, including Brooklyn and Queens, in their teaching of American history, thereby strengthening students' academic performance.
"The generous funding directly benefits students and teachers of American history in profound ways, funding schools to receive indispensable resources through their Gilder Lehrman affiliation, enabling teachers to grow professionally through our world-class seminars, giving young historians their first significant experience in archival work, underwriting proven history programs at flagship schools, and giving college-bound students opportunities to expand their historical knowledge," says Gilder Lehrman Institute president James Basker.
The most recent National Assessment of Educational Progress report reveals that nationwide, only 23 percent of eighth graders are proficient in civics knowledge and only 18 percent are proficient in US history. Improvement requires greater access to resources as well as new approaches to teaching US history and civics. The Institute is at the forefront of both efforts.
"Supporting the Gilder Lehrman Institute's programs means supporting hundreds of teachers and thousands of students who benefit from working with the Institute's resources, under the guidance of the top educators in the field of American history," notes Kathryn Curran, executive director of the Robert David Lion Gardiner Foundation. "We are thrilled to provide vital support to the rich array of programs that the Gilder Lehrman Institute offers."
The Robert D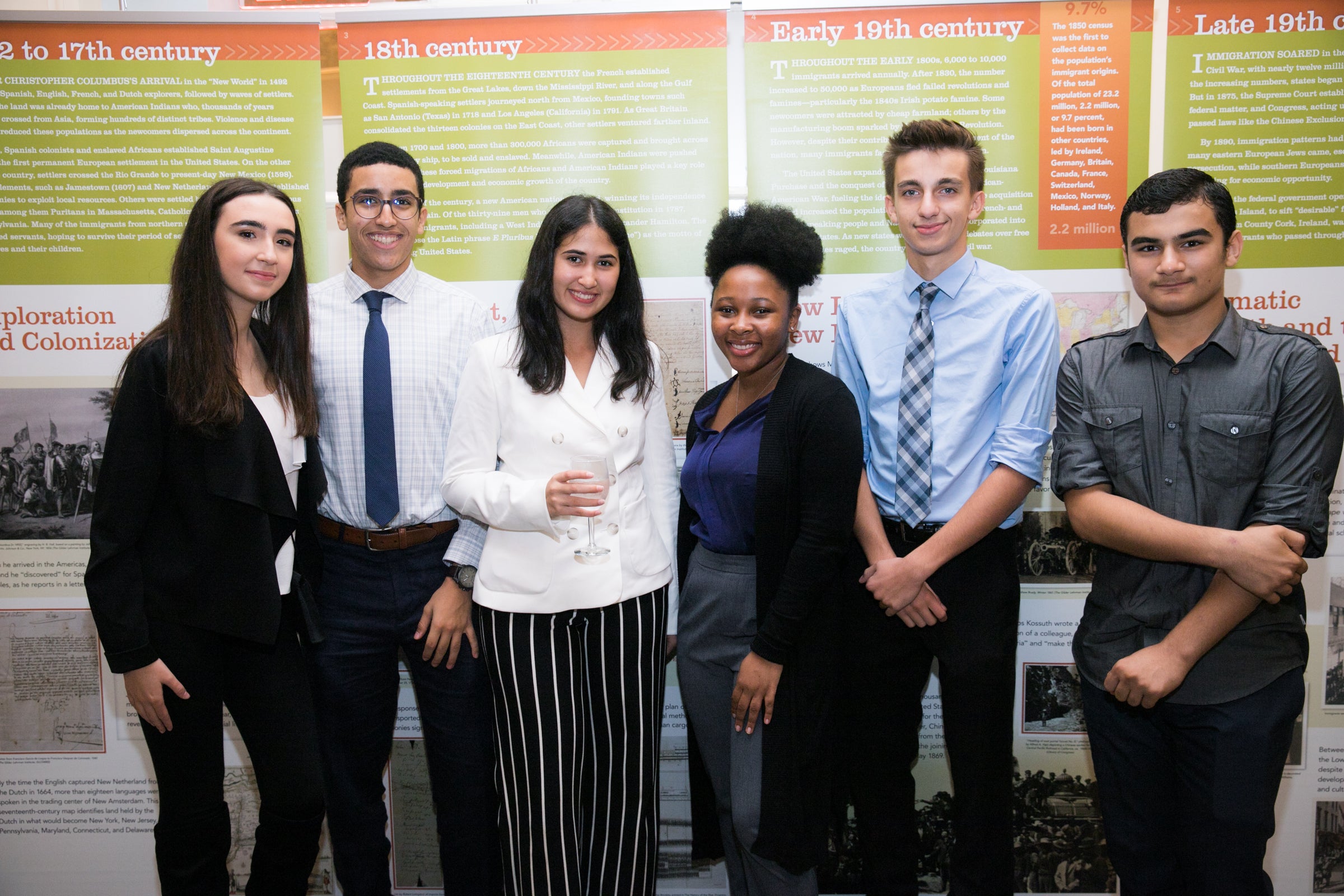 avid Lion Gardiner Foundation grant will fund specific programs of the Gilder Lehrman Institute of American History over a two-year period, including more than 200 new Gilder Lehrman Affiliate Schools in Brooklyn and Queens and on Long Island. Additionally, teachers from Brooklyn, Queens, and Long Island schools will receive support to attend Gilder Lehrman Teacher Seminars, which are led by top scholars of American history across the country. The grant will also support Gilder Lehrman Collection student internships, Flagship History School Programs at Abraham Lincoln High School in Brooklyn and Patchogue-Medford High School in Patchogue, and increased classroom programming through the Saturday Academies of American History at Abraham Lincoln High School and the Academy of American Studies in Queens.
---
A DAY WITH TWO INTERNS: STUDENTS AT WORK WITH HISTORY
Jae Joon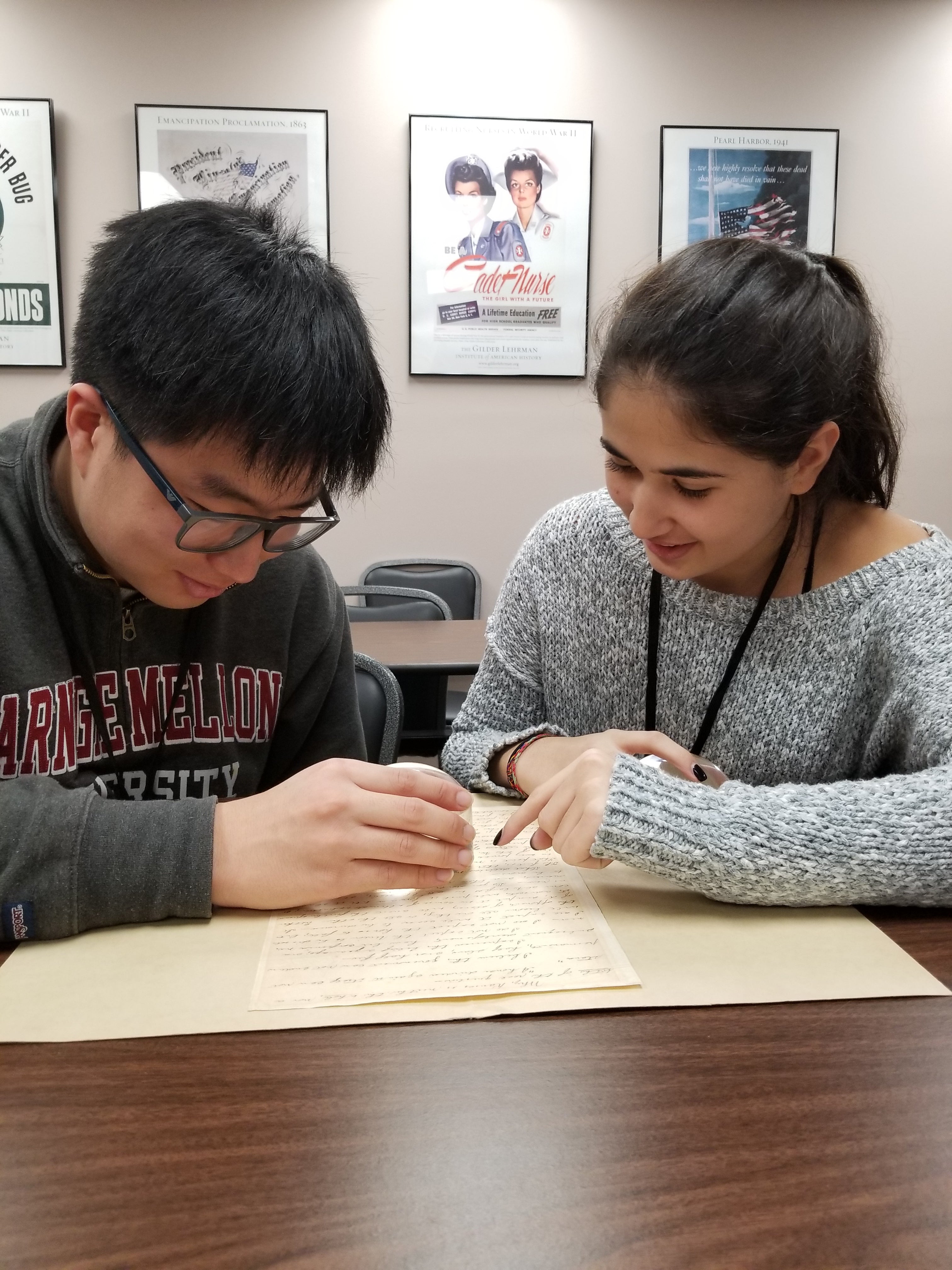 Lee and Zoubida Bicane are two Gilder Lehrman Collection interns currently in their senior year of high school at Bergen County Academy and the Academy of American Studies in Queens, a Gilder Lehrman Flagship School. They have been associated with the Gilder Lehrman Institute since they were freshmen.
Zoubida, who is a member of the Institute's Student Advisory Council, has been working on a Watergate project, organizing 500 pieces of correspondence from adults, school children, and even celebrities like George Takai for and against the impeachment of Richard Nixon. Zoubida, who is on the Community Education Council, is fascinated by the unique, sometimes surprising perspectives on the fall of an American president revealed in the letters. She has transcribed additional documents and brings a student perspective to documents that might be featured on the Gilder Lehrman website in the future.
Jae has been reorganizing the digital images in the Collection and getting them into the Institute's online catalog. He has also been organizing a set of nineteenth-century engravings, from portraits to scenes from American history. In addition, he has been helping the reference department fulfill requests for copies of documents from students and teachers.
When we stopped by to take their pictures, we found them examining and deciphering a letter from a Civil War soldier, who, despite having no medical training, became a medic. The soldier wrote from the midst of the Battle of Gettysburg. Examining a square with lines and dots on it drawn at the bottom of the page, they realized it is the town of Gettysburg and that the lines represent cannons. The text of the letter itself proves shockingly visceral, with the soldier describing how he, a Union officer, was called on in the field to tend wounded Confederates.
Thanks to a general grant from the Robert David Lion Gardiner Foundation, the salaries of future academic year and summer interns will be underwritten.
---
375 STUDENTS AND TEACHERS ATTEND DAVID BLIGHT BOOK TALK ABOUT FREDERICK DOUGLASS AT PACE UNIVERSITY
The Gilder Lehrman Institute partnered with Pace University on Friday, October 19, 2018, to host a book talk and signing with Professor David Blight, award-winning historian and director of the Gilder Lehrman Center for the Study of Slavery, Resistance, and Abolition at Yale University.
Professor Blight, whose online course "The Life and Writings of Frederick Douglass" is being offered through the Pace–Gilder Lehrman MA in American History Program this spring, discussed his new book, Frederick Douglass: Prophet of Freedom, the definitive, dramatic biography of one of the most influential men of the nineteenth century and the recently announced 2019 Lincoln Prize winner.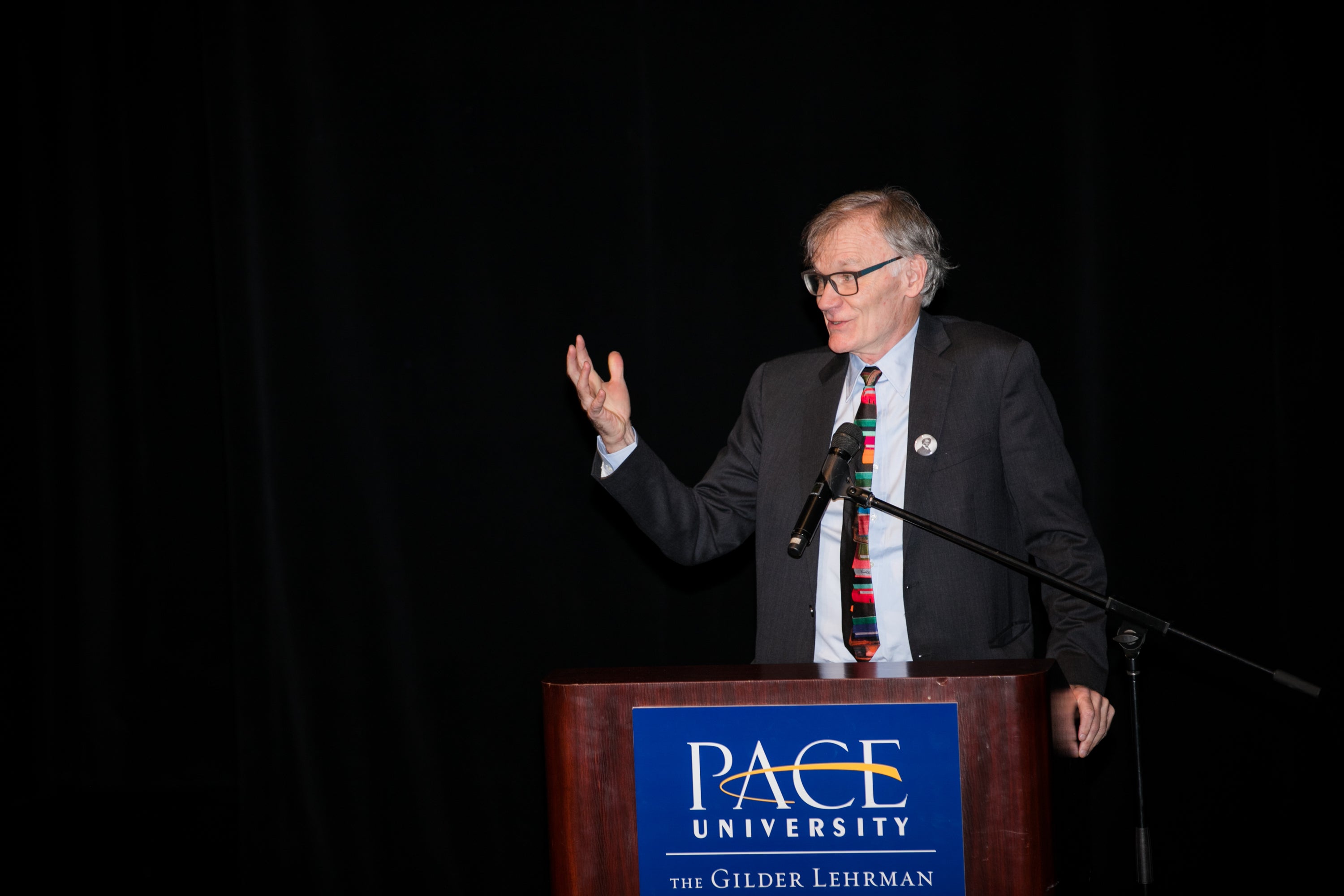 In his talk Blight explored how Frederick Douglass escaped from slavery in Baltimore, was mentored by William Lloyd Garrison, and ultimately rose to become the greatest orator of his day and one of the leading abolitionists and writers of the era. He also discussed the recently unearthed archival materials he drew from, including private collections and issues of Douglass's newspapers, to create the first major biography of Douglass in a quarter century.
Introducing David Blight, Pace University president Marvin Krislov and Gilder Lehrman Institute president Jim Basker spoke of their partnership on the Pace–Gilder Lehrman American History MA Program, which launched this fall with 455 total enrollments and continues for the spring semester with more than 500 enrollments.
Among the 375 attendees, 178 high school students from fourteen Gilder Lehrman Affiliate Schools received free signed copies of Frederick Douglass: Prophet of Freedom.
Thanks to the generosity of a group of African American business and civic leaders, the Gilder Lehrman Institute is now pleased to offer a Gilder Lehrman Institute-exclusive printing of Frederick Douglass: Prophet of Freedom by David W. Blight for Title I-eligible schools. Over 3500 teachers have responded to the offer and will receive copies of the book, one for the teacher and one for a student on whom, in the teacher's judgment, this book will have the greatest impact.
---
A LETTER FROM A GRATEFUL TEACHER
"Dear Mr. Basker,
I just wanted to write to tell you how much my students, along with my vice principal, enjoyed taking part in Professor Blight's book signing last month.
The students have been voraciously reading the book and offering their observations and insights about Frederick Douglass. They are verbalizing their understanding of the important events, the writings, and the impact that Mr. Douglass has had on the shaping of our nation. Their contributions about this topic have raised the level of discussion and brought clarity to the debates in our class.
My students are also reminiscing about their experience with the Hamilton Education Program. We plan to host a Traveling Exhibition at our school and to bring a new crop of students to take part in the Hamilton Education Project.
I see my students becoming engaged citizens every day with the help of the Gilder Lehrman Institute, and I just wanted to send a measure of thanks to you and your staff."
Matthew Malizia
Union City High School
Union City NJ