The Frederick Douglass Book Prize Ceremony Features Many Firsts
Posted by Gilder Lehrman Staff on Wednesday, 03/06/2019
The 20th Annual Frederick Douglass Book Prize was awarded on February 28, 2019, at the Yale Club in New York City.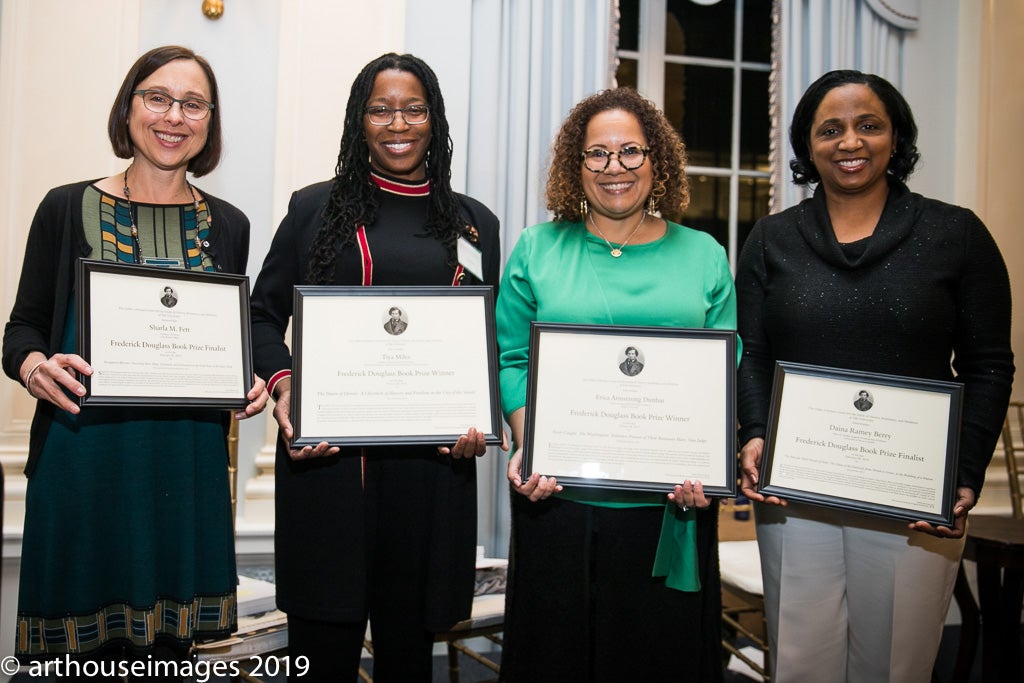 For the first time in the history of the award, two African American women were selected as co-winners—Erica Armstrong Dunbar for Never Caught: The Washingtons' Relentless Pursuit of Their Runaway Slave, Ona Judge (Atria / 37 Ink) and Tiya Miles for The Dawn of Detroit: A Chronicle of Slavery and Freedom in the City of the Straits (The New Press). Both books focus on black and, in Miles's case, indigenous women's experiences.
Also a notable first, four women were finalists. In addition to Tiya Miles and Erica Armstrong Dunbar, Daina Ramey Berry was a finalist for The Price for Their Pound of Flesh: The Value of the Enslaved, from Womb to Grave, in the Building of a Nation (Beacon Press) and Sharla M. Fett was a finalist for Recaptured Africans: Surviving Slave Ships, Detention, and Dislocation in the Final Years of the Slave Trade (University of North Carolina Press). All four books were hailed by the prize jury for their outstanding research, analysis, and writing applied to the understanding of the centrality of slavery, and resistance to it, to the foundation of the United States.
Another significant first, particularly for the award ceremony itself, was that it was preceded by a question-and-answer session with the award-winning authors for an audience of Affiliate School students and their teachers. Dunbar and Miles were visibly moved and delighted to be talking to the next generation about their work and lives as historians.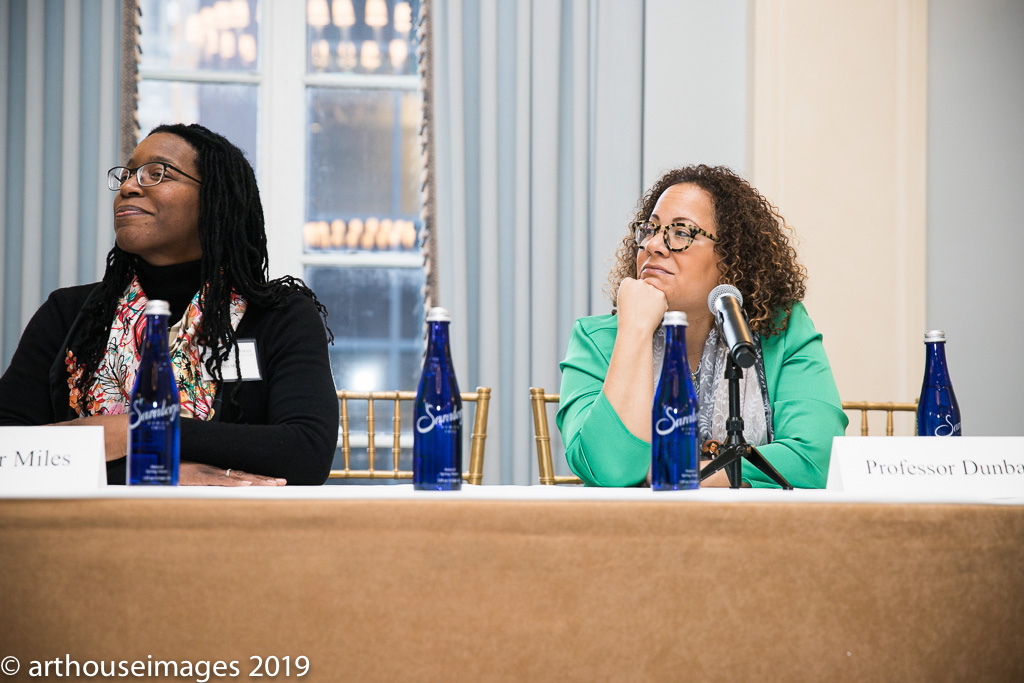 Harvard history professor Miles offered the surprising revelation that she "strongly disliked" history in high school. She found that on the rare occasions that black history was taught, it tended to focus just on slavery and the civil rights era, and, as the only black student in the classroom, all eyes would turn toward her. Dunbar, too, said she did not feel called to be a historian until she was "deep into college," where she thought she wanted to be a lawyer until a professor she respected suggested she follow a historical path.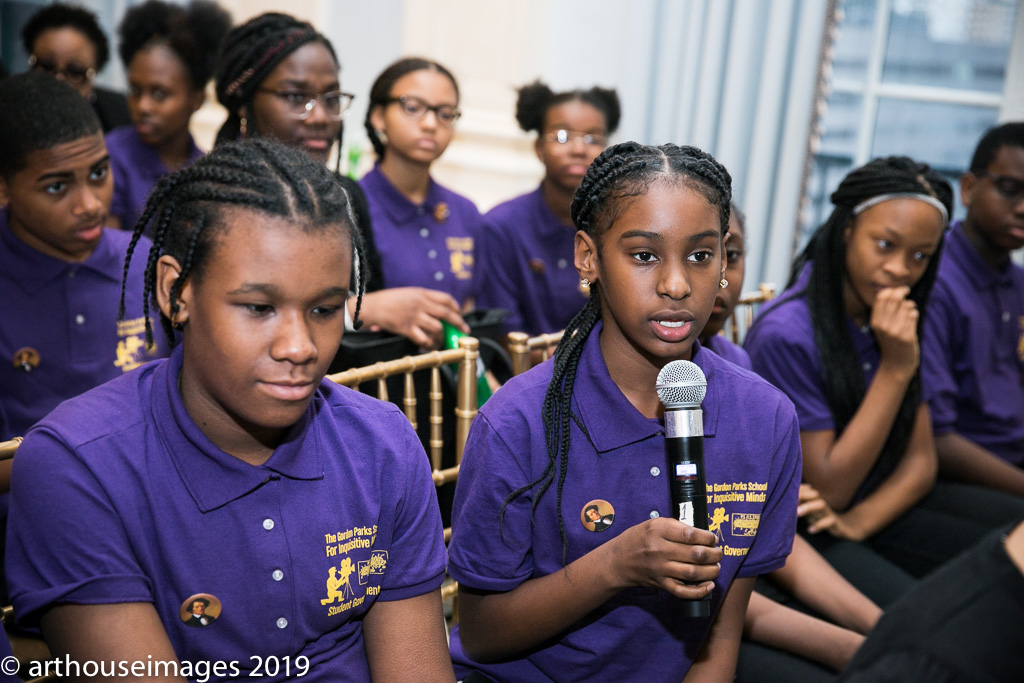 A student from Gordon Parks Middle School asked if, as African American women, they found it harder to be respected in the field of history. Miles responded that she feels African American female historians have to "work harder to gain [students'] trust." Dunbar concurred that "we are challenged by students to prove that we know what we're talking about." But, she added, "I can't really imagine doing any other work."
The students each received copies of both winning books, and they asked about the authors' inspiration. Dunbar recalled finding the runaway slave ad for Ona Judge, emphasizing that "you don't often get a lot of happy endings in writing about slavery." Ona Judge, as one student pointed out, was "the one person to beat George Washington" through escaping her enslavement and never being caught.
When asked what surprised her in writing about the relationship between indigenous people and African Americans before emancipation, Miles admitted that she was "looking for a story of partnership" but found more often that their greatest contact came through enslavement of African Americans by indigenous people, even while indigenous people were enslaved by European Americans.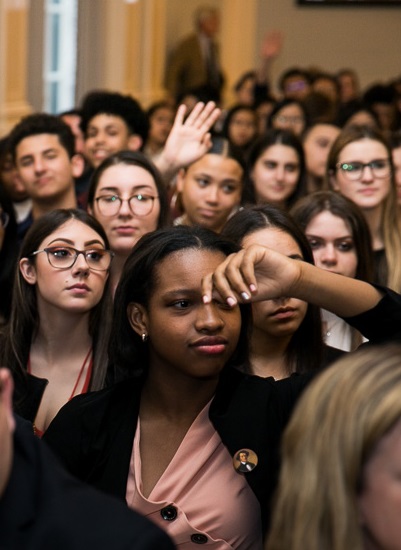 Among other topics they discussed in response to student questions was slavery in the North, technical challenges inherent in writing a historical book when there is scant primary source material for it, and advice the authors might offer to young writers. Miles told a story about having been laughed at by a library archivist when she requested material about African Americans and indigenous people, only to have the same archivist apologize after he heard her being interviewed for her book on this topic ten years later. The advice: "Follow your passion even if you are discouraged from it."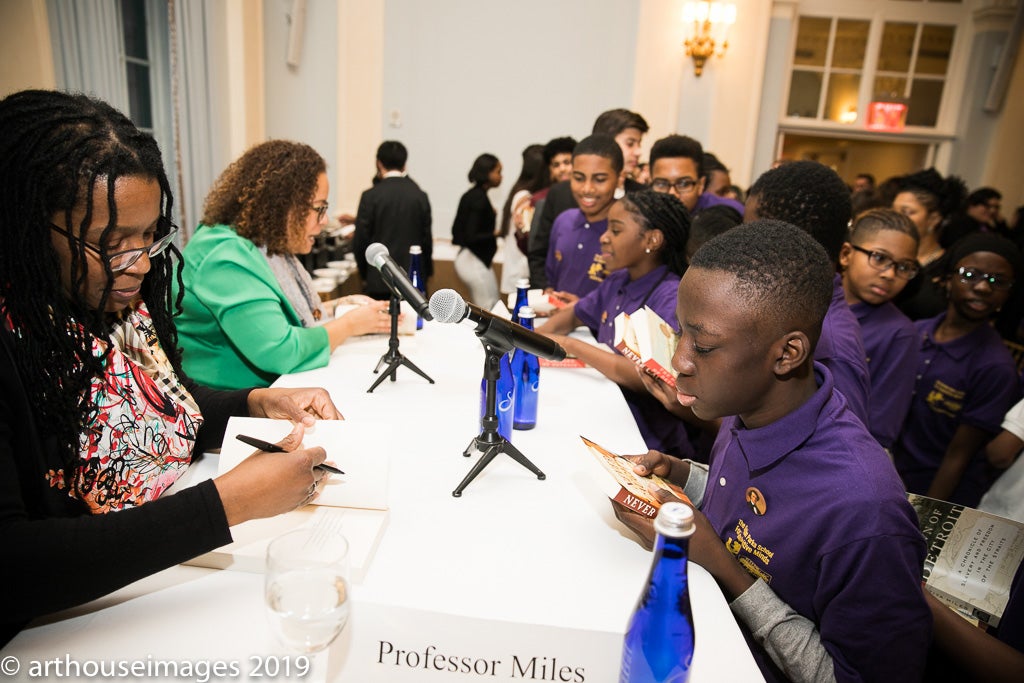 Gilder Lehrman Student Advisory Council members Grace Sperber from Bronxville High School and Kenny Wong from Stuyvesant High School moderated the event with aplomb and set the stage for the incoming audience of adults, who joined the students for the award ceremony proper.
Fort Hamilton High School junior Naomi Nesmith opened the award ceremony with her personal story of having grown up straddling two worlds, being of Hispanic and African American descent, and acknowledging her history teacher who helped her find her interest in the subject.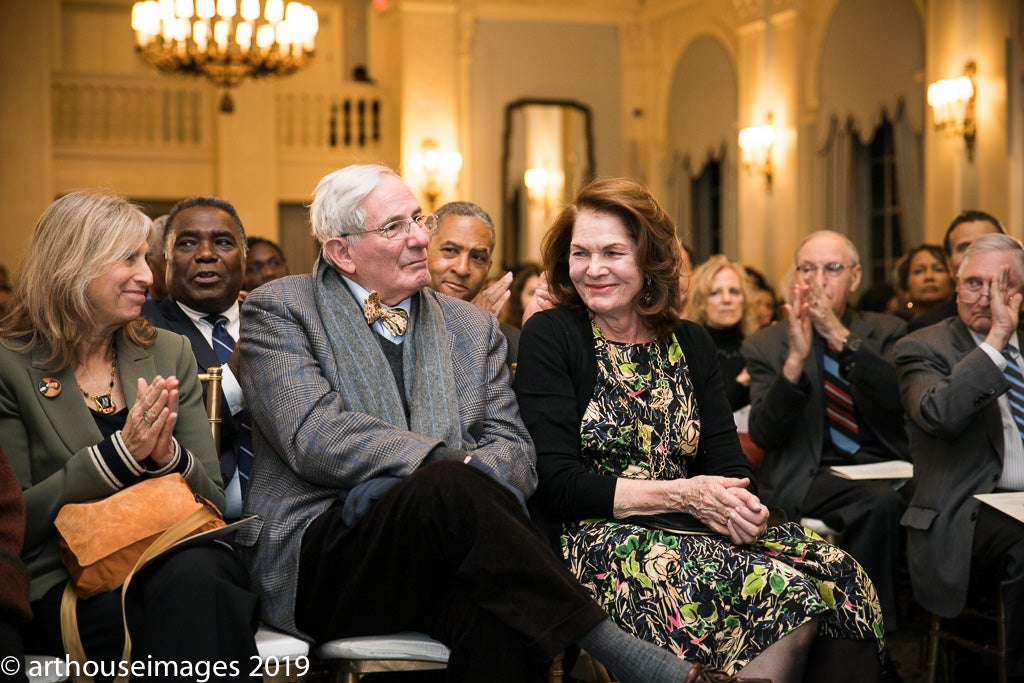 Institute president Jim Basker noted that Frederick Douglass Book Prize co-presenting institution the Gilder Lehrman Center for the Study of Slavery, Resistance, and Abolition was the first of organization of its kind and also recognized the 25th anniversary of the Gilder Lehrman Institute. He gave special thanks to Richard Gilder, co-founder of the Gilder Lehrman Institute, who was in attendance with his wife, Lois Chiles, and recognized other trustees, including Annette Gordon-Reed, Valerie Rockefeller, Thomas P. Hirschfeld, Gladstone Jones, and Thomas D. Lehrman, who were in the audience.
David Blight, director of the Gilder Lehrman Center and author of Frederick Douglass: Prophet of Freedom, presented the awards, celebrating the assembled group of students, teachers, and historians gathered for the event by having each group stand and receive acknowledgement. "There's nothing else like GLI in the United States," said Blight.
Blight introduced the attending award jury, Chair Catherine Clinton of the University of Texas in San Antonio, Ada Ferrer of New York University, and Sandra E. Greene of Cornell University. He noted the excellence of the books by finalists Daina Ramey Berry and Sharla M. Fett, then turned his attention to the prize winners.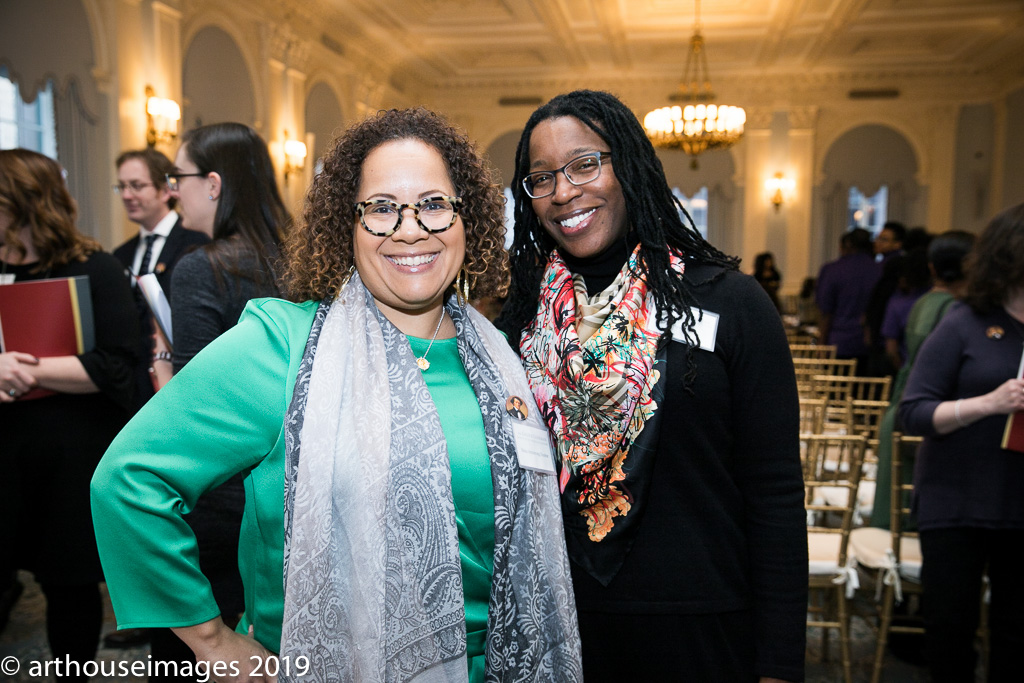 Erica Armstrong Dunbar, in speaking to her winning the award, said she stood on the shoulders of pioneers—black women scholars who fought to receive recognition. She noted the historical moment of all four finalists being women and gestured to the packed and overflowing crowd when stating, "I am sure Mr. Douglass would be pleased."
Dunbar elicited generous and knowing laughter when she quoted her subject Ona Judge saying, of her planning to escape in Philadelphia while the Washingtons prepared to take her back to Virginia, "Whilst they were packing to go, I was packing to go."
Said Dunbar, "Tonight, I accept this award on her behalf. She waited a long time for it."
Tiya Miles, in her acceptance speech, described her reaction to seeing the all female finalist list: "I was stunned and relieved."
She continued: "To this day, I don't know why I study slavery. Many of us who do this work seem to feel called to it."
She recalled her early experiences reading Frederick Douglass's and Harriet Jacobs's accounts of their enslavement and escape: "I was riveted and torn apart." She shortly after made a late night phone call to her grandmother, whose father had memories of slavery.
"The curtain of time," said Miles, "is thin. And all of us stand as a mirror."