Introducing Brinda Tahiliani, the 2018 Massachusetts History Teacher of the Year
Posted by Gilder Lehrman Staff on Wednesday, 01/30/2019
Brinda Tahiliani
Massachusetts History Teacher of the Year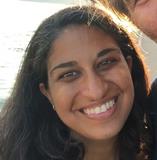 Since 2004, 749 exemplary American history teachers from elementary, middle, and high schools in all fifty states, Department of Defense schools, Washington DC, and US territories have been named State History Teacher of the Year. The National History Teacher of the Year is named in the fall. The 2018 State History Teachers of the Year were asked informal questions by the Gilder Lehrman Institute.
Tell us one fun historical fact about the town you live in or grew up in.
I live in Dedham, Massachusetts, home to both the oldest dam and the oldest freestanding timber home in North America. It is named after Dedham, England, which was the home of the famous English painter John Constable.
What was the last great history book you read?
A People's History of the United States by Howard Zinn
What is your favorite historical site or museum?
I love the Presidential Libraries. You get to not only relive the history they produced but also see the human side of these leaders.
If you could travel back in time and meet any historical figure, who would it be and why?
I would love to attend the Coronation of Elizabeth II. I am an admitted Royal watcher. I have a great deal of admiration for the queen. She is positioned as such a stabilizing figure in British culture. Britain's history after World War II has had its ups and downs. So, too, has the queen's personal life. Yet, through both, she has been graceful, elegant, and stoic.
What is your favorite historical film or series?
Band of Brothers on HBO
Do your students have a favorite historical topic or era?
World War II. It played out so dramatically. Lots of characters, good versus evil, world domination, and victory for the Allies.
What advice would you give to young people, in high school or college, who may be considering a career in education but are unsure?
I would ask them where the uncertainty is coming from. If it's content-related: never stop being a lifelong learner. If it's pedagogy: open up to criticism and accept mistakes happen when you are finding yourself. Stay away from the profession if you think there is something better for you out there. You will only ever be good at this profession if you recognize that compassion and tenacity can overcome any obstacle.
---
Click here to nominate a teacher for the 2019 state and national awards.