Brandt, Sebastian (fl. 1600-1625) to Henry Hovener
High-resolution images are available to schools and libraries via subscription to American History, 1493-1943. Check to see if your school or library already has a subscription. Or click here for more information. You may also order a pdf of the image from us here.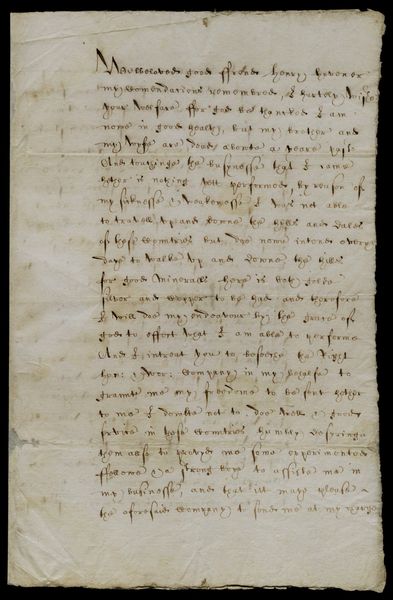 A high-resolution version of this object is available for registered users. LOG IN
Gilder Lehrman Collection #: GLC00708 Author/Creator: Brandt, Sebastian (fl. 1600-1625) Place Written: Virginia Type: Autograph letter signed Date: 13 January 1622 Pagination: 3 p. : docket ; 31.5 x 20.5 cm
Requests having the London Company send him supplies. Requests his nephew (the son of Phillip Brandt) be sent to Virginia from Derbyshire. Mentions Admiral of the Jamestown District John Pountis. Written in Elizabethan secretarial hand. Docket, in another hand, reads: "Sebastian Brands letter to Mr. Hojener 13 January }1622/1 That ther is Mynes of Gould and Silver and Copper in Virginia." It is unclear if the date is old style or new style.
Early Virginia was a death trap. Of the first 3000 immigrants, all but 600 were dead within a few years of arrival. Virginia was a society in which life was short, diseases ran rampant, and parentless children and multiple marriages were the norm.
In sharp contrast to New England, which was settled mainly by families, most of the settlers of Virginia and neighboring Maryland were single men bound in servitude. Before the colonies turned decisively to slavery in the late seventeenth century, planters relied on white indentured servants from England, Ireland, and Scotland. They wanted men, not women. During the early and mid-seventeenth century, as many as four men arrived for every woman.
Why did large numbers of people come to such an unhealthful region? To raise tobacco, which had been introduced into England in the late sixteenth century. Like a number of other consumer products introduced during the early modern era--like tea, coffee, and chocolate--tobacco was related to the development of new work patterns and new forms of sociability. Tobacco appeared to relieve boredom and stress and to enhance peoples' ability to concentrate over prolonged periods of time. Tobacco production required a large labor force, which initially consisted primarily of white indentured servants, who received transportation to Virginia in exchange for a four to seven-year term of service.
In one of the earliest surviving letters from colonial Virginia, Sebastian Brandt (fl. 1600-1625?), an early settler, casually describes the extent of mortality in the colony. He also shows that the search for precious metals persisted even after the colonists had begun to raise tobacco. "My brother and my wife are dead" Sebastian Brandt's origins are obscure. His name does not appear in any of the regularly consulted records of Virginia - he never served on any juries and was never an official of any kind. It is possible that he was of the Brandt family of shipbuilders of Topsham in Devonshire, England. It seems that Brandt was lured to Virginia by exaggerated reports of the gold and silver to be found there and that he spent at least a year there because of the references to his wife and brother, but no more than a year because of his comment about his illness. It is also possible that he could have arrived in 1619 when 1,200 settlers arrived at Jamestown. He could have died from this illness or he could have returned to England once he realized there was no gold. The reference to "Mr. Pontes" was to John Pountis (also spelled Powntis and Powntes) who was the Admiral of the Jamestown district. Pountis would have been responsible for receiving goods from England.
[draft]
Well beloved good friend Henry Hovener
My comendations remembred, I hartely [wish] your welfare for god be thanked I am now in good health, but my brother and my wyfe are dead aboute a yeare pass'd And touchinge the busynesse that I came hither is nothing yett performed, by reason of my sicknesse & weaknesse I was not able to travell up and downe the hills and dales of these countries but doo nowe intend every daye to walke up and downe the hills for good Mineralls here is both golde silver and copper to be had and therefore I will doe my endeavour by the grace of god to effect what I am able to performe And I intreat you to beseeche the Right Hon: & Wor: Company in my behalfe to grant me my freedome to be sent either to me I dowbte not to doo well & good service in these countries humbly desyringe them also to provyde me some [appointed] fellowe & a strong boye to assiste me in my businesse, and that it may please the aforesaid Company to send me at my charge [2] a bed wth a bolster and cover and some Linnen for shirtes and sheetes. Sixe fallinge bands wth Last Size pairs of shoes twoo pairs of bootes three pairs of cullered stockings and garters wth three pairs of lether gloves some powder and shott twoo little runletts of oyle and vinnegar some spice & suger to comfort us here in our sicknesse abowte ffyftie pounds weight of holland and Englishe cheese together, Lykewyse some knyves, spoons, combes and all sorts of cullerd beads as you knowe the savage Indians use Allso one Rundlett wth all sortes of yron nayles great and small, three haire sives, two hatchetts wth twoo broad yrons and some Allum And send all these necessaries thinges in a dry fatt wth the first shippinge dyrected unto Mr. Pontes in James Towne here in Virginia And whatsoever this all costes I will not onely wth my moste humble service but allso wth some good Tobacco Bevor and Otterskins and other commodities here to be had recompence the Company for the same [3] And yf you could send for my brother Phillipps Sonne in Darbesheere to come hether itt [were] a great commoditie ffor me or suche another used in minerall workes And thus I comitt you to the Almighty.
Virginia 13 January 1622
Sebastian Brandt
[docket]
Sebastian Brands lettre
To Mr Hofener 13, January 1622/3
That ther is Mynes of Gould
and Silver and Copper in
Virginia