Adams, John (1735-1826) to Benjamin Rush
High-resolution images are available to schools and libraries via subscription to American History, 1493-1943. Check to see if your school or library already has a subscription. Or click here for more information. You may also order a pdf of the image from us here.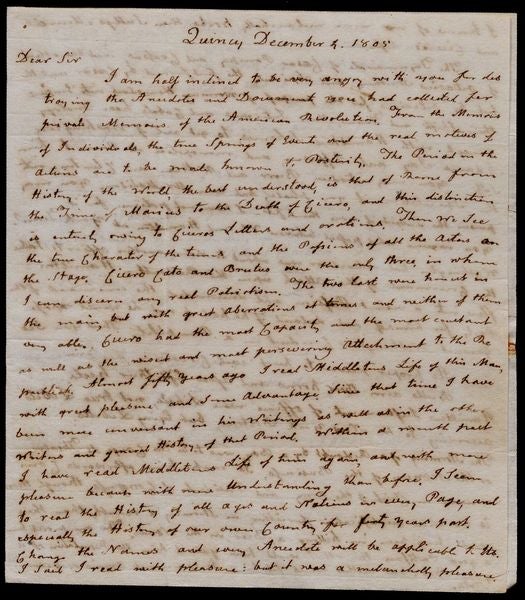 A high-resolution version of this object is available for registered users. LOG IN
Gilder Lehrman Collection #: GLC00747 Author/Creator: Adams, John (1735-1826) Place Written: Quincy, Massachusetts Type: Autograph letter signed Date: 4 December 1805 Pagination: 3 p. : address ; 23 x 20 cm.
Summary of Content: Writes concerning his and George Washington's administrations by referring to those "melancholly books" such as "Tully's Memoirs" and "Cicero's Life" from which he compares the first and second triumvirates to Hamilton's "Schemes, to get rid of Washington, Adams, Jay and Jefferson, and monopolise all power to him Self."
Background Information: During the 1790s and early 1800s, the United States confronted many of the same problems that have confronted newly independent nations in Africa and Asia in the twentieth century. Like ...other nations born in anticolonial revolutions, the United States faced severe challenges in building a sound economy, preserving national independence, and providing a place for a legitimate political opposition.
The textbook picture of the past tends to be calm and dispassionate, but in real life, events were confusing and unpredictable. The nation's first two decades under the Constitution were rife with conflict, partisan passion, and threats of disunion and civil war.
In a bitter letter written two years after Vice President Aaron Burr (1756-1836) shot and killed Alexander Hamilton in a duel, former President Adams offers a savage attack on the former Treasury Secretary's character. Adams draws a comparison between the early years of the new republic and the history of the Roman republic. Adams, like many Americans of the founding generation, believed that the Roman republic, which provided a model for such American institutions as the Senate, had collapsed because of the malevolent designs of scheming men and the public's lack of virtue. He is haunted by a fear that the new American republic is doomed to follow the same fate.
See More
Full Transcript: Quincy December 4, 1805
Dear Sir
I am half inclined to be very angry with you for destroying the Anecdotes and Documents you had collected for private Memoirs of the American Revolution. ...From the Memoirs of Individuals, the true Springs of Events and the real motives of actions are to be made known to Posterity. The Period in the History of the World, the best understood, is that of Rome from the Time of Marius to the Death of Cicero, and this distinction is entirely owing to Ciceros Letters and orations. There we see the true Character of the times and the Passions of all the Actors on the Stage…. Change the Names and every Anecdote will be applicable to Us.
The Triumvirate of Caesar, Pompey and Crassus, and the other of Octavious Anthony and Lepidus, the first formed by Caesar and the last by Octavius, for the purpose of worming themselves into Empire…have Analogy enough with Hamiltons Schemes, to get rid of Washington Adams Jay and Jefferson, and monopolize all Power to him Self…. You inquire what passed between W. and Hamilton at York Town? Washington had ordered or was about to order another officer to take the Command of the attack upon the Redoubt. - Hamilton flew into a violent Passion and demanded the command of the Party for himself and declared if he had it not, he would expose General Washington's Conduct in a Pamphlet. Thus you see
It's proper power to hurt each Creature feels
Bulls aim their horns and asses lift their heels.
Hamilton's Instrument of offence were Libels, not true Libels according to the New York Doctrine, but lying Libells. The Storming of a Redoubt by a Boy, was to the Coup de Theatre or the Scenery of the Business, to make him afterwards Commander in Chief of the army and President of Congress, though there is no more qualification for either in storming a redoubt, than there would have been in killing a Deer in the Woods. The one proved him a good Partisan the other would have gained him the Reputation of a good Shot: but neither would fit him to command armies or govern states.
I rejoice in your Prosperity and wish it may increase. If you have sold the copy right of your Medical Works for a thousand dollars, I am confident the Bookseller will have a good Bargain and make twice the profit of it, that you will. Those works are in universal esteem among the Faculty, and even with those who differ from you, on so many points.
There is a concurrence, if not a combination of events that strikes me. Col. Burr, at Washington, General Dayton at Washington, General Miranda at Washington, General Hull returning from his government, General Wilkinson commanding in Louisiana &c &c. Enterprises of great Pith may be in a state of Coition. You may say perhaps that I am jealous. But there is a long History in my memory attached to several of those names, which suggests the possibility of profound Councils and great Results, whether good or not I will not [conj]ecture. If your government should risqué the giving offense to France by a war with Spain, I should be surprised.
If I have been as tedious in this Letter as in my last, I will not be so long, lest I should disgust you with a correspondence which affords great pleasure to your Friend and humble servant
John Adams
Dr. Rush

[docket]:
John Adams
1805
Dr. Benjamin Rush
Philadelphia






See More
People: Adams, John, 1735-1826
Rush, Benjamin, 1746-1813
Hamilton, Alexander, 1757-1804
Jay, John, 1745-1829
Jefferson, Thomas, 1743-1826

Historical Era: The New Nation, 1783-1815
Subjects: PresidentClassical World and Ancient CivilizationCorruption and ScandalPoliticsGovernment and CivicsHealth and MedicalEducationRevolutionary WarBattleBattle of YorktownMilitary HistoryGlobal History and US Foreign PolicyFranceBallooning
Sub Era: The Age of Jefferson & Madison