Jefferson, Thomas (1743-1826) A summary view of the rights of British America
High-resolution images are available to schools and libraries via subscription to American History, 1493-1943. Check to see if your school or library already has a subscription. Or click here for more information. You may also order a pdf of the image from us here.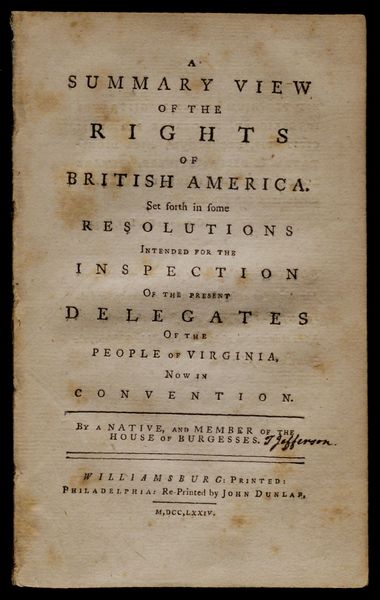 A high-resolution version of this object is available for registered users. LOG IN
Gilder Lehrman Collection #: GLC00962 Author/Creator: Jefferson, Thomas (1743-1826) Place Written: Philadelphia Type: Pamphlet Date: 1774 Pagination: 23 p. 19 x 12 cm
Summary of Content: 8vo. 2d edition reprinted by Dunlap. Evans 11351, Howes J79, Sabin 35918, Streeter Sale 2: 754. With authorship noted on titlepage in a contemporary hand. There are twenty copies of Dunlap's printing recorded. Seminal for Jefferson's thoughts recorded in the Declaration of Independence and said to have brought him to the attention of delegates as a talented writer.
Background Information: Two years before the Declaration of Independence, Thomas Jefferson (1743-1826), then 31, distributed an essay to the delegates at the first Continental Congress in which he outlined grievances against the British ...government. At the time, this statement was considered too radical by most colonial leaders. In this document, Jefferson appeals not only to an English tradition of political liberty, but also to the idea of certain natural and inalienable rights--a concept that he would develop two years later in the Declaration of Independence.See More
Full Transcript: These are our grievances which we have thus laid before his majesty, with that freedom of language and sentiment which becomes a free people claiming their rights, as derived from ...the laws of nature, and not as the gift of their chief magistrate: Let those flatter who fear; it is not an American art. To give praise which is not due might be well venal, but would ill beseem those who are asserting the rights of human nature. They know, and will therefore say, that kings are servants, not the proprietors of the people. Open your breast, sire, to liberal and expanded thought.See More
People: Jefferson, Thomas, 1743-1826
Dunlap, John, 1747-1812

Historical Era: American Revolution, 1763-1783
Subjects: Declaration of IndependencePresidentCivil RightsRevolutionary WarGlobal History and US Foreign PolicyGlobal History and US Foreign PolicyFreedom and IndependenceContinental CongressCongress
Sub Era: Road to Revolution