Davis, Jefferson (1808-1889) [Signed endorsement, "J.D."]
High-resolution images are available to schools and libraries via subscription to American History, 1493-1943. Check to see if your school or library already has a subscription. Or click here for more information. You may also order a pdf of the image from us here.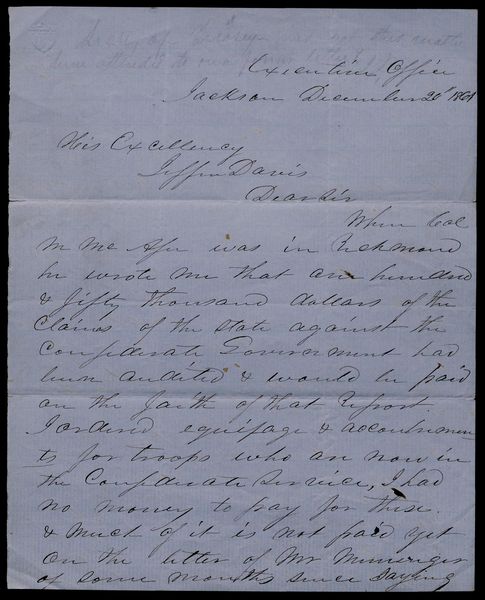 A high-resolution version of this object is available for registered users. LOG IN
Gilder Lehrman Collection #: GLC01079 Author/Creator: Davis, Jefferson (1808-1889) Place Written: Jackson, Mississippi Type: Autograph endorsement signed Date: 20 December 1861 Pagination: 2 p. ; 24 x 20 cm.
Summary of Content: Confederate President Jefferson Davis endorsement signed (with initials) on the top of the first page in pencil. "Sectry of Treasry - Has not this matter been attended to on a former letter? J.D." Written on a signed autograph letter from Mississippi Governor Pettus to Jefferson Davis requesting money to cover the costs of raising and arming Confederate troops. The national government in Richmond had allocated monies to reimburse local governments for that purpose.
Full Transcript: [endorsement:] Secty of
Treasy has not this matter been attended to on a previous letter? J.D.
Executive Office
Jackson December 20th 1861

His Excellency
Jeffen Davis

Dear Sir
When Col. ...M. McAfee was in Richmond he wrote me that one hundred & fifty thousand dollars of the claims of the state against the Confederate Government had been audited & would be paid on the faith of that report. I ordered equipage & accountrements for troops who are now in the Confederate Service, I had no money to pay for these & much of it is not paid yet On the letter of Mr. Meminger of some months since saying [2] that the claims of the state were then before the Auditor, & would be settled I have promised to pay for this outfit for the troops in Confederate Treasury notes. I have nothing that will pay it & the claimants are clamorous. Mr. President Return me from this embarrassing position. Mississippi & the Governor of Miss is in an awkward position in regard to these notes, incurred as above stated, & I see no other means of meeting them but by calling on the Confederate Treasurer.
I still raising troops & arming them - about four thousand Recently sent to Bowling Green
& Columbus, & I start six companies from here to Genl. A. S. Johnston tomorrow.

Maj. S. F. Neill will hand you this, & explain.

Very Respectfully,
John J. Pettus
See More
People: Davis, Jefferson, 1808-1889
Pettus, John Jones, 1813-1867

Historical Era: Civil War and Reconstruction, 1861-1877
Subjects: Confederate General or LeaderConfederate States of AmericaRecruitmentFinanceEconomicsGovernment and CivicsMilitary HistoryCivil War
Sub Era: The American Civil War