Knox, Lucy Flucker (ca. 1756-1824) to Henry Knox
High-resolution images are available to schools and libraries via subscription to American History, 1493-1943. Check to see if your school or library already has a subscription. Or click here for more information. You may also request a pdf of the image from us here.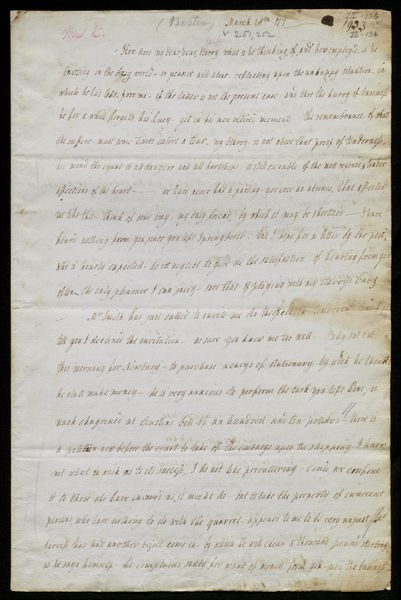 Summary of Content: Badly misses Henry and hopes to hear from him, her only comfort being her young baby, Lucy Flucker Knox. Hopes that he cries when thinking of her hardships. Reports that William Knox, who she calls Billy, has set out for Newburg, in order to purchase stationery which he hopes to sell. Lucy and William Knox reopened the Boston bookstore that Knox had operated before the war began. They tried to sell other stationery items, but were not very successful. Notes that a shipping embargo may begin soon, but feels that it is "privateering" to take the goods of those "innocent people" who are not directly involved in this revolutionary quarrel. Mentions business debts, and worries about the state of the revolution, saying "it grieves me to think you are embarked in a cause so wretchedly managed." In the postscript, which she could write only after crying, she includes a number of lines from Caspipina's Letters on the subject of yearning for a loved one.
Background Information: Jacob Duche was a Philadelphia clergyman. In 1774 he wrote Caspinina's Letters, a commentary on American society written as a series of letters by the fictional Tamoc Caspipina. When the revolution ...began Duche was a strong supporter at first, and became the first Chaplain to the Continental Congress. But in October 1777, after the British had taken Philadelphia, he came to see the war as futile, and wrote to George Washington asking him to end the revolution. When this became publicly known Duche was forced to flee to Britain. At the time of this letter however, he was still a well regarded figure.
Lucy Flucker Knox was the oldest daughter of Henry Knox and Lucy Flucker KnoxSee More
Full Transcript: [draft]
March 18th 177
How does my dear, dear, Harry: what is he thinking of, and how employ'd is he bustling in the busy world, or pensive and alone reflecting upon ...the unhappy situation in which he has left poor me - if the latter is not the present case - and thro the hurry of business he for a while forgets his Lucy - yet in his more retired moments - the remembrance of what she suffers must some times extort a tear, my Harry is not above that proof of tenderness, his mind tho equal to all dangers and all hardships is still capable of the most refined & tender affections of the heart - we have never had a parting nor ever an absence, that affected me like this - think of some way - my only friend, by which it may be short'ned - I have heard nothing from you, since you left Springfield, but I hope for a letter by the post, who is hourly expected. do not neglect to give me the satisfaction of hearing from you often - the only pleasure I can enjoy - save that of playing with my Harrys baby -
Mr Smith has just called to invite me to the Peacock tomorrow - need I tell you I declined the invitation - no sure you know me too well - Billy set out this morning for Newbury - to purchase a cargo of stationary by w[inserted: h]ich he thinks he shall make money - he is very anxious to perform the task you left him, is much chagrined at Austins bill of an hundred and ten pounds - there is a petition now before the court to take of the embargo upon the shipping - I know not what to wish as to its success, I do not like privateering - could we confine it to those who have in[jur?/sav]ed us, it might do - but to take the property of innocent persons, who have nothing to do with the quarrel - appears to me to be very unjust. Mr Jarviss has had another vessel come in - by which he will clear a thousand pound sterling as he says himself - he complains sadly for want of money from you - says the business [2] is at a stand for want of it - it is currently said that Lewis Gray is taken, in a vessel going to the west Indies Mr Jackson, is very uneasy on the account - as he thinks he will fare badly - Colo Crane goes on very slow - I am told he has not sixty men - yet what will become of us if the men do not turn out - My Harry I think we are in a sad situation - a man has been suffered to come thro the country from N York to escort Cran Brooks wife - tis said he is to to return immediately the same way - can any thing be more absurd - it greaves me to think you are embarked in a cause so wretchedly managed - Farewell my dearest hope - may the angels of heaven, [struck: guard] gaurd, guide & protect you - may no evil by day or by night oer take you - and oh my love, do not forget your Lucy - remember the [strikeout] Sweet hours, you have passed with her, remember the thousand proofs of affection we have mutually received - and also remember tht she loves you truly, sacredly -
Your
Lucy Knox -
After I had finished the above - and taken a hearty cry - I took up Caspipinas Letters and opened to the following lines
No more they pleasing converse chears my soul,
and smooths my passage thro lifes ragged way.
thy smiles no more my wonted cures controul,
and give new glories to the golden day -
_________
When sinks in oceans fed the source of light,
and darkness drear his raven pinions spread,
chearless and lone I pass the lingering night,
with thoughts congenial to its deepest shade -

Unless perchance my weary watchfull eyes -
sleeps balmy charm no longer can refuse,
then swift to thee - my soul unfettered flies,
and each past scene - of tenderness renews -
__________
Yet why rep[ine/sine?], my anxious breast be still,
No human bliss is free from foul alloy -
but what at present, bears the face of ill,
May end in smiling peace - and lasting joy -
___________
Soon may that power supreme, whose dread command
can still the tumults of the raging main,
thro paths of danger, with unerring hand,
guide thee to me - and happiness again.
___________
In him my Harry, then thy trust repose,
tis he alone - the joyless bosom chears,
he sooths when absent - all our heartfelt woes,
At home our soft domestic scene endears.

[docket]
Mrs Knox's Mar: 18
1777 -See More
People: Knox, Henry, 1750-1806
Knox, Lucy Flucker, 1756-1824
Duche, Jacob, 1737-1798
Knox, William, 1756-1795
Knox, Lucy Flucker, 1776-1854

Historical Era: American Revolution, 1763-1783
Subjects: Revolutionary WarRevolutionary War GeneralChildren and FamilyMarriageWomen's HistoryBook SellingMerchants and TradeCommerceEmbargoPrivateeringFinanceEconomicsLove LettersLiterature and Language Arts
Sub Era: The War for Independence