Knox, Henry (1750-1806) to Nicholas Eveleigh
High-resolution images are available to schools and libraries via subscription to American History, 1493-1943. Check to see if your school or library already has a subscription. Or click here for more information. You may also order a pdf of the image from us here.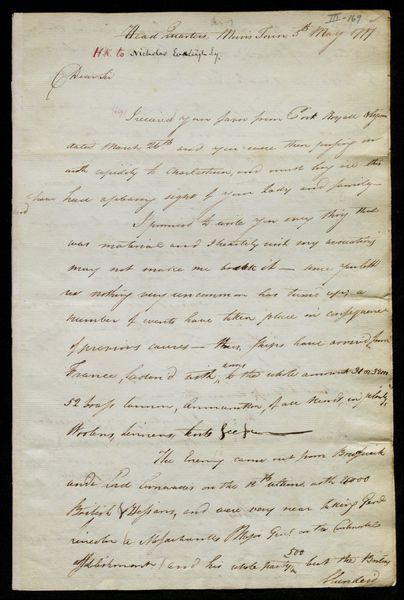 A high-resolution version of this object is available for registered users. LOG IN
Gilder Lehrman Collection #: GLC02437.00587 Author/Creator: Knox, Henry (1750-1806) Place Written: Morristown, New Jersey Type: Autograph letter signed Date: 5 May 1777 Pagination: 8 p. ; 32.5 x 21.3 cm.
Summary of Content: Reports that ships loaded with arms have arrived from France. Notes that Lord Cornwallis nearly captured General Benjamin Lincoln, but Lincoln's party escaped. Mentions the capture of Captain Flahaven on 20 April (Knox writes "Flahaen"). Comments on the British attack at Peekskill, New York. Notes that a counterattack by American General Alexander McDougall forced the evacuation of the British. Describes the destruction of stores by the British in Danbury, Connecticut (April 1777) in great detail. Notes that the recent battle is "a pleasing proof that the Yeomanry of America have not lost the Lexington Spirit." Mentions General [David] Wooster, who received a mortal wound while battling the British near Ridgefield, Connecticut. Also mentions General [Benedict] Arnold. Refers to the capture of a British naval prize "which most amply makes up the loss at Danbury." Discusses other details of the war, predicting that it will be fought, for the most part, in New England.
Background Information: Eveleigh (c. 1748–1791) was a Continental Army colonel. In 1781, Eveleigh served as a delegate to Continental Congress from South Carolina. He was the first Comptroller of the United States Treasury, serving ...under George Washington.See More
Full Transcript: Head Quarters, Morris Town, 5th May 1777
Dear Sir
I received your favor from Port Royall Virginia dated March 26.th and you were then pressing on with rapidity to Charlestown, and ...must long ere this [inserted: have] had a pleasing sight of your Lady and family -
I promised to write you every thing that was material and I heartily wish my avoccating may not make me break it - since you left us nothing very uncommon has turned up, a number of events have taken place in consequence of previous causes - thus, ships have arriv'd from France, laden'd with [inserted: arms] to the whole amount 31 or 32000 52 brass cannon, Ammunition, of all kinds, in plenty, Woolens, Linens, tents &c &c -
The Enemy came out from Brunswick and Lord Cornwallis on the 12th ultimo. with 4000 British & Hessians, and were very near taking Genl Lincoln a Massachusetts Major Genl on the Continental establishment / and his whole party [inserted: 500] but the Britons blunder'd [2] by not closing their columns in Lincolns rear so that he and his party escap'd, with the loss of 25 or 30 prisoners and 6 kill'd. - 3 brass field peices and six or seven wagons
- In a few days after a party of ours attacked a regiment of theirs and took and kill'd the whole about 28 - about the 20th Apr: a Capt Flahaen of ours was with about 25 men taken, - But I believe previous to either of them the enemy by a sudden push with 600 or 800 men oblig'd Genl. Mc Dougal to abandon Peekskill, where they destroy'd, 6 or 7000 worth stores of different kinds, but upon Mc Dougal attacking their advanc'd port they were panic struck and evacuated the place and retir'd on board their ships - We reoccupied the post which the following is the only instance of their excessive boldness during the war -
The Town of Danbury is in Connecticut, situated about 25 miles from the Sound, or sea, & about 30 miles from Hudsons River, on an east line from Peekskill. This place was pitch'd upon [inserted: strikeout] for to deposit the Continental stores, design'd for the army operating on the east side Hudsons River, - on the 25 ult. [inserted: at 4 oClock PM] - the enemy landed here a Number of transports from New York 1500 Regulars and 300 of the ragamuffin [3] provincials in the service of the enemy at a place call'd Campoos point, about 4 miles east of Norwalk, and immediately proceeded to Danbury, where there were only about 50 Continental troops and where they arriv'd at 4 oClock [inserted: PM Saturday] [strikeout] or the 26.th - the remainder of that day and part of the following the 27th were employ'd in destroying the stores, which consisted of 1500 barrells pork 50 ditto beef 2000 bushells oats & Wheat & Teas - and some other matters not very material, in the execution of this peice of business they burnt 19. Houses and a number of barns and out Houses - about 9. oClock am 27.th they began their march for Ridgefield, partly on the road to the north River and partly to the Sound - it appears there were transports in the North River as well as the east and they intended to avail themselves of either as circumstances should dictate - General McDougal from Peekskill, took post with great good judgement at Bedford [inserted: 14 miles] below Ridgefield and [inserted: on] their Rout to the North River (I must here make a digression and maledict you severly for not having purchas'd the map of New England at Litchfield and then the places I mention to you would [4] be familar and give you a just Idea of the Manouvers of Sr Wms - but as it is I am fearful I am not very intelligible) - [struck: This manoever of Wms det as he had 1200 men with them deter] - You may remember that I mention'd 50 Continental troops being at Danbury there You may well think retir'd upon the approach of the enemy, to the Hills, and the next day [strikeout] increased to about 200, Militia and all, - on the 26.th the militia contiguous to Danbury were collecting and in the [neighbour] where the enemy landed, and on [struck: Sunday] [inserted: 27th] there were about 500, under the command of Major Genl Wooster independent of the 200. - - [strikeout: these] When the enemy began their march from Danbury [inserted: to Ridgefield] these two bodies made two distinct attacks one in the front & the other in the rear - this was a critical moment for the enemy, they were broken, and beginning to disperse when Genl Wooster received a mortal wound, Lt Colo Gold kild and a number of other good officers wounded, - then so dispirited the militia, that they ran one way and the Britons the other - the enemys loss this day the 27th must have been 250 kill'd wounded & taken prisoners - this evening they rested at Ridgefield. the post occupied by Genl MacDougal determind them to embark at the place where they had landed and accordingly at Day break on the 28th began their [5] their march for the Landing distant about 16 miles - they had not march'd far before the 200, before mentioned who were mostly new iss'd continental troops began the attack again - and were soon after joined by 300 militia, and, about 11 oClock by Genl Arnold with [struck: 500] [inserted: 600] militia making in all about 1100 men - again the Britons were in great peril. This fray lasted from 11 oClock until 5 in the afternoon when they embark'd under the cover of their shipping - last there have been 500 or 600 Continental troops, to have form'd [inserted: in a solid column] and divided them the whole must inevitably [inserted: have been] taken prisoners.
But as it is, they in the whole from the last accounts which we have collected for there is not yet a digested account transmitted to the General must have lost between 5 & 600 kill'd wounded & taken prisoners, people in their situation could not well afford to pay so dear for the destruction of the beef and pork.
- The accounts from our friends in New York say they have received an exceeding heavy blow - The Account published in the New York paper says [6] they lost only 14 kill'd, and 80 privates and 10 officers wounded - but when the last accounts, [strikeout] from Danbury came away they [inserted: then] had found 47 Dead bodies, and had about 60 or 70 prisoners - Some of our friends out of New York inform of 130 wounded being brought in there and that three who were badly wounded were left on Long Island, to which places they retir'd with their ships the same hour they got re embark'd. -
This affair is a pleasing proof that the Yeomanry of America have not lost the Lexington Spirit. and, that an inferior number dare attack a [inserted: vastly] superior number of what are call'd British [veterans] it was the very image of Lexington, only I believe the militia were not so well arm'd & provided with ammunition -
One of our arm'd vessels has taken a prize with 2000 barrells beef and pork which most amply makes up the loss at Danbury - inded [sic] it takes from them and adds to us whereas the Danbury affair only took from us without benefiting them -
It is said and with great probability that the War is principally to be in New England [7] the ensuing Campaign, that Burgoyne with 10,000 new rais'd Germans which our Ambassador writes are engag'd with 3000 Britons are to attack Boston, Carelton to endeavor to Beat, Gates at Ticonderoga, and Genl Howe either to attempt Philadelphia which is probable or cooperate with the others in New England.
With the blessing of Heaven I hope this campaign may prove the last - our army tho hitherto tardy begins to fill last, and then they are not to go [inserted: home] tomorrow nor next day - & we have so respectable body together that if Sr Wm attempts to pass the Delaware he may meet with the nibbers
I must beg your excuse for this incoherent, scrawl, the business of my department fully takes up my time, and I have been interrupted 20 times while [struck: writing] writing this.
Please to present my respectful Compliments to Mrs Eveleigh, & that Roman patriot Mr. Shubrick and the [Tory] Gentlemen and to any other Gentlemen of my acquaintance particularly Mr. Burroughs, Mr. Spooner [8] Mr. Spooner a Gentleman from Boston will deliver you this Letter, and I shall take the liberty to beg your civilities to him
I look forward with pleasure to the period when I shall have the [struck: pleasure] [inserted: happiness] of seeing you and Mrs Eveleigh, & I most ardently long for a political chat with the old Gentleman
I am Dear Eveleigh Yours
HKnox -

[docket in margin of page 6]
To N. Eveleigh Esqr
Charlestown -
May 5, 1777See More
People: Knox, Henry, 1750-1806
Eveleigh, Nicholas, 1748-1791
McDougall, Alexander, 1732-1786
Wooster, David, 1711-1777
Arnold, Benedict, 1741-1801

Historical Era: American Revolution, 1763-1783
Subjects: NavyFranceRevolutionary WarRevolutionary War GeneralMilitary HistoryGlobal History and US Foreign PolicyGlobal History and US Foreign PolicyArtilleryAmmunitionBattleWartime Pillaging and DestructionMilitary SuppliesBraveryPatriotismInjury or WoundDeathPrivateering
Sub Era: The War for Independence