Jackson, Henry (1747-1809) to Henry Knox
High-resolution images are available to schools and libraries via subscription to American History, 1493-1943. Check to see if your school or library already has a subscription. Or click here for more information. You may also order a pdf of the image from us here.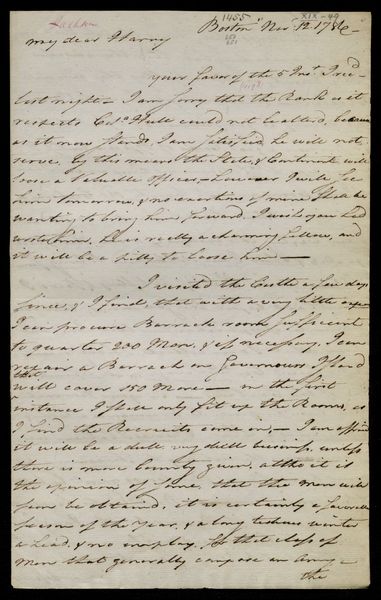 A high-resolution version of this object is available for registered users. LOG IN
Gilder Lehrman Collection #: GLC02437.03335 Author/Creator: Jackson, Henry (1747-1809) Place Written: Boston, Massachusetts Type: Autograph letter signed Date: 12 November 1786 Pagination: 4 p. ; 32 x 19.7 cm.
Summary of Content: Writes primarily about his efforts to recruit a regiment in the Boston area. Sad to hear that the rank of Colonel Hull could not be altered, because now he is convinced Hull will not serve, and the military will lose a valuable officer. Will see him tomorrow and try to convince him. Visited the Castle a few days ago and found that he can, very cheaply, find barracks with room enough to quarter 200 men and if necessary can find 150 more. Will try to fill it up as recruits come in. Emphasizes the difficulty of recruiting more officers, as he has no money. Has offered companies to twenty old captains and only two have accepted so far. Is using Knox's list of artillery men, and discusses several of the men who may serve. Dr. [William] Eustis has accepted an appointment as surgeon. Major [William] North is sick, and discusses bringing in a major to replace him. Declares that uniforms are essential for recruitment. Wishes that the commanding officer was responsible for keeping his troops well-uniformed, and that it was tied to his pay. Mentions that a Colonel [illegible: perhaps John Brooks] is upset that he will not be asked to join, and Jackson asks that Knox write him. Lastly, sends love to Lucy Knox and the children.
People: Knox, Henry, 1750-1806
Jackson, Henry, 1747-1809
Eustis, William, 1753-1825
North, William, 1755-1836
Knox, Lucy Flucker, 1756-1824
Brooks, John, 1752-1825

Historical Era: The New Nation, 1783-1815
Subjects: Revolutionary War GeneralRecruitmentMilitary HistoryMobs and RiotsRebellionShays' RebellionMilitary CampFinanceArtilleryHealth and MedicalMilitary UniformsClothing and Accessories
Sub Era: Creating a New Government