Knox, Henry (1750-1806) to Catharine Littlefield Greene
High-resolution images are available to schools and libraries via subscription to American History, 1493-1943. Check to see if your school or library already has a subscription. Or click here for more information. You may also order a pdf of the image from us here.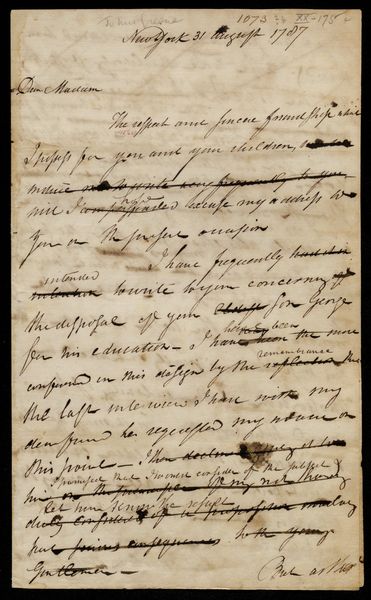 A high-resolution version of this object is available for registered users. LOG IN
Gilder Lehrman Collection #: GLC02437.03649 Author/Creator: Knox, Henry (1750-1806) Place Written: New York, New York Type: Autograph letter signed Date: 31 August 1787 Pagination: 7 p. : docket ; 32.5 x 19.6 cm.
Discusses Mrs. Greene's financial situation and her children. Mentions the quality of the schools in France as being one of the best, where "the system is admirably adapted to impress the best habits - both of body and mind - Dancing fencing... " Also writes that the Marquis de Lafayette is willing to help her, as he was friends with her husband, the late General Nathanael Greene. Knox writes that if she chooses to send her son to school in France, the Marquis "will be the friend of your son... " Mentions the cannons with the inscription to Greene's late husband are now complete. Also notes that [John] Jay has received from [Thomas] Jefferson a gold medal that was designed for Greene's late husband.
[draft]
New York 31 August 1787
Dear Madam
The respect and sincere friendship that I possess for you and your children, [strikeout] [struck: induce me to write very frequently to you] will I [struck: am persuaded] [inserted: hope] excuse my address to you on the present occasion
I have frequently [struck: had it in intention] [inserted: intended] to write to you concerning [struck: of] the disposal of your [struck: [eldest]] Son George for his education - I have [strikeout] [inserted: [strikeout]] [been] the more confirmed in this design by the [struck: reflection] [inserted: remembrance] that the last interview I had with my dear friend he requested my advice on this point [struck: I [then] declined [text loss] it h[text loss] him on the [principle] of my not having duly considered of a proposition [illegible] put [illegible] consequences to the young Gentlemen -] I promised I would consider of the subject & let him know the result.
[2] [struck: subject has frequently [struck: ocured] ocurred to my mind & I shall take the liberty of offering you the result [struck: and the reasons what] [inserted: if my reflections there on]] But as the rigid brand of fate [strikeout] prevented [struck: my commu] my communicating with him on the subject I take the liberty of [illegible] my promise, [if] to you [struck: his] [strikeout] [struck: Your son is now about].
Your son has now attained [struck: the] ye age - [struck: a period] when the mind [struck: is go is] [strikeout] is [comencing] to form its [struck: go] predominately [illegible] [struck: strength, and [illegible] it self] [inserted: [illegible]] - As we are nearly altogether formed by the habits of [struck: our situation and] [strikeout] [inserted: manners & persons & situations] which surrounding us it is highly important that those should be of the best nature - and this importance is greatly enhanced in proportion [struck: of] to the [intensity] of the mind to be formed - For it may be embraced as a maxim, that no idea or action is indifferent at this age - every thing which is [struck: embraced] [inserted: adopted] has an influence on our future conduct -
The schools in France are by [3] the best information [strikeout] [inserted: established] on principles which, at the same time embrace the highest degrees of utility and oeconomy Every body is equal - talents only acquire a superiority - [struck: The system for rigid] The system is admirably adapted to impress the best habits - both of [struck: min] the body and mind - Dancing fencing, riding, and all other graceful exercises are taught, as well the mental accomplishments - [strikeout]
[Struck sentence] Were your son fixed in an excellent academy in France for four years he would [struck: have] acquire the whole [routine] of the mechanical [branches] of [struck: Learning] [inserted: education] - He then might return, to the embrace of a [illegible] school [4] [struck: and] finish his education [inserted: by the study of the [sciences]] in one of the American universities - or he might [struck: go] study [struck: a year years] [inserted: a few years] in some of the universities of Europe.
Such is the plan & the reasons on which it is founded which I beg leave to offer to your consideration - The Son of General Greene should have all possible advantages - The Marquis de la Fayette is perfectly ready to perform the offices of the kind parent - In his letter to me [struck: of of the beginning of the present year] [inserted: sometime ago] on this subject he says "I have written to Mrs Greene but received no answer - it seems you are of opinion her son ought not to be educated in Paris nor in a private family but I will endevor [sic] to find a school for him else where - and whatever you and she bid [5] bid me to do for him shall be done, not only with equal care as if he was my child, which would have been the case during our great and good friends life - but with a carefull more particular, as I shall every day fancy myself, that I give to the departed soul of poor Greene an account of my conduct towards the son whom he had intended to entrust to me" -
The political importance of the Marquis will most probably increase with his years - He will be the friend of your son - and will assist in pointing out to you, what ought to be his destination in Life - Should his pursuits be Glory - an education in France by qualifying [struck: him] will afford him a double [charm] when in that service, or in the more rational & I should hope equally substantial service of his own Country -
Any communications [inserted: on this subject] you should [strikeout] be pleased to write to me or the Marquis [6] shall be [strikeout] [inserted: transmitted] to him.
I mentioned to Colonil [sic] Wadsworth [in] my last letter that I had executed certain inscriptions and [devices] on few peices [sic] of Cannon [struck: [for] Genl] directed by Congress to be presented to Gel Greene - The Cannon are here and their carriages are at West Point [strikeout] - They shall be retained here or delivered to you only as you think most proper The inscription a [illegible] to the enclosed
Mr Jay has received from Mr Jefferson a Gold medal designed also for your late allustrious [sic] husband this is now before Congress who will order it to be delivered as soon as they shall be in session -
[struck: I am Madam]
We [struck: Mrs] have lately had the [struck: and] affliction of losing her [7] youngest child - Although [struck: she] Mrs K has been exceedingly affected at this event [struck: Yet] [strikeout] [struck: greatly] [inserted: to the great injury of] her health yet [struck: I hope she is] She will [inserted: I hope] experience the [balming] effects of home - The best remedy for the keen suffering, of the heart on the death of our dearest connection -
I am [struck: most] my dear Madam
with great [strikeout] [inserted: truth] your
Sincere friend & Humble [St]
HKnox
Mrs Greene
[docket]
To Mrs Greene
31 August 1787