Washington, George (1732-1799) to Henry Knox
High-resolution images are available to schools and libraries via subscription to American History, 1493-1943. Check to see if your school or library already has a subscription. Or click here for more information. You may also order a pdf of the image from us here.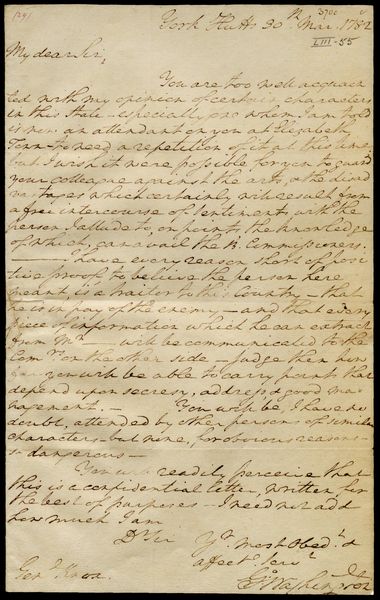 A high-resolution version of this object is available for registered users. LOG IN
Gilder Lehrman Collection #: GLC02437.09400 Author/Creator: Washington, George (1732-1799) Place Written: Pompton Lakes, New Jersey Type: Autograph letter signed Date: 30 March 1782 Pagination: 1 p. : address : docket ; 31.7 x 19.7 cm.
Summary of Content: General Washington discusses a "character" (possibly Loyalist Henry Van Schaack) present with Knox in Elizabethtown, New Jersey. Instructs Knox to guard his colleague (possibly Gouverneur Morris) against freely discussing matters with this person, believing him to be a traitor to America, in pay of the British. Written from "York Hutts," which constituted the headquarters of a New York Regiment near Pompton (now Pompton Lakes, New Jersey). Docketed in Knox's hand.
Background Information: Knox and Gouverneur Morris were in Elizabethtown, N.J. to negotiate a general cartel for prisoner exchange in the aftermath of the American victory at Yorktown. Because there were so ...many complications, including American efforts to obtain compensation for the subsistence of Saratoga and Yorktown prisoners, as well as disputes over the status and exchangeability of General Cornwallis and American diplomat Henry Laurens, the negotiations failed. The British Commissioners at Elizabeth were Andrew Elliot and General William Dalrymple. The conference lasted from March 31 to April 19.

Though the identity of the "traitor" mentioned by Washington is unknown, it was likely New York Loyalist Henry Van Schaack, who (with his brother Peter) was a close acquaintance of Gouverneur Morris before the war. It is known that Henry Van Schaack resided temporarily in Elizabeth in March 1782, and that Van Schaack and Sir James Jay (brother of John) schemed to have Jay captured by the British to provide intelligence to British general Sir Henry Clinton regarding certain aspects of Congress's financial situation and to undermine the alliance between the United States and France (Historical Memoirs of William Smith, 1778-1783, 488).
Signer of the U.S. Constitution.See More
Full Transcript: York Hutts 30.th Mar. 1782
My dear Sir,
You are too well acquainted with my opinion of certain characters in this State - especially one whom I am told is now ...an attendant on you at Elizabeth Town - to need a repetition of it at this time; but I wish it were possible for you to guard your colleague against the arts, & the disadvantages which certainly will result from a free intercourse of sentiments with the person I allude to, on points, the knowledge of which, can avail the B. Commissioners.
- I have every reason short of positive proof, to believe the person here meant, is a traitor to this Country - that he is in pay of the enemy - and that every piece of information which he can extract from Mr - will be communicated to the Comrs. on the other side - judge then how far you will be able to carry points that depend upon secresy, address, & good management. - You will be, I have no doubt, attended by other persons of similar characters - but none, for obvious reasons - so dangerous -
You will readily perceive that this is a confidential letter, written for the best of purposes - I need not add how much I am
Dr Sir Yr. Most Obedt. &
affecte. Servt
Genl Knox. Go: Washington

[address leaf]
Genl. Knox
Elizabeth Town

[docket]
From his Excl Washington
30 March 1782
Original -
4 420 No 22
105
3
315
420
735
67.35See More
People: Knox, Henry, 1750-1806
Washington, George, 1732-1799
Morris, Gouverneur, 1752-1816
Van Schaack, Henry, 1733-1823

Historical Era: American Revolution, 1763-1783
Subjects: TreasonPresidentRevolutionary WarRevolutionary War GeneralMilitary HistoryLoyalistSpying
Sub Era: The War for Independence