Anderson, John (1726-1796) A short account of the Field Pieces presented by Mr Anderson Professor of Natural Philosophy, to Mr La Fayette, and the first National Assembly of France; together with two Extracts referred to in the Memorial to General Washington dated August 20th 1793
High-resolution images are available to schools and libraries via subscription to American History, 1493-1943. Check to see if your school or library already has a subscription. Or click here for more information. You may also order a pdf of the image from us here.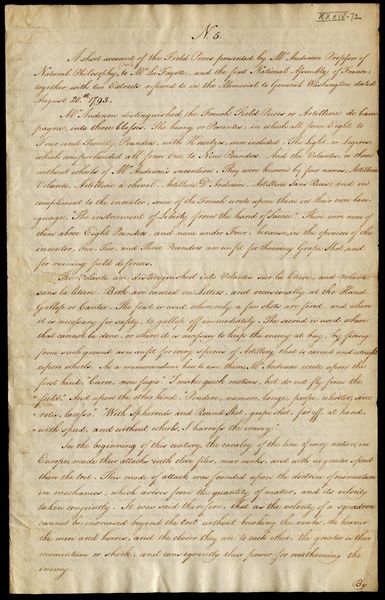 A high-resolution version of this object is available for registered users. LOG IN
Gilder Lehrman Collection #: GLC02437.10275 Author/Creator: Anderson, John (1726-1796) Place Written: Glasgow, Scotland Type: Manuscript document signed Date: 20 August 1793 Pagination: 4 p. : docket ; 40.2 x 25.7 cm.
Summary of Content: Originally included as an insert for a memorial to George Washington (GLC02437.10273 & .10274) advertising Anderson's inventions to improve field artillery. Writes he separated the French artillery into three classes, heavy, light, and the Volantes, "or those without wheels ... " States that "none of them [were] above Eight Pounders, and none under Four; because, in the opinion of the inventor, One, Two, and Three Pounders are unfit for throwing Grape Shot, and for wining field defence." Details Anderson's presentation of his Volantes. Describes military tactics in advancing troops, particularly infantry and cavalry in relation to field artillery. States that his wheel-less field pieces proved to be superior to previous wheeled artillery for when "the Field Pieces sans la litiere were carried to rough, or soft ground, which was impracticable for Guns with wheels, and where consequently cavalry could not attack them." As a result of these pieces, "they pelted the finest Prussian Cavalry with impunity, and with complete success. This was not all. Upon the sides of hills where Common Field Pieces could not possibly be carried, or wrought, they beat some of the best disciplined troops ... " Includes a translation of an extract of a letter the Marquis de Lafayette wrote to the National Assembly dated 11 June 1792. Includes another extract "of part of a long letter from M. Chauvelin, who had a command under Marshal Rochambeau in the first engagement between the French and Austrians." Dated 10 July 1792. Extract is an account of this fight in the original French and English translation. Noted as "N. 5." Watermarked "T F."
Full Transcript: N.5.
A short account of the Field Pieces presented by Mr Anderson Professor of Natural Philosophy, to Mr La Fayette, and the first National Assembly of France; together with two ...Extracts referred to in the Memorial to General Washington dated August 20th 1793.
Mr Anderson distinguished the French Field Pieces or Artillerie de Campagne, into three Classes. The heavy or Pesantes; in which all from Eight to Four-and-Twenty Pounders, with Howitzers, were included. The Light, or Legeres; which comprehended all from One to Nine Pounders. And the Volantes, or those without wheels of Mr Anderson's invention. They were known by four names, Artillerie Volante, Artillerie a cheval, Artillerie D'Anderson, Artillerie Sans Roues; and in compliment to the inventor, some of the French wrote upon them in their own language, "The instrument of Liberty from the hand of Science." There were none of them above Eight Pounders, and none under Four; because, in the opinion of the inventor, One, Two, and Three Pounders are unfit for throwing Grape Shot, and for ruining field defences.
The Volante are distinguished into Volantes sur la litiere, and Volante sans la litiere. Both are carried on Litters, and occasionally at the Hand Gallop or Canter. The first is used where only a few shots are fired, and where it is necessary for safety, to gallop off immediately. The second is used where that cannot be done, or where it is necessary to keep the enemy at bay, by firing from such ground as is unfit for every species of Artillery that is carried and wrought upon wheels. As a memorandum how to use them, Mr Anderson wrote upon the first kind, "Curro, non fugio." "I make quick motions, but do not fly from the "field." And upon the other kind. "Pendere, numero, longe, prope, celeriter, sine "rotis, lacesso." "With Spheroids and Round Shot, grape shot, far off, at hand, "with speed, and without wheels, I harrass the enemy."
In the beginning of this century, the cavalry of the line of every nation in Europe, made their attacks with close files, near ranks, and with no greater speed than the trot. This mode of attack was founded upon the doctrine of momentum in mechanics, which arises from the quantity of matter, and its velocity taken conjointly. It was said therefore, that as the velocity of a squadron cannot be increased beyond the trot without breaking the ranks, the heavier the men and horses, and the closer they are to each other, the greater is their momentum or shock; and consequently their power for overthrowing the enemy.
By
[2] By reasoning in this manner, Generals resembled those Physicians who apply the principles of hydraulic machines to the animal frame, but forget that the vis vitæ doe not exist in such machines, and therefore that the reasoning is ill founded. In the same manner, though the conclusion from the quantity of matter and velocity in a hammer is perfectly just, it cannot be applied to cavalry, because they have a vis vitæ, and other circumstances, which hinder them to act in a compacted mass. It is impossible to make a squadron shock a squadron, or a body of infantry, as a hammer does an Anvil, on account of the make of a horse, the want of union among the horses, the frequent roughness of the ground, the nearness of the ranks, the fall of the killed or wounded, and the involuntary check given to the horse by his rider when he sees the enemy is ready to fire; though that is the very instant of time in which he ought to gallop on with the utmost celerity.
When Field Pieces were improved in lightness, and quickness of firing, about the year 1740, so as to accompany battalions in their quick movements, they became very destructive to cavalry, which had close files, near ranks, and no motions quicker than a trot. The Great Frederic observed this, and ordered his cavalry to attack with open files, distant ranks, and at the gallop. To this change of discipline, without a change of arms, he owed some of his most brilliant victories. The enemy's troops could not withstand the novelty of the charge, and the quickness of the evolutions. Even the light Field Pieces lost their power in some measure; because as they were wrought on wheels, the ground on which they stood was fit for the attack of a squadron, which, as soon as it was within grape shot distance, divided, galloped on, and was upon the flanks of the Artillery Men before they could traverse the wheels and point the Gun a second time.
The Revolutionists in France knew well the excellence of the Prussian Cavalry, arising from this mode of attack; and dreaded them as the most formidable part of their enemy's troops. Neither a detachment, nor the head of a column could be defended by Field Pieces which were upon wheels, because the ground upon which they were carried, and wrought, was fit for horses feet; and as the French troops were inferior in discipline, destruction must have been the consequence, if the Prussian Cavalry could gallop in among them.
When it was not safe to risk a combat with a detachment of the enemy
[3] enemy, the Field Pieces sur la litiere were fired at them a few times, and then moved off at the gallop. When that could not be done, or when it was necessary to make a stand, the Field Pieces sans la litiere were carried to rough, or soft ground, which was impracticable for Guns with wheels, and where consequently cavalry could not attack them. By following Mr Anderson's directions in this manner, they pelted the finest Prussian Cavalry with impunity, and with complete success.
This was not all. Upon the sides of hills where Common Field Pieces could not possibly be carried, or wrought, they beat some of the best disciplined troops, as at Jemappe, and at one of General Custine's battles.
The first public account that was given of the Artillerie Volante was by a letter dated June 11th 1792, from M. La Fayette to the National Assembly. They were in a very trying situation from the nature of a retreat, rough ground, and the superiority of the enemy's numbers. The words were printed in every News Paper, and a translation of them is as follows.
"M. Gouvion dispatched
"his camp equipage to Maubeuge, and began a retreating fight, in which
"his infantry was constantly covered by the hedges; and where the enemies'
"columns suffered considerably from his cannon; and particularly from four
"pieces of the Artillerie Volante under the direction of Captain Barrois."
Extract of part of a long letter from M. Chauvelin, who had a command under Marshal Rochambeau in the first engagement between the French and Asutrians; and who was soon after appointed Ambassador Plenipotentiary to England; referred to in Mr Anderson's Memorial to President Washington.
"I was the Eye witness of successful experiments made with the Artillerie
"Volante in the army of M. De Rochambeau; and I am convinced that nothing
"was fitter for throwing a body of cavalry into confusion. I have since learned
"that the use which has been made of them in some engagements since the
"commencement of the war has perfectly confirmed the utility of them as
"before ascertained by theory, and by the first trials of them. You will there-
"fore, Sir, do me the justice to believe, that I will seek with eagerness to
"do every thing that can be agreeable to a man who has been so good as to
"consecrate to my country the fruit of his studies; and the merit of which I
"was by my situation enabled to distinguish - I thank you Sir in the name
"of my nation, and in my own name &cc:"
The original of the above translation. "J'ai eté Temoin Oculaire des
"experiences heureuses faiters de L'Artillerie Volante, à l'armée de M. De
"Rochambeau
[4] "Rochambeau; et je me suis convaincu, qui vien n'etait plus propre à mettre
"le desordre dans un corps de cavalrie. J'ai sû depuis, que l'usage qui en a
"eté fait, dans quelques rencontres, depuis le commencement de la guerre, en a
"parfaitment confirmé l'utilite, deja reconnue par la theorie, et par les premieres
"essais. Nous me vendrez donc, Monsieur la justice de croire, que c'est avec
"empressement, que je chercherai a faire tout ce que peut etre agreable à un
"homme qui a bien voulu consacrer a ma Patrie, le fruit de ses etudes, et dont
"j'ai eté à porteé de distinguer le merite - Je vous remercie Monsieur, au
"nom de ma [inserted: nation] et au mien &c:"
It is a long letter concerning the artillery of Mr Anderson's invention, and is dated July 10.th 1792. The Seal is the King's. John Anderson, Pr. N. Phy

[docket]
File Field pieces N. 5
presented to La fayette
Acct of
Augt 20
1793See More
People: Anderson, John, 1726-1796
Washington, George, 1732-1799
Lafayette, Marie Joseph Paul Yves Roch Gilbert Du Motier, marquis de, 1757-1834
Rochambeau, Jean-Baptiste-Donatien de Vimeur, comte de, 1725-1807

Historical Era: The New Nation, 1783-1815
Subjects: InventionInventorWeaponryArtilleryScience and TechnologyMilitary HistoryFranceOffice SeekerPresidentGlobal History and CivicsForeign AffairsRevolutionary War General
Sub Era: The Early Republic