Burns, William (fl. 1747) [William Burns's declaration regarding the Muscongus settlement]
High-resolution images are available to schools and libraries via subscription to American History, 1493-1943. Check to see if your school or library already has a subscription. Or click here for more information. You may also order a pdf of the image from us here.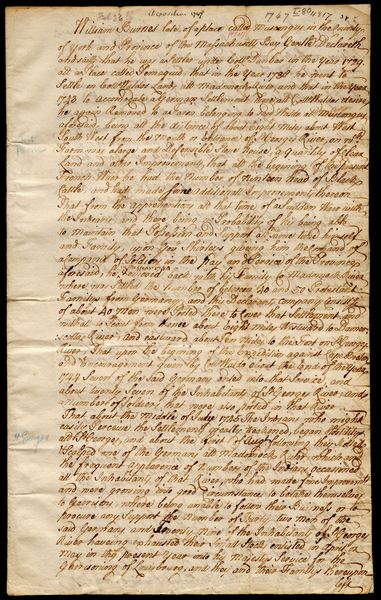 A high-resolution version of this object is available for registered users. LOG IN
Gilder Lehrman Collection #: GLC02437.10410 Author/Creator: Burns, William (fl. 1747) Place Written: Boston, Massachusetts Type: Manuscript document signed Date: 26 February 1747 Pagination: 3 p. ; 37.4 x 22.7 cm.
Summary of Content: Burns discusses his settlement on Samuel Waldo's Muscongus Patent (also known as the Waldo or Linconshire Patent, land in present-day Maine). Discusses improvements Burns made to a stone house, and mentions his black cattle. Burns was given command of a company of soldiers by Governor [William] Shirley, after which he and his family moved to a settlement of 40 or 50 "Protestant Familys from Germany" on the Madomock [Medomak] River. Notes that several German settlers, at Colonel Samuel Waldo's urging, joined the expedition against Cape Breton in [1745]. Asserts "That about the Middle of July 1745 The Indians who might easily Perceive the Settlement greatly weakened, began Hostilitys at St Georges, and about the first of Augt following they killed & scalped one of the Germans at Madomack River which and the frequent appearance of numbers of the Indians occasioned all the Inhabitants of that River... to betake themselves to Garrisons..." Subsequently, all neighboring settlements in the area were abandoned due to Native American attacks. Discusses effects of the of the war between Britain and France on colonists, as well as the Siege of Louisbourg, Canada. Signed 26 February 1746/7 by Jacob Wendell, Justice of the Peace. Wendell attests to the veracity of Burns's declaration.
Background Information: Dated 1746/7, 1747 reflecting the present-day calendar. All dates are listed as noted within this document, except for those in brackets, which reflect the present-day calendar.
People: Burns, William, fl. 1747
Wendell, Jacob, fl. 1747
Shirley, William, 1694-1771

Historical Era: Colonization and Settlement, 1585-1763
Subjects: Muscongus PatentWaldo PatentImmigration and MigrationBuilding ConstructionAgriculture and Animal HusbandryMilitary HistoryMilitiaReligionCanadaFrench and Indian WarGlobal History and CivicsForeign AffairsFranceAmerican Indian HistoryDeathAtrocityFortificationRefugeesWartime Pillaging and Destruction
Sub Era: