Monroe, James (1758-1831) [Draft of first inaugural address]
High-resolution images are available to schools and libraries via subscription to American History, 1493-1943. Check to see if your school or library already has a subscription. Or click here for more information. You may also order a pdf of the image from us here.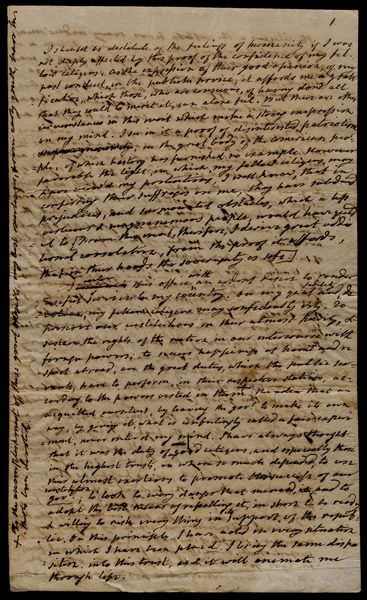 A high-resolution version of this object is available for registered users. LOG IN
Gilder Lehrman Collection #: GLC03880 Author/Creator: Monroe, James (1758-1831) Place Written: s.l. Type: Autograph manuscript Date: circa February 1817 Pagination: 13 p. : docket ; 33.3 x 19.7 cm.
Summary of Content: First draft of president-elect Monroe's inauguration address. Monroe gave the address, with substantial changes, on 4 March 1817, beginning the Era of Good Feelings. The speech was the first outdoor inauguration since Washington's in 1789. Monroe's draft has a generally positive tone, expressing happiness and confidence with America's present and future prospects. It was written to appeal to everyone and avoids confrontation. Begins by thanking his fellow citizens for their trust in him and says he hopes to be a useful public servant. Following in the footsteps of Thomas Jefferson's ideas on democracy, he says the American experiment with republican government has avoided the failings of the ancient Republics by "retaining the soverignty, exclusively, in the hands of the people." Other Jeffersonian ideas were struck from the address, including one claiming the Declaration of Independence vested "sovereignty exclusively in this great body of the people." Continues the theme of democracy by saying America's governmental institutions and principles make it the freest nation on earth. Says everyone can achieve as much as possible under their own merit. Says America's expansive territory and growing population will make it one of the great nations one day. Stresses that America is at peace and places blame for the War of 1812 squarely on the British. Much of the draft deals with America's need for a strong national defense and foreshadowing his Monroe Doctrine of 1823, says he has apprehensions of European colonial intentions. In many places Monroe crosses out lines, paragraphs, and in one instance an entire page. The address actually delivered seems shorter and the style tighter. Note in mylar included with address says, "President Monroes Inaugural Address Owned by Mrs Harry Heth." Docketed by James Monroe as well as by his son.
People: Monroe, James, 1758-1831
Jefferson, Thomas, 1743-1826

Historical Era: The New Nation, 1783-1815
Subjects: PresidentPresidential Speeches and ProclamationsGovernment and CivicsInaugural AddressClassical World and Ancient CivilizationDeclaration of IndependenceFreedom and IndependenceLibertyWestward ExpansionPeaceGlobal History and US Foreign PolicyGlobal History and US Foreign PolicyWar of 1812Military HistoryMonroe Doctrine
Sub Era: The First Age of Reform