Kelly, James R. (fl. 1861-1862) to Mary Kelly
High-resolution images are available to schools and libraries via subscription to American History, 1493-1943. Check to see if your school or library already has a subscription. Or click here for more information. You may also order a pdf of the image from us here.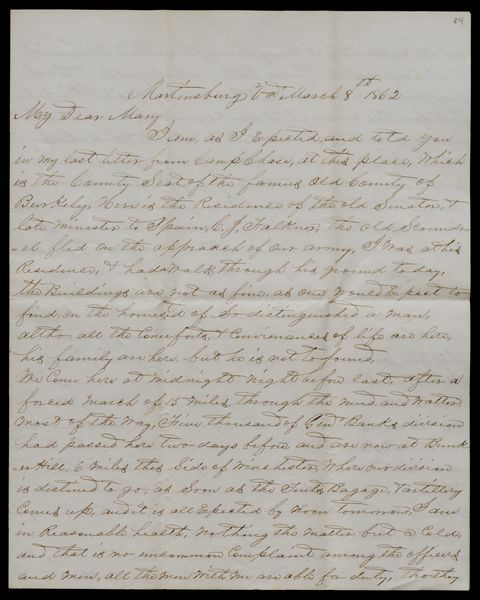 A high-resolution version of this object is available for registered users. LOG IN
Gilder Lehrman Collection #: GLC04197.24 Author/Creator: Kelly, James R. (fl. 1861-1862) Place Written: Martinsburg, Virginia Type: Autograph letter signed Date: 1862/03/08 Pagination: 4 p.
He toured the estate of the ex-Senator and ex-minister to Spain, C. J. Falkner. Falkner himself fled from the approaching Federal army. He finally received a letter from home and was alarmed to hear that someone was prowling around their house at night. He cautioned his wife to lock all the doors and windows at night. He examined the wreckage of the Baltimore and Ohio Railroad yard which the Rebels destroyed. Approximately 42 engines, one hundred cars, a machine shop, turntable, station, and three bridges were burned. The repairs to the railroad should be completed in twelve days.
Martinsburg VA March 8th 1862
My Dear Mary
I am, as I expected, and told you in my last letter from camp chase, at this place, which is the country seat of the famus [sic] old country of Berkley, where is the residence of the old senator, & late minister to Spain, C.J[SKIP], the old scoundrel fled on the approach of our army, I was at this residence & had a walk through his ground today, the buildings are not as fine, as our would expect to find on the homested [sic] of so distinguished a man, although, all the comforts, & convienances [sic] of life are here, his family are here, but he is not to found,
We come here at midnight night before last, after a forced march of 15 miles, through the mud and matter most of the way, five thousand of Gen Banks division had passed here two days before, and are now at [illegible], 6 miles this side of Winchester, where our division is destined to go, as soon as the rents baggage, & artillery comes up, and it is all expected by noon tomorrow, I am in reasonable health, nothing the matter but a cold, and that is no common complaint among the officers and men, all the men with me are able fro duty, tho they are complaining of being dreadful sore and tired, and must confess that, I feel a little jaded myself, althou [sic] I had no heavy knapsack to carry on my back, it is reported here this morning, that Banks now has Winchester [illegible], and cut off, from reinforcement, & supplies, which I hope is a fact, some of our officers think we will have a desperate bloody fight there, and it may prove [illegible], let that be as it may, these can be no doubt but it is the intention of Bank to attack and take the place, at all hazzards [sic], and that not many days hence, you will likely hear of it before this [illegible] reach you, I got a letter from you by the last mail we had at camp chase, the evening we left these, I had not had our before in a long time, I was most truly glad to hear that you were all well, and getting along so finely I cant think what & camp would be mean enough to come to the house to [illegible] & frighten you at night, all the doors have good strong locks on them and you must not fail to use them, see that the doors are locked, and the windows facened every night, then I cant think you are in the least danger, of course, I cant tell, when or where, I will write you from the next time, it may be from Winchester, & I hope it may, all the letters you directed to me at camp chase, paw paw, will be forwarded to us, tho [sic] , it may be some time before they reach us, the mail now follows the army as close as possible, this is the point on the [illegible] Baltimore RA, where these was such a destruction on enfinis, and bars last July, by the rebels, I examined the [illegible] yesterday, it is sickening to be hold such an unful [sic] [illegible] destruction of valuable property, there is the [illegible] 42 large fine engines on the yard at the machine shop at this place, and then they burned ob the yard at the machine shop at this place, and then they burned over one hundred fine [illegible] of different kinds, all the matter stations, and in addition to all the other [illegible] they burned a large quantity of cole[sic] , and then set the cole [sic] mine itself on fire, the road will again he opened to this place in ten or twelve, day, and in the same time, it will be opened from here to Harpers Ferry, then we can reach Washington at once, if necessary, I have not seen a newspaper in four days, & am behind the times in the way, this is a strong [illegible] Town, no papers were permited [sic] to come [insert] here but sesesh trash, and not much of that,, inch same mails will reach here tomorrow for the first time since last may, some of the people are rejoicing over it, and others are moping around with a [illegible], hang dog look tho, tho [repeat] truth is, most of them are glad of it, for they are in absolute need of everything, to eat, and near, Salt can be sold fir seven dollars per bushel here today, and cant be had for that, then they have neither coffee, sugar, or molasses, infact, nothing that can be eat, but bread, and meat, & that without salt, now do you think any people can carry on a was long under such circumstance; It cant be done much longer, its impossible, I must now close, it getting late, since we come to this place I have been boarding at a private house, they are union people, and I think good people, dont stop writing to me, direct to the 14th regiment Indiana volunteers, and I will not fail to get your letter Love to you all, & [illegible] especially to you and sis, I got her last letter, she must write often, and be a good girl, God bless, and protect you all, Yours as ever, most truly,
J. R. Kelly