Washington, George (1732-1799) to Jonathan Trumbull re: unwillingness to accept a 3d term, political attacks
High-resolution images are available to schools and libraries via subscription to American History, 1493-1943. Check to see if your school or library already has a subscription. Or click here for more information. You may also order a pdf of the image from us here.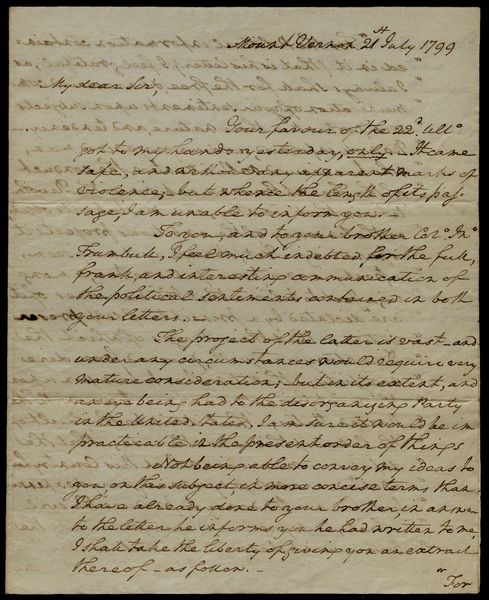 A high-resolution version of this object is available for registered users. LOG IN
Gilder Lehrman Collection #: GLC05787 Author/Creator: Washington, George (1732-1799) Place Written: Mount Vernon, Virginia Type: Autograph letter signed Date: 21 July 1799 Pagination: 7 p. : docket ; 25 x 20.2 cm.
Explaining unwillingness to accept a third term, describing political attacks, etc.: "Let that party [the Democrats] set up a broomstick, and call it a true son of Liberty, a Democrat, or give it any other epithet that will suit their purpose, and it will command their votes in toto!* [Washington's footnote, written at bottom of page: * As an analysis of this position, look to the pending Election of Governor in Pennsylvania.] Will not the Federalists meet, or rather defend their cause on the opposite ground? Surely they must, or they will discover a want of Policy, indicative of weakness & pregnant of mischief, which cannot be admitted. Wherein then would lye the difference between the present Gentleman in Office, & Myself?" He also alludes to his "ardent wishes to pass through the vale of life in retirem[en]t undisturbed in the remnant of the days I have to sojourn here[,] unless called upon to defend my country (which every citizen is bound to do)...." Washington says that if he were to run to succeed Adams, "I am thoroughly convinced I should not draw a single vote from the Anti-federal side." Washington appends at the end "I cannot conclude it [the letter] without expressing an earnest wish that, some intimate & confidential [inserted: friend] of the President[']s would give him to understand that his long absence from the Seat of Government in the present critical conjucture, affords matter for severe animadversion...." Later note on p. 7 "Copied for Washington Irving October 8, 1858." Washington's footnote alludes to the campaign of Thomas McKean, soon to be elected governor of Pennsylvania. His closing remarks concern President Adams's spending much of his time away from the capital.
In this letter, written just five months before his death to his former personal secretary, former President Washington expresses his concern that the French government was interferring in domestic American politics. He also rejects Federalist pleas that he come out of retirement and run for the presidency in 1800. The growth of partisanship in American politics meant that an individual candidate's character and reputation no longer matter. If he were nominated for the presidency, Washington was "thoroughly convinced" that he "should draw not a single vote from the anti-Federal side."
Early in the morning of December 13, 1799, Washington woke his wife, complaining of severe pains. Over the course of that day and the next, doctors arrived and attempted to ease Washington's pain by applying blisters, administering purges, and bloodletting--removing perhaps four pints of his blood. Medical historians generally agree that Washington needed a tracheotomy (a surgical operation into the air passages), but this was too new a procedure to be risked on the former president, who died on December 14.
During the early weeks of 1800, every city in the United States commemorated the death of the former leader. In Boston, business was suspended, cannons roared, bells pealed, and 6000 people--a fifth of the city's population--stood in the streets to express their last respects for the fallen general. In Washington, Richard Henry Lee delivered the most famous eulogy. He described Washington as "first in war, first in peace, and first in the hearts of his countrymen."
Signer of the U.S. Constitution.