Woodlin, William P. (fl. 1863-1864) [Diary of an African American soldier in 8th Regiment United States Colored Troops, Company G]
High-resolution images are available to schools and libraries via subscription to American History, 1493-1943. Check to see if your school or library already has a subscription. Or click here for more information. You may also order a pdf of the image from us here.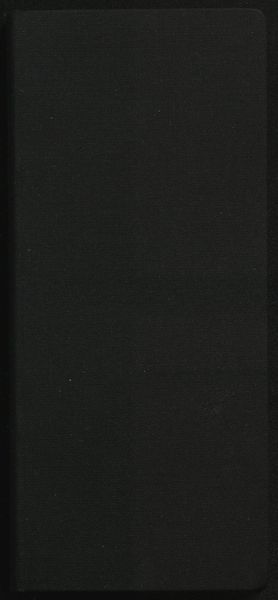 A high-resolution version of this object is available for registered users. LOG IN
Gilder Lehrman Collection #: GLC06599 Author/Creator: Woodlin, William P. (fl. 1863-1864) Place Written: s.l. Type: Diary Date: December 1863-October 1864 Pagination: 1 v. : 141 p. ; 18.5 x 8.5 cm.
Woodlin's brief entries describe camp life, his service with the regimental band as a horn player, several battles, the weather, equal pay with white soldiers, and the famous 54th Massachusetts Regiment, among many other topics. He describes his part in the siege of Petersburg, Virginia, where his regiment arrived two months after fighting began. The middle section of this journal includes blank leaves, followed by several pages of notes and lists. The diary was rebound, but includes the separated original cover.
Woodlin enrolled in the Army at Syracuse, New York, in August 1863 at the age of 21. The 8th Regiment United States Colored Troops was organized at Camp William Penn, Chelton Hills, Philadelphia, Pennsylvania, from September to December 1863.
[Excerpts:]
[18 Nov 1863:] General review of troops here by Gen. [Silas] Casey.
[05 Jan 1864:] The new Reg. is filled up.
[12 Jan 1864:] We were called up and dressed up in our Zouave Suit today, and played for Dress Parade. We also got our leggins; and gave up our guns, who belong to the band. We did not have very good success.
[16 Jan 1864:] We rec'd orders...to be ready to move at a moments warning…the whole Reg was formed in line, and march out in review before the 22nd. Band playing Yankee Doodle… took the carr[ier]s for New York…
[17 Jan 1864, New York City:] Paraded through Cort & Broadway down Canall Strs to the wharf where we shipped at night on board the City of Bath & the Promet[h]ius.
[23 Jan 1864:] Passed Charleston…an occasional gun fired; and saw smoke rising from various points.
[24 Jan 1864:] Landed at Hilton…encamped.
[30 Jan 1864:] The 54 Mass came…and encamped...
[04 Feb 1864:] We had orders to pack up for a general review…assembled all the Infantry both white & colored, at this station, including cavalry & artillery…the coming of Gen. Gillmore was announced by a salute of 10 guns; He rode down the line on a canter and returned in the rear our band playing as he passed both ways…
[06 Feb 1864:] … ascended the river to Jacksonville…The 54th Mass. landed first and exchanged shots with the rebel pickets...half dozen Rebels taken prisoners.
[11 Feb 1864:] …the engineer Corp passed through here replacing the Telegraph wires & the first Message sent through was that we had taken 800 prisoners & 30 horses with only one man killed & two mortally wounded…
[16 Feb 1864:] …Baldwinsville…A small place but important being at the junction of four R[ailroads] …We are Brigaded with the 54 Mass. 3rd U.S., 2nd South 55th [Mass.] 1st North C. under Montgomery.
[20 Feb 1864:] …we were ordered forward, & soon could hear the roar of Canon & the rattle of Musketry ahead of us, we were hurried up to the line of battle at the double quick and our Reg was place in the center and rec'd the hottest fire that was given; The Col. fell the Major wounded a Capt, & several lieutenants. the band and Drum Core went up to the front ahead of the Cavalry and were exposed to a very hot fire…we were again move [sic] a mile farther from the Battle field… we moved on untill we reached the station. we left in the morning…nearly worn out with fatigue & cold…
[25 Feb 1864:] …an order came in for us to move as quick as possible to Jacksonville as the Rebs were on us, we... went directly into town, where Troops were coming from Gunboats and from the front all the time: and rifle pitts were thrown up. Gen Foster came in & Gen Ames.
[26 Feb 1864:] It is rumored that Gen Butler came last evening, as also more reinforcements. we are under the com'd of Brig Gen Fields now formerly of the 54th Mass Reg' and are going to be in the reserve across the river. there are six Colored Regs here...four of whom are from the North.
[03 Mar 1864:] …on reaching here, we rec'd the old familiar huts of the servts of the Old Reb who formerly lived here which we cleaned out, making a fine place to practice.
[09 Mar 1864:] …we heard that the 2d South Carolina was all cut up at Hilton Head, and that there was some of the guns going back to assist them
[11 Mar 1864:] …some Reb prisoners were brought in today who told of the destitution in the Reb ranks
[20 Mar 1864:] The breast works were finished today and the guns mounted one 12 Pdr Riffled, 1, 62 Pdr. and a grape and canister gun…there was skirmishing yesterday…
[23 Mar 1864:] Two Reb boats came down the river this morning, which had been captured
[01 Apr 1864:] …the Maple Leaf which had gone up to Pilatka [Florida] to take the 3rd South Came back and ran across a torpedo which blew her up killing some 5 men
[13 Apr 1864:] We are now in a brigade with the 54th & 55th.
[15 Apr 1864:] Four boat loads of troops came down this morning indicated a general removal of all the white troops from this section The Atlanta infantry in our front moving back by appearances at present.
[16 Apr 1864:] The 54th & 55th Mass Vol were ordered away this morning but...one of the boats, which was to carry them, was blowed up by a torpedo…
[24 Apr 1864:] An expedition planed by the officers to see the force of the Enemy… they went up to the Gun Boat and stayed there until dark…discovered a large Rebel force...
[26 Apr 1864:] … a letter with cheering news from the north. ...some movement in reference to the colored soldiers.
[27 Apr 1864:] …two boats went up this afternoon in great haste the Engineers are ordered to report to Hilton Head…
[06 May 1864:] …excitement was quite high…in reference to the smallness of the pay $7 per month.
[07 May 1864:] The pay M. came down this morning and most of the men having backed out of their good desires took the paltry sum of $7 per mo. the larger portion of which will soon be spent in gambling.
[16 May 1864:] The news by the papers is that we are to get 13 per month as white soldiers.
[17 May 1864:] …Wrote the list of all the colored troops raised in the United S.
[19 May 1864:] …news of the success of Grant before Richmond
[21 May 1864:] …report that our forces had got in the rear of the Rebs & drove them from their position at Olustee. I read the law today giving the colored men their pay as white men and the news of the capture of Richmond.
[24 May 1864:] The Neptune came up today with another 62 lb Howitzer for this station. A National Salute was fired today of 32 guns with the old Howitzer at Noon.
[29 May 1864:] The boys belonging to the picket boats brought down an alligator head which they had killed. It was 14 ft. & 9 inches long. His mouth contained some 79 teeth, they were taken out and his jaw made into rings and other ornaments by the boys. The bones look much like ivory.
[07 Jun 1864:] …two adult Contrabands with their children were brought in as well as a goodly No of white trash whom we did not keep long.
[05 Jul 1864:] "This Reg lost 320 men killed, wounded & missing. 29, killed, 76 taken prisoners and the rest wounded." Capt. Anderson
[10 Jul 1864:] We had a general Inspection this morning and the Cos were so dirty that the Maj. Could not go through the Battalion. He gave the Band the praise of being the cleanest & exhibiting the most praise worthy ambition of anyone in the Reg & that he would do anything for us...
[15 Jul 1864, Jacksonville:] The Expedition started this morning about 7 on their raid. The Force was composed of the 8th U.S.C.T. 7 & 3 Cos of the first N.C….
[17 Jul 1864:] Heard of the capture of the Alabama...
[23 Jul 1864:] …the 8th & 35th left with the teams & Ambalances [sic] destination some 40 miles up the River after Dixons cavalry or Guerrillas.
[24 Jul 1864:] We buried 7 men…Making 11 men up to this date died by acclimation.
[29 Jul 1864:] We Rec'd orders to pack up with three days rations to accompany the Reg on a Raid but the Gen was cheisd and ordered the instruments off the boat & despite the rage and chagrin of the officers we were sent back bag & baggage…it appears it was not the Majors intention in the least to have us go from the first
[02 Aug 1864:] Reaching Pilatka…just as the Rebs were running the Cavalry scouts in. They captured a Lieut from us and wounded two men. two or three prisoners, & last evening 7 contrabands 4 adults the rest children.
[04 Aug 1864:] …orders to Evacuate…and report to Jacksonville enroute for Fortress Monroe & the Army of the Potomac
[12 Aug 1864:] …We soon reached City Point…took up the line of march for Gen. [Benjamin Franklin] Butler's Hed Qur's about 7 miles distant through Virginia dust, which is terrible indeed…the evening was enlivened by the bombardment of Petersburg.
[13 Aug 1864:] The morning was ushered in by the Monitors shelling the woods. things very uncertain about out future destiny. the Guns soon opened on us and some 8 or 9 shells were thrown in on our camp before we could get out of the way our Srgt. Major was wounded and several in the 7 U.S.C.T…Sunrise was ushered in by sharp skirmishing.
[15 Aug 1864:] Still quiet in our front, but the remainder of the Brigade was moved over to the right on Strawberry plain with Hancock's coups who are to attack the Rebs who are at Malvern Hill today.
[16 Aug 1864:] The fight still continues & the report is that Malvern Hill is taken…We moved out at night and forced the skirmish line out a little. had some 8 men wounded. 5 men of us went down the skirmish line under fire…
[18 Aug 1864:] We were marched up to the front about a mile to some breast works where we lay all day expecting an attack which came just at sundown on the extreme right. heavy but soon change to the center where it was very fierce. Our Regt stood their ground loosing but 3 men wounded. the 9th drove them back and Charged on them. It then broke out with extreme fierceness on the left like a continued roar of musketry. the Artillery then opened and drove them back the forces then fell back...
[20 Aug 1864:] all things are quiet in front it is reported that Petersburg is taken and burned up & that Lee is going up the Shenandoah Valley
[28 Aug 1864:] …the Minnie [sic] balls flew sharp I can say for they flew very near me before I could cover.
[29 Aug 1864:] ..Our Batteries commenced shelling & the Rebs answered one of their messengers coming right into the entrenchments…the Sharp Shooters are very bad here throwing a saucy good ball & at long range too…there was one man shot through the head during the day...
[31 Aug 1865:] …was mustered in for pay with that miserable slave [ration? GLC to check] to every man which means $7 per mouth.
[01 Sep 1864:] … Camp was shelled badly today quite a No of men being killed or wounded…
[02 Sep 1864:] …about midnight we were started by the cheers of the men in front which turned out to be on account of the taking of Atlanta by Sherman
[04 Sep 1864:] The 17th of Sept is the anniversary of the adoption of the Constitution by the U.S. The Democrats have chosen that as their day for convening on the Presidential canvas.
[05 Sep 1864:] ...tremendous shelling going on last night in commemoration of the taking of Atlanta by Sherman
[09 Sep 1864:] Col Howell made a short and feeling address to us on the death of our former Col. (Fribly). He spoke of the High regard he had for the deceased & that he would stand as a father to his widow whenever he should find her & likewise to the Regt. & should the men of the Regt or their wives ever want anything, let them call on him…he remembered the first time the Regt came to Hilton Head and was attached to his Brigade of their soldierly bearing as a Regt and the looks of their officers…The news of the fall of Mobile came in this evening & there was an immense amount of cheering done as well as guns fired. the night was very noisy all quiet this morning.
[11 Sep 1864:] …all quiet on the lines We move tomorrow north of the Appomattox…the Rebs said on the 9th that cheering would not take Petersburg. there are an immense No of guns being mounted on our side now heavy ones too.
[12 Sep 1864:] I got a letter from Syracuse. the draft was about to come off there.
[13 Sep 1864:] I went up on the heights in rear of our Camp & had a splendid view of Petersburg's environs…Our lines are very closely pushed up to the confines of P….
[14 Sep 1864:] A fierce fire of musketry was kept up all night…this morning a fierce cannonading was commenced and kept up for about 2 hours…about as brisk a fire as we have had since we have been here.
[15 Sp 1864:] Col. Howell died this morning from injuries rec'd from falling or being thrown from his horse. We also had a Reg'tmental inspection under our New Maj. formerly Capt. Wagoner & an aid of Col Shaws…
[16 Sep 1864:] …crossed the R.R. near where the Rebs had had two Batteries planted of three guns…we are now putting up a 16-gun battery to the right of the R.R. going towards P. with the express purpose of paying the respects of 14 or 15 of them to P. and the remainder to fort Clifton…
[20 Sep 1864:] ...in the morning about Sunrise a Salute was fired from nearly every battery along our line in commemoration of [General Philip] Sheridans victory in the Shenandoah Valley.
[21 Sep 1864:] Gen [William] Birney rode through camp today with a portion of his staff and a little boy which I suppose was his son.
[22 Sep 1864:] The Gen was through Camp again today. another man shot through the head by sharpshooter...
[23 Sep 1864:] There was a grand Salute fired this morning from all the Batteries. the Petersburg express starting it in honor of Sheridan's victory in the Shenandoah Valley.
[24 Sep 1864:] Rec'd marching orders…The 45th U.S.C.T. joining us on the next day.
[25 Sep 1864:] The whole sic Regts were ordered out on a Dress Parade in the evening …there was but one white Regt present that the 37th N.Y. 100 day men, they were formed on the extreme left of the whole Brigade & the 45th U.S.T.C. next then came the 29th Conn., vol. 9th U.S.C.T., 8th & 7th on the extreme right.
[28 Sep 1864:] …went to Deep Bottom…we continued to advance until 3 P.M. when we came to the 4th line on the New Market road where our brigade made a charge one at a time but they were repulsed. our Regt losing 65 men in all the 7th lost three whole Cos. captured. We held our position that night but the Johnnies made a furious attack on the 30th three times but were repulsed with great loss; by the colored troops of the 10th & 18th Corps which there formed a junction. there was a tremendous fire of shells, grape & canister and the like loss about 10 wounded in our Regt
[07 Oct 1864:] The Rebs made an attack on the right but were repulsed at every point…The signals are established along the entire line from right to left. everything is working favorably to us…
[09 Oct 1864:] Lieut. Col. [Ulysses?] Doubleday came last night to assume command of the 45 [85?] USCT
[12 Oct 1864:] …we had hot work as stretcher-bearers the Regt lost 29 men in killed & wounded among them four officers. We fell back just before night. the forces engaged were the 8th division & a Brigade from the 1st, 2nd Divis Major Gen. Birney was out in the field. the whole thing was only a faint to keep the Rebs from reinforcing near Petersburg, where the firing was heavy…
[19 Oct 1864:] Heard of the death of Maj. Gen. [David Bell] Birney at Philadelphia…Brig. Gen. [William] Birney goes home in the morning to attend his brother's funeral.
[20 Oct 1864:] Salutes were fired along the line tonight in honor of another Victory of Sheridan. (42 guns captured hearsay) We played "Star Spangled Banner."
[21 Oct 1864:] some Rebs came in on the right & their Brethren opened on them with cannon.
[25 Oct 1864:] Gen. Grant rode through the lines today
[27 Oct 1864:] …whole Regt. came near getting captured by being taken on a wrong road… we all escaped safely. we lost no men, but the 29th lost a goodly No. Gen. [Benjamin F.] Butler was present. Gen. [Joseph] Hawley had command of our Divis. 55 prisoners were captured to my knowledge & one wounded one fell into our hands. The Gun Boats came through the canal & captured two water batteries on the river.
[31 Oct 1864:] I draw my passing notes to a close after a years pleasant companionship in jotting down these passing thoughts hoping that this veteran of 5 battles may have an honored place among the scarred relicts of the present war. I will convene it to Northern hands; from I shall expect that it will be kept but a memorial for coming years; of him who has carried it on the tented field and along 2/3 of the Atlantic Coast 100 miles up the St. John's River & 90 up the James, one more journey and they travels will be ore.
Adieu
Wm. P. Woodlin
Musician of 8th Regt U.S.C.T. 2nd, Brigade, 3rd Divis, 10th N.C. Army of the James. Chapin's farm Virg.: Gen. Birney Divis. Comdg'