Couthouy, Joseph Pitty (1808-1864) to David Dixon Porter
High-resolution images are available to schools and libraries via subscription to American History, 1493-1943. Check to see if your school or library already has a subscription. Or click here for more information. You may also order a pdf of the image from us here.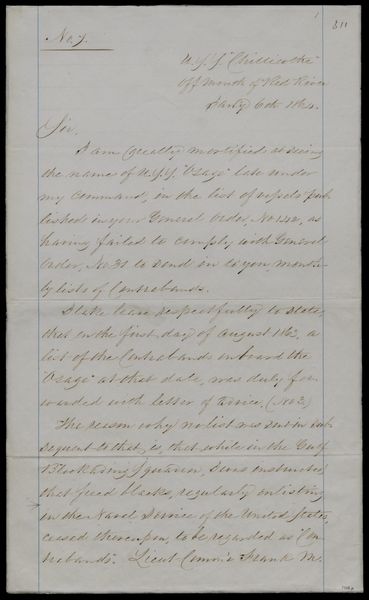 A high-resolution version of this object is available for registered users. LOG IN
Gilder Lehrman Collection #: GLC07308 Author/Creator: Couthouy, Joseph Pitty (1808-1864) Place Written: s.l. Type: Letter signed Date: 6 January 1864 Pagination: 2 p. : docket ; 33.2 x 20 cm.
Couthouy, Acting Volunteer Lieutenant commanding the U.S.S. Chillicothe, expresses his mortification at seeing the U.S.S. Osage, a ship formerly under his command, listed as having failed to comply with General Order No. 31, which required monthly reports of contrabands. Informs Navy Rear Admiral Porter that no list of contrabands was sent after August 1863 because Couthouy had been "instructed that freed blacks, regularly enlisting in the Naval Service of the United States, ceased thereupon, to be regarded as 'Contrabands.'" States that Lieutenant Commander Frank M. Ramsay, Commanding the District of the Mississippi River, upheld the decision, confirming that enlisted African Americans were not contraband. Requests Porter's instructions regarding the status of free enlisted African Americans. Writes from aboard the U.S.S. Chillicothe. A note along the side states that the letter was forwarded to Ramsay. Includes an autograph note on back in Porter's hand: "No lists required when the Negroes are shipped." Likely written while on the Red River in Louisiana.
Couthouy was recognized for his studies of conchology and invertebrate palaeontology.