Jackson, Andrew (1767-1845) to David Holmes
High-resolution images are available to schools and libraries via subscription to American History, 1493-1943. Check to see if your school or library already has a subscription. Or click here for more information. You may also order a pdf of the image from us here.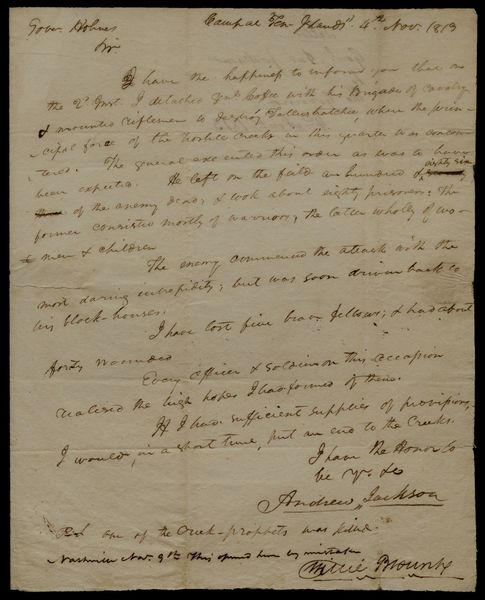 A high-resolution version of this object is available for registered users. LOG IN
Gilder Lehrman Collection #: GLC07371 Author/Creator: Jackson, Andrew (1767-1845) Place Written: Ragland, Alabama Type: Autograph letter signed Date: 4 November 1813 Pagination: 1 p. : address : docket ; 25.6 x 20 cm
Summary of Content: Informs Mississippi Territory's Governor Holmes that on 2 November 1813, General John Coffee attacked the Creek Indians at Tallaseehatchee in upper Alabama, killing 186 warriors and taking 86 women and children prisoners. Concludes: "If I had sufficient supplies of provisions, I would, in short time, put an end to the Creeks." In a post script, notes that "one of the Creek prophets was killed." With note at bottom of p. 1 by Tennessee's Governor Willie Blount, dated 9 November from Nashville: "This opened here by mistake." Written from Jackson's camp at Ten Islands.
Background Information: This attack was part of Jackson's campaign against the Creek during the War of 1812.
Full Transcript: Govr. Holmes Camp at "Ten-Islands". 4th. Nov. 1819
Sir.

I have the happiness to inform you that on the 2d. Inst. I detached Genl. Coffee with his Brigade of Cavalry & mounted ...riflemen to destroy Tallahatchie, when the principal force of the hostile creeks in this quarter was concentered. The general executed this order as was to have been expected. He left on the feild an hundred & [struck: seventy three] [inserted: eighty six] of the enemy dead; I took about eighty prisoners: The former consisted mostly of warriors; the latter wholly of women & children
The enemy commenced the attack with the most daring intrepidity; but was soon driven back to his block-houses.
I have lost five brave fellows; & had about forty wounded
Every officer & soldier on this occasion realized the high hopes I had formed of them.
If I had sufficient supplies of provisions, I would, in a short time, put an end to the Creeks.
I have the Honor to
be yr. &c
Andrew Jackson

P.S. One of the Creek - prophets was killed.
[in another hand]
Nashville Nov. 9th This opened here by mistake
Willie Blounty
[docket]
Letter
Genl: And: Jackson
to
The Governor.
4th Novr 1873.
[address leaf]
His Excellency, David Holmes
Governor of Miss. Territory
Washington
[struck: Mail]
See More
People: Jackson, Andrew, 1767-1845
Holmes, David, 1770-1832
Blount, Willie, 1768-1835
Coffee, John, 1772-1833

Historical Era: The New Nation, 1783-1815
Subjects: Military HistoryPresidentAmerican Indian HistoryPrisoner of WarWomen's HistoryChildren and FamilyBattlePrisonerMilitary ProvisionsDeath
Sub Era: The Age of Jefferson & Madison