Galloway, Joseph (1731-1803) to Committee of Correspondence for the Colony of Virginia
High-resolution images are available to schools and libraries via subscription to American History, 1493-1943. Check to see if your school or library already has a subscription. Or click here for more information. You may also order a pdf of the image from us here.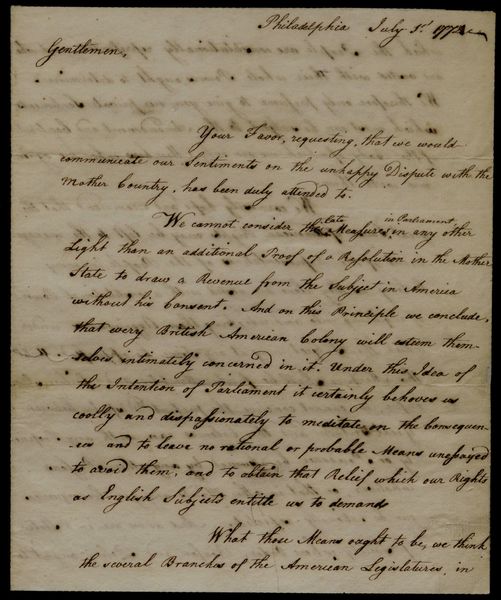 A high-resolution version of this object is available for registered users. LOG IN
Gilder Lehrman Collection #: GLC07666 Author/Creator: Galloway, Joseph (1731-1803) Place Written: Philadelphia, Pennsylvania Type: Letter signed Date: 1 July 1774 Pagination: 4 p. ; 21.7 x 17.9 cm.
Summary of Content: Co-signed by Samuel Rhoads and Joseph Galloway on behalf of the committee. Galloway was Speaker of the Pennsylvania Assembly and would eventually become a well known Loyalist after his Plan of Union was rejected. References their letter asking the Assembly to communicate their sentiments "on the unhappy Dispute with the Mother Country." Says they cannot see the recent actions of Parliament in any light other than an opportunity to extract funds from the colonies. Hopes for a cool and dispassionate mediation in favor of their rights as English subjects. Hopes the rights of Americans will be left to the management of their own representatives. Says they live in a society of order and reason and that violence should be avoided. Says "A Congress of Delegates, chosen either by the Representatives in Assembly or by them in Convention, appears to su the first proper Step to be taken." Hopes this Congress, in their united wisdom, can produce a document to protest British actions and assert their rights. Postscript says the Governor has called for the Assembly to meet on 18 July 1774. In pencil at the bottom of the fourth page is written "Hon Peyton Randolph Chairman."
Background Information: Galloway was a member of the Pennsylvania House of Representatives 1757-1775, and served as speaker 1766-1774; Member of the Continental Congress in 1774; signed the nonimportation agreement, but was opposed to ...independence of the Colonies and remained loyal to the King; in December 1776 joined the British Army of General Howe in New York; moved to England in 1778; the same year the General Assembly of Pennsylvania convicted him of high treason and confiscated his estates; died in Watford, Herts, England, August 29, 1803.
See More
Full Transcript: Philadelphia July 1st. 1772
Gentlemen,
Your Favor, requesting, that we would communicate our Sentiments on the unhappy Dispute with the Mother Country, has been duly attended to.
We cannot consider this [...inserted: late] Measures [inserted: in Parliament,] in any other Light than an additional Proof of a Resolution in the Mother State to draw a Revenue from the Subject in America without his Consent. And on this Principle we conclude, that every British American Colony will esteem themselves intimately concerned in it. Under this Idea of the Intention of Parliament it certainly behoves us coolly and dispassionately to meditate on the Consequences and to leave no rational or probable Means unessayed to avoid them, and to obtain that Relief which our Rights as English Subjects entitle us to demand
What those Means ought to be, we think the several Branches of the American Legislatures, in [2] which the People are constitutionally represented, and who are vested with their whole Powers, ought to determine. We therefore only presume to give you our private Sentiments, which must ever be subject to the Amendment and Controul of the Body of which we are only Members, when we again mix with them.
We earnestly hope and recommend that the great Cause of American Rights may be left to the management of the Representatives of the People in every - Colony as they alone are vested with a constitutional Power of enquiring into and redressing those Aggrievances under which the Subject may at any Time be oppressed. Until this Measure shall be fairly attempted, and a failure shall ensue, we cannot conceive the present Dispute between Great Britain and the Colonies can with any Propriety or Prudence be assumed by any other Persons - whatever, or that in other Hands any good Consequences can be rationally expected. And as we are in a State of Society where Order, Reason and Policy ought to [3] prevail every Measure which can only serve to irritate and not convince, every Act of Violence or even the Appearance of [strikeout] [inserted: it] should be carefully avoided, as they cannot [struck: under] under our present Circumstances obtain us that Relief we desire, and have a Right to expect, but, on the contrary, may involve all America in Difficulties which no after Wisdom or Prudence can surmount.
A Congress of Delegates, chosen either by the Representatives in Assembly or by them in Convention, appears to us the first proper Step to be taken. Nor are we dubious, but that it may be happily effected in a short Time, should calm and prudent Measures be pursued to obtain it. In this Congress composed of the Representatives, constitutionally chosen, of all concerned, and who would of course act with Weight and Authority, something might be produced, by their united Wisdom, to ascertain our Rights, and establish a political Union between the two Countries with the Assent of both; which would effectually secure [4] to Americans their future Rights and Priviledges. Any thing short of this will leave the Colonies in their present precarious State, disunited among th[text loss]lves, unsettled in their Rights, ignorant of their Duties, and destitute of that Connection with Great Britain which is indispensably [inserted: Necessary] to the safety and Happiness of both.
We are, with great Respect,
Your assured Friends -
Jos. Galloway } In Behalf of
Sam Rhoads the Committee
&c
P.S. The Assembly of this Province are summoned by the Governors Writ to meet on the 18th - Instant -

To the Committee of Correspondence
for the Colony of Virginia -
See More
People:
Historical Era: American Revolution, 1763-1783
Subjects: LoyalistRevolutionary WarGlobal History and CivicsForeign AffairsGovernment and CivicsTaxes or TaxationLawContinental CongressCongress
Sub Era: Road to Revolution