National Poetry Month, Part 2: Verses on American Immigration
Posted by Anna Khomina on Friday, 04/14/2017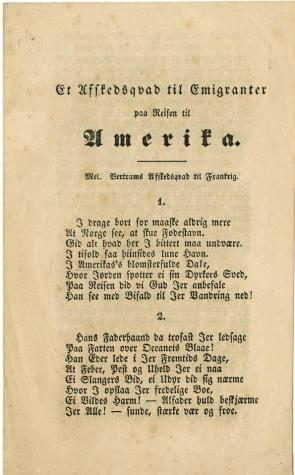 Between 1836 and 1865, approximately 55,000 Norwegians sailed to the United States. Like most immigrants, they sought opportunities that didn't exist at home—religious freedom, economic security, land ownership, and educational and social advancement. The 1853 poem "A Farewell Ode to Emigrants on Their Journey to America" is written (in Danish) from the perspective of someone who stayed in Norway, speaking to someone who has left for America. In eleven verses, the anonymous poet reveals the reasons some left Norway, and praises the wonders of America—the natural resources, fertile soil, and beauty of the land—as well as the opportunity to prosper through hard work and, possibly, marriage to a rich and beautiful "Yankee daughter."
1.
You are going away to maybe never no more
Norway see, your homeland behold.
O that all that you here bitterly must manage without,
you in that distant safe harbor will get tenfold back.
In America's valleys abounding with flowers,
where the earth does not mock the sweat of its grower,
on your journey there we pray that God
will look down upon your wandering with blessings.
4.
When longing for home weighs down on your soul,
then think: "our right home country is the place
where we actually get paid for all our hard labor,
where hunger dare not approach us,
moreover there is more of God's wonderful sky
here than out North, our home country of yore,
and the top soil is fertile, all nature's abundance
is rich in its diversity, that cannot be denied."
8.
My friend, I wish you a Yankee daughter
as wife, – beautiful and rich she must be,
and virtuous, – one who there will be a good replacement
for the women that you here could not get,
that there in quiet clean and domestic joy
you truly can enjoy the best dream of your youth
what fate here would not provide you
is wonderfully given to you at Sabina's stream!
9.
And in a thousand years after the North will be deserted
and the Norwegian's offspring by the banks of the Missouri
will behold freedom's beautiful red sunrise
shining there in wealth, light and peace,
then forgotten will be the yearning and hardship and miserable days,
in the Norwegians' new and happy home! –
Farewell, farewell! and the Lord be with you
on your way wherever you head forth.
Read the poem in its entirety here.
Explore related resources:
A lesson plan using a Norwegian immigrant's account of America
Essays on immigrant fiction and on immigration