by Char Miller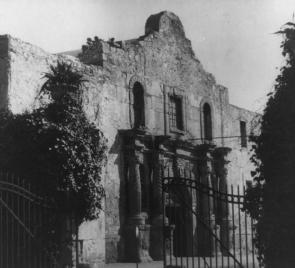 Just hours before John F. Kennedy was to deliver one of the most important speeches of the 1960 presidential campaign in Houston, Texas, the Massachusetts Democrat stood in front of the Alamo. Here, before some 30,000 San Antonians, Kennedy spoke of America's future by reflecting on its past: "We honor the independence of Texas today," he stated, and then promised, amid heightened Cold War tensions, to recommit the nation to the advance of democracy.[1] For Kennedy, the one-time Catholic mission provided an opportunity to defuse Protestant anxieties about the man who would become the nation's first Catholic president. "At the shrine I visited today, the Alamo," he said to his listeners in Houston, "side by side with Bowie and Crockett died Fuentes, and McCafferty, and Bailey, and Badillo, and Carey, but no one knows whether they were Catholics or not. For there was no religious test there."[2]
Thus, in two speeches over twelve hours, John Kennedy used the Alamo's complex history and symbolism to shore up political support and tamp down opposition. He was neither the first nor last to take advantage of the famed battleground's emotional claim, and his handling of the memories it evoked in his varied audiences, however deft, were not unique: the Alamo has long been a contested space in our historical memory.
How have we and are we to remember the Alamo? That depends, as anthropologist Holly Brear argues in Inherit the Alamo, on who asks the question and what answer(s) he or she desires. Certainly controversy swirls around what is historically significant about the Alamo. For many, its iconic stature was sealed in early March 1836, when a small band of Texians and Tejanos fought the much larger Mexican army commanded by General Antonio López de Santa Anna. This struggle between insurgents seeking independence from Mexico and the Mexican state ended on March 6, with no quarter given to the defenders. The fatal climax has been heralded ever since. As the Alamo's official website asserts: "Although the Alamo fell on the early morning hours of March 6, 1836, the death of the Alamo Defenders has come to symbolize courage and sacrifice for the cause of Liberty."[3]
But the Alamo also contains an equally important set of meanings linked to its 1718 founding as Mission San Antonio de Valero. The mission was established to protect Spain's claim to what is now south-central Texas from the Lipan Apache and the French. Its spiritual leaders and Indian converts were also to spread Catholicism and boost local economic development. These same goals were served by other missions located south along the San Antonio River and by the civilian population of San Antonio de Béxar, situated just west across the river. In 1793, after seven decades of service, the local missions were secularized and their lands distributed to their residents. Thus forty years before the fiery event at the Alamo, the area had already witnessed a cultural transformation and religious liberation.
The now secularized mission evolved into a strategically significant military redoubt and over the next thirty years it served as a Spanish base for military operations. Revolutionaries opposed to Spain's imperial presence later captured it and launched sorties from the site. After Mexico gained its independence in 1821, the new nation's flag flew over the building. But in December 1835, another insurgency erupted in San Antonio: after fierce house-to-house fighting, General Martín Perfecto de Cos surrendered the Alamo to a revolutionary force intent on liberating the province. Colonel William B. Travis and a ragtag collection of volunteers began to refortify the Alamo, hoping to repel General Santa Anna's 4,000-man Army of Operations.
It was not to be. The insurgents lost the battle, but six weeks later their comrades-in-arms won the war. On April 21, at San Jacinto, an army under the command of Sam Houston defeated General Santa Anna's troops and captured the Mexican commander in chief and president. When the Treaty of Velasco was signed on May 14, 1836, Texas gained its independence. Even before that moment, the Alamo had gained legendary status. Sam Houston's soldiers are said to have shouted "Remember the Alamo!" as they swept to victory.
To these victors went the spoils: the legendary clash at the Alamo has had a considerable impact on San Antonio's social structure, economic development, and spatial design. By 1850, for instance, the once-Spanish town had become an American city. Its population, which diminished to less than a 1,000 after 1836, rebounded to more than 3,000 in 1850, and by 1860 it topped 8,200, the bulk of whom were Anglos and Germans. The Mexican population lost its former demographic significance and economic clout, becoming second-class citizens in an English- and German-speaking community.
Alamo Plaza reflected this change. It was created when the Alamo's walls were torn down. The resulting open space was used to ease commercial traffic. A park was created in its center and many stores that once surrounded Main Plaza, the Spanish-colonial hub to the west, migrated to this new American streetscape around the Alamo. It also became the location of the US Post Office, hotels, and saloons, while the Alamo itself became the headquarters of the US Army's Quartermaster Corps.
In the late nineteenth century, the memory of the 1836 struggle was used to encourage a lively tourist trade. In popular literature, tourist guides, and public discussion, the Alamo was interpreted as a fight between Euro-American heroism and Mexican despotism, between courageous whites and cowardly browns. The once neglected building was refurbished to fit this version of events, and the Alamo achieved landmark status under the management of the Daughters of the Republic of Texas. "The heroic, mythic tale of the Alamo," observed one anthropologist, had become "a story about the birth, not merely of Texas, but of the United States and the western frontier."
By 1960, this master symbol of the modern West had become so powerful that even an Irish Catholic New Englander named Kennedy felt compelled to visit the Alamo in pursuit of votes that would help him capture the White House.
---
Char Miller is the director of the Environmental Analysis program and the W. M. Keck Professor of Environmental Analysis at Pomona College. He is the author of Public Lands, Public Debates (forthcoming), Ground Work: Conservation in American Culture (2007), and Deep in the Heart of San Antonio: Land and Life in South Texas (2004).
Make Gilder Lehrman your Home for History
---
Already have an account?
Please click here to login and access this page.
How to subscribe
Click here to get a free subscription if you are a K-12 educator or student, and here for more information on the Affiliate School Program, which provides even more benefits.
Otherwise, click here for information on a paid subscription for those who are not K-12 educators or students.
Make Gilder Lehrman your Home for History
---
Become an Affiliate School to have free access to the Gilder Lehrman site and all its features.
Click here to start your Affiliate School application today! You will have free access while your application is being processed.
Individual K-12 educators and students can also get a free subscription to the site by making a site account with a school-affiliated email address. Click here to do so now!
Make Gilder Lehrman your Home for History
---
Why Gilder Lehrman?
Your subscription grants you access to archives of rare historical documents, lectures by top historians, and a wealth of original historical material, while also helping to support history education in schools nationwide. Click here to see the kinds of historical resources to which you'll have access and here to read more about the Institute's educational programs.
Individual subscription: $25
Click here to sign up for an individual subscription to the Gilder Lehrman site.
Make Gilder Lehrman your Home for History
---
Upgrade your Account
We're sorry, but it looks as though you do not have access to the full Gilder Lehrman site.
All K-12 educators receive free subscriptions to the Gilder Lehrman site, and our Affiliate School members gain even more benefits!
Metadata