The Civil War and early submarine warfare, 1863
A Spotlight on a Primary Source by David M. StaufferLewis H. West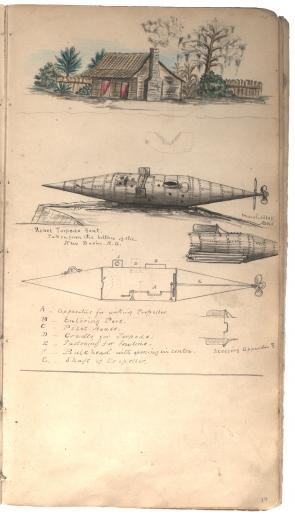 Civil War combat foreshadowed modern warfare with the introduction of the machine gun, repeater rifles, and trench warfare, and the use of trains to quickly move troops. However, one of the most celebrated tactical innovations of the war was the use of submarines by the Confederate Navy. An early example of this type of naval ingenuity was the CSS Pioneer developed by Horace Lawson Hunley, James McClintock, and Baxter Watson. The Confederates were forced to abandon the Pioneer during testing for fear of capture but she eventually found her way into Union hands, where the submersible was examined and sketched by Ensign David Stauffer of the USS Alexandria. Following the war, the Pioneer was scrapped for metal.
Most accounts of actual Civil War submarine combat focus on the sinking of the USS Housatonic by the CSS H. L. Hunley in February 1864, but few mention an earlier but unsuccessful attack by a cigar-shaped vessel, the CSS David, in October 1863. This letter from Union sailor Lewis H. West is a rare eyewitness account of that incident, one of the earliest submarine attacks in naval history. On his first night on board the USS New Ironsides, West experienced the David's attack. Stealthily cutting through Charleston Bay almost entirely submerged, the David crew attempted to explode a torpedo (what we now refer to as a mine) and in the process nearly destroyed their own vessel. According to West, the "nondescript craft" barely damaged the New Ironsides, and divers found "that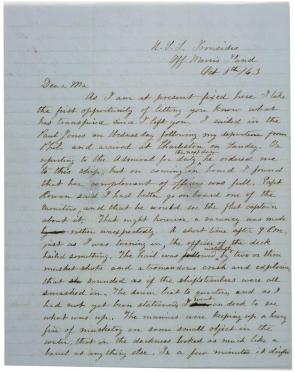 not a plate or bolt is started."
The CSS David survived the explosion and the small-arms fire that raked the hull. She made it back to shore due to the heroic actions of Assistant Engineer J. H. Tombs. The ship had two additional confirmed attacks, one in March 1864 against the USS Memphis, and another on the USS Wabash a month later. Both were as unsuccessful as the attack on the New Ironsides. The fate of the David is unknown, but she might have been among several submarines captured by Union forces when they marched into Charleston in February 1865.
West's letter foretells the submarine's role as one of the most technically sophisticated and strategically important weapon systems of the twentieth century.
A full transcript of West's letter is available.