D-Day correspondence between a soldier and his wife, 1944
A Spotlight on a Primary Source by Morris and Sylvia Weiner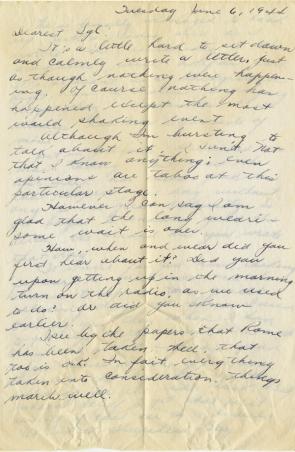 On June 6, 1944, as Allied forces numbering approximately 160,000 troops landed along fifty miles of coastline in Normandy, France, Moe Weiner, a native of Brooklyn, was serving in the US Army Quartermaster Corps in England. He did not participate in the D-Day invasion himself, but he could not help but be caught up in the excitement of the day. That evening he wrote to his wife, Sylvia, a social worker in New York City. Since letters were censored to conceal military activities, he could not say very much.
It's a little hard to sit down and calmly write a letter, just as though nothing were happening. Of course nothing has happened except the most world shaking event.

Although I'm bursting to talk about it, I can't. Not that I know anything; even opinions are taboo at this particular stage.

However I can say I am glad that the long wearisome wait is over.

How, when and wear [sic] did you first hear about it? Did you upon getting up in the morning turn on the radio, as we used to do? Or did you know earlier.
On the same day, Sylvia wrote to Moe expressing the excitement and fear she felt upon hearing the news of the D-Day invasion. She described her desperate search for newspaper accounts of the military assault, noted the silence on the train among fellow commuters as they absorbed the news, and reflected on the fearful responses of friends and co-workers. Sylvia reassured Moe that she shed no tears and that she believed "the sooner this gets started the sooner it will be over."
Well – D-Day! It has come – God! So long awaited – so feared – so rejoiced – such release – such new tenseness – such excitement – such quiet – Well – darling – all of these feelings & emotions were expressed & felt by American people today – as you can well understand. People – & that includes me were torn between feelings of gladness that "the beginning of the end" has come – and with the fear of great sacrifices –
Complete transcripts of both letters are available here.