Susan B. Anthony on suffrage and equal rights, 1901
A Spotlight on a Primary Source by Susan B. Anthony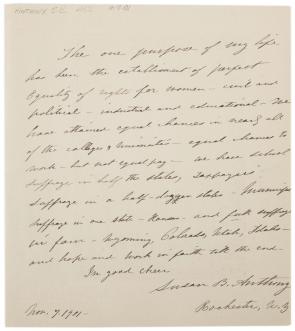 Writing at the age of eighty, having just retired from a long public life as an advocate for abolition and women's rights, Susan B. Anthony trenchantly summarized the gains that had been made in women's rights. Her energetic tone suggests the inner resilience that had established her as a leader in the drive for women's voting rights and would propel the movement far into the twentieth century.
A full transcript is available.
Transcript
The one purpose of my life has been the establishment of perfect equality of rights for women – civil and political – industrial and educational. We have attained equal chances in nearly all of the colleges and universities – equal chances to work – but not equal pay. We have school suffrage in half the states, taxpayers' suffrage in a half-dozen states – Municipal suffrage in one state – Kansas – and full suffrage in four – Wyoming, Colorado, Utah, Idaho – and hope and work in faith till the end.
In good cheer
Susan B. Anthony
Nov. 7. 1901 – Rochester, N.Y.