Theodore Roosevelt supports women's suffrage, 1912
A Spotlight on a Primary Source by Theodore Roosevelt
In this letter written in July 1912, during his campaign for a thrid term as president, Theodore Roosevelt informs the state and county chairmen of the Progressive Party of his plan to support women's suffrage. The document shows the many edits Roosevelt made as he refined his message.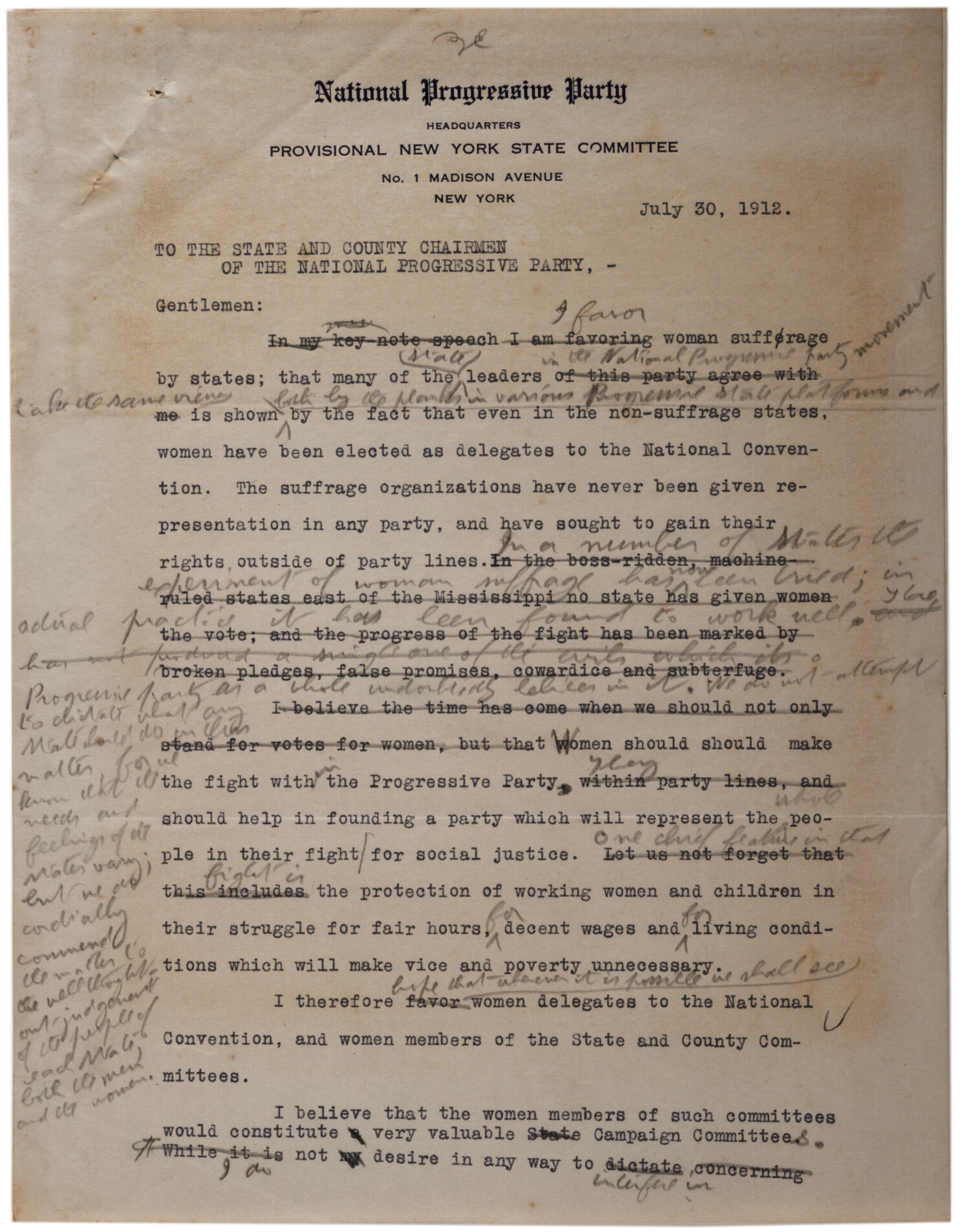 Roosevelt wrote this letter supporting women's suffrage in 1912, but he had fought for equality for women much earlier in his life. As a senior at Harvard University in 1880, he had written about marriage equality and urged women not to change their last name upon marriage. As a New York State Assembly member in 1883, he introduced a bill supporting corporal punishment for men who abused their wives. Additionally, as president of the New York City Board of Police Commissioners from 1895 to 1897, Roosevelt hired women for positions of executive leadership in the police department.
Roosevelt concludes his letter with a recommendation: "I venture respectfully to suggest that you take this matter under advisement and, so far as possible, get the women to aid the men in this great struggle to lift to a higher plane, morally and materially, the conditions of life and labor for both men and women."
At the time of Roosevelt's letter, women had gained full suffrage in only six states: California, Colorado, Idaho, Utah, Washington, and Wyoming. Arizona, Kansas, and Oregon would be added to the list later that year. The National Progressive Party wanted women to play important roles in the campaign, including as delegates to the national convention and as members of state and county committees. Women did attend the convention as delegates, alternates, and observers, and Jane Addams seconded the nomination of Theodore Roosevelt as the party's candidate for president.
Excerpt
In my key note speech I am favoring woman sufferage by states. . . . The Progressive party as a whole undoubtedly believes in it. We do not attempt to dictate what any State should do in this matter for we know that the needs and feelings of the States vary; but we do cordially commend the matter to the well thought out judgement of the people of each state, both the men and the women. Women should should make the fight within the Progressive Party. They should help in founding a party which will represent the whole people in their fight for social justice. One chief feature in that fight is the protection of working women and children in their struggle for fair hours, for decent wages and for living conditions which will make vice and poverty unnecessary.

I therefore hope that wherever it is possible we shall see women delegates to the National Convention, and women members of the State and County Committees.