The 2019 Lincoln Prize Ceremony in New York City
Posted by Gilder Lehrman Staff on Friday, 04/19/2019
The thirtieth annual Lincoln Prize was presented to David Blight for his biography Frederick Douglass: Prophet of Freedom at a ceremony held in the Union League Club of New York City on April 16, 2019.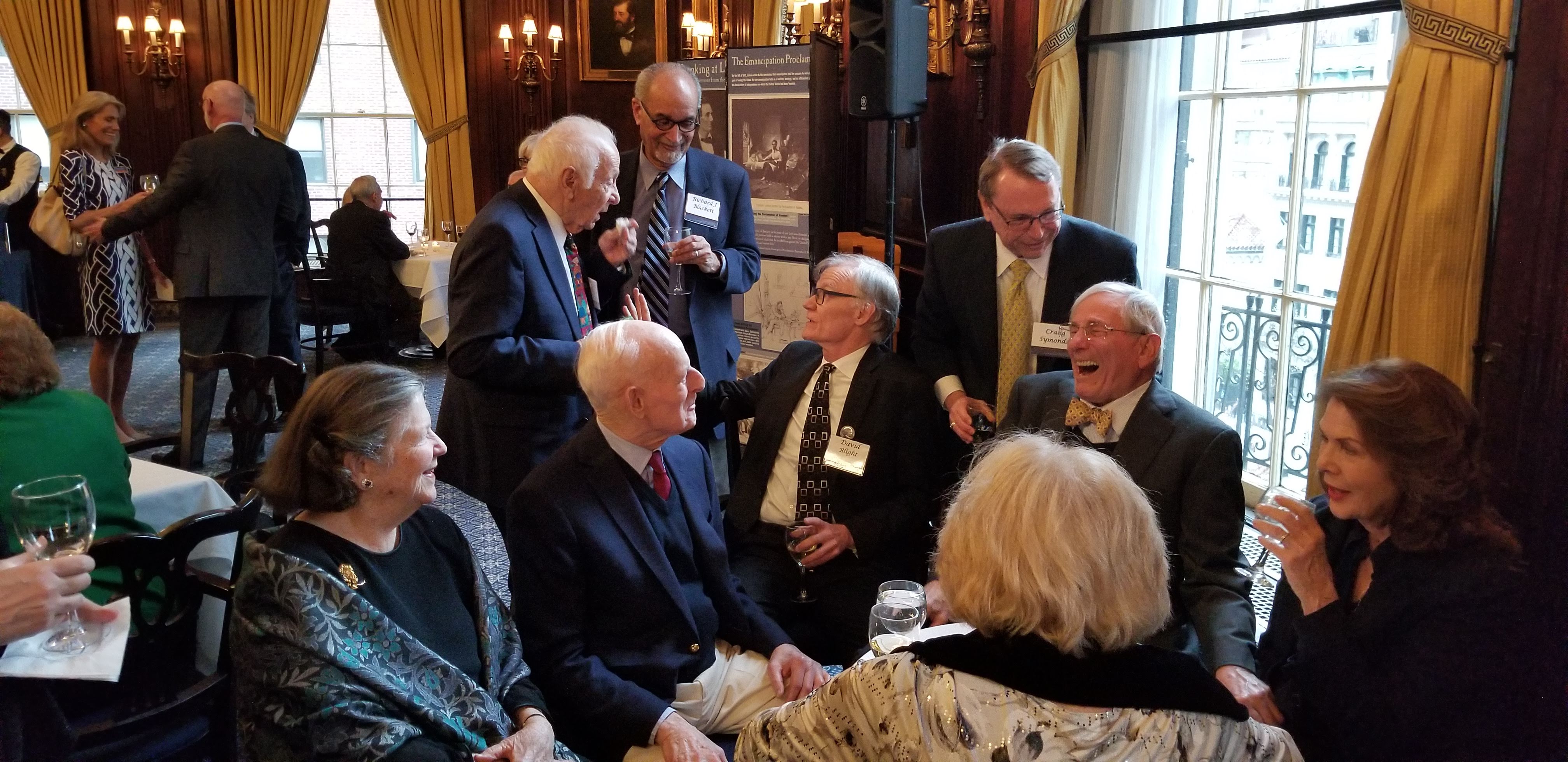 In attendance were such eminent historians as Eric Foner, Martha Hodes, and Richard J. M. Blackett; co-presenter Gettysburg College President Janet Riggs; Medal of Honor winner Paul Bucha; Gabor Boritt, a founder of the Lincoln Prize; the Pace University provost, Dr. Vanya Quiñones; Gilder Lehrman Institute Trustees Robert Daum, Debbie Stapleton, Tom Hirschfeld, and Valerie Rockerfeller; the Gilder Lehrman Civil War Essay Contest winners from Middle School and High School levels; and many other supporters and friends of the Institute.
The evening started with a cocktail hour featuring words of inspiration from the founders of the Gilder Lehrman Institute, Richard Gilder and Lewis E. Lehrman, who spoke about their mission to expand the scope of American history study and David Blight's accomplishment in placing Frederick Douglass's pivitol accomplishments as an abolitionist, writer, and public figure at the center of American history. Blight expressed his gratitude to Mr. Gilder and Mr. Lehrman, who were also the founders of the Gilder Lehrman Center for the Study of Slavery, Resistance, and Abolition at Yale University, which Blight serves as director. Blight went on to preview his upcoming award acceptance speech with a brief but poignant tribute to the Center's founding director, historian David Brion Davis, who had died two days before at the age of 92.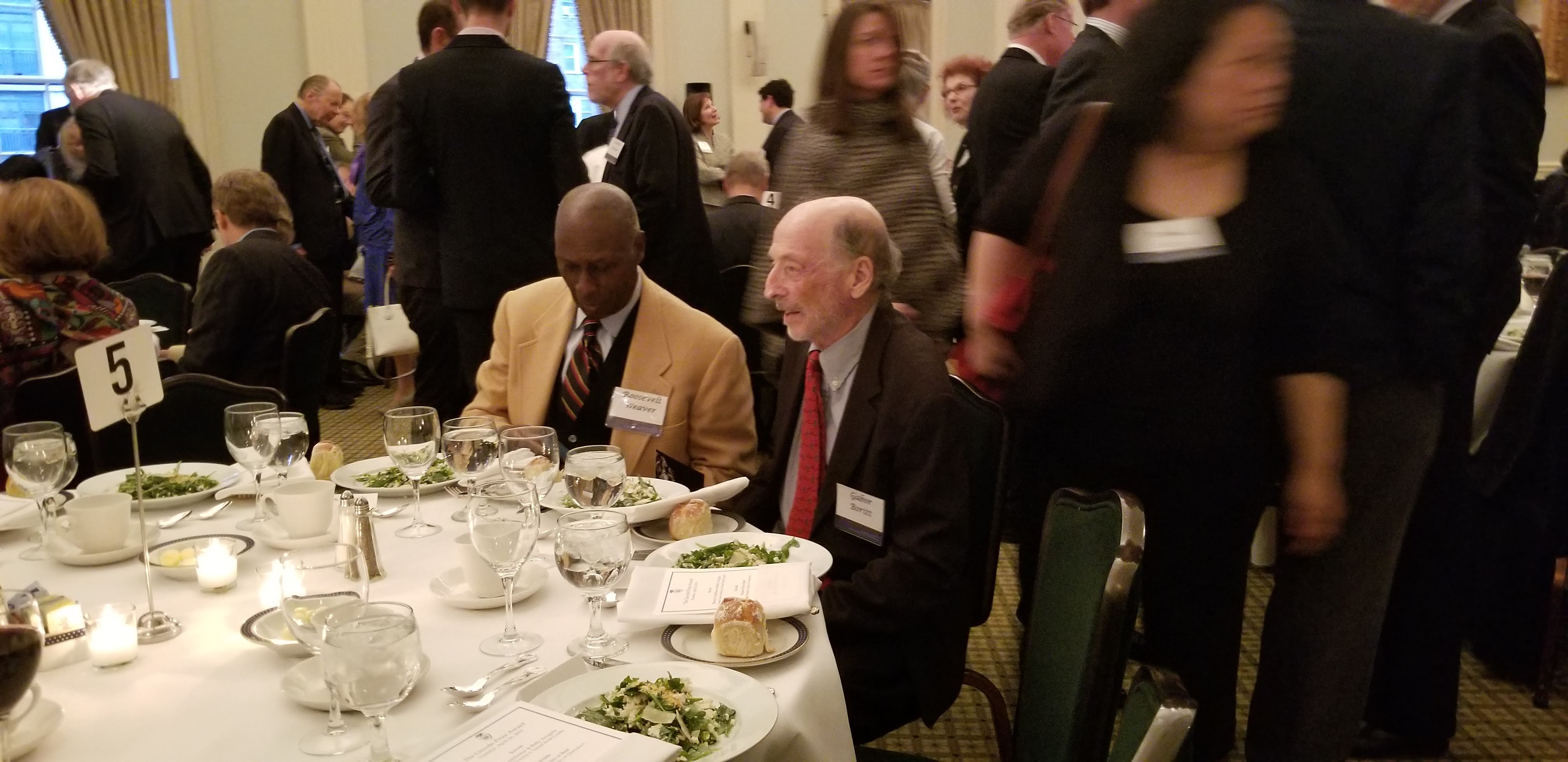 The main event was a seated dinner in a room filled with portraits of prominent political figures from the nineteenth century, with Lincoln's portrait at the head. James G. Basker, president of the Gilder Lehrman Institute, acted as master of ceremonies and invoked the triumph of Blight winning the Pulitzer Prize in History the day before and the tragedy of the fire at Notre Dame Cathedral on the same day, as well as the equally earth-shaking passing of David Brion Davis. He noted, in lighter humor, that it was about time the Pulitzer Prize committee came to its senses and agreed with the Lincoln Prize (as has only happened once before, for Eric Foner's The Fiery Trial: Abraham Lincoln and American Slavery [Norton] in 2011) and quipped that at this event, once a year, "historians are rock stars."
President Janet Riggs of Gettysburg College, the co-sponsor of the Lincoln Prize, attested to the resources at Gettysburg College for the study of American history, particularly the Civil War.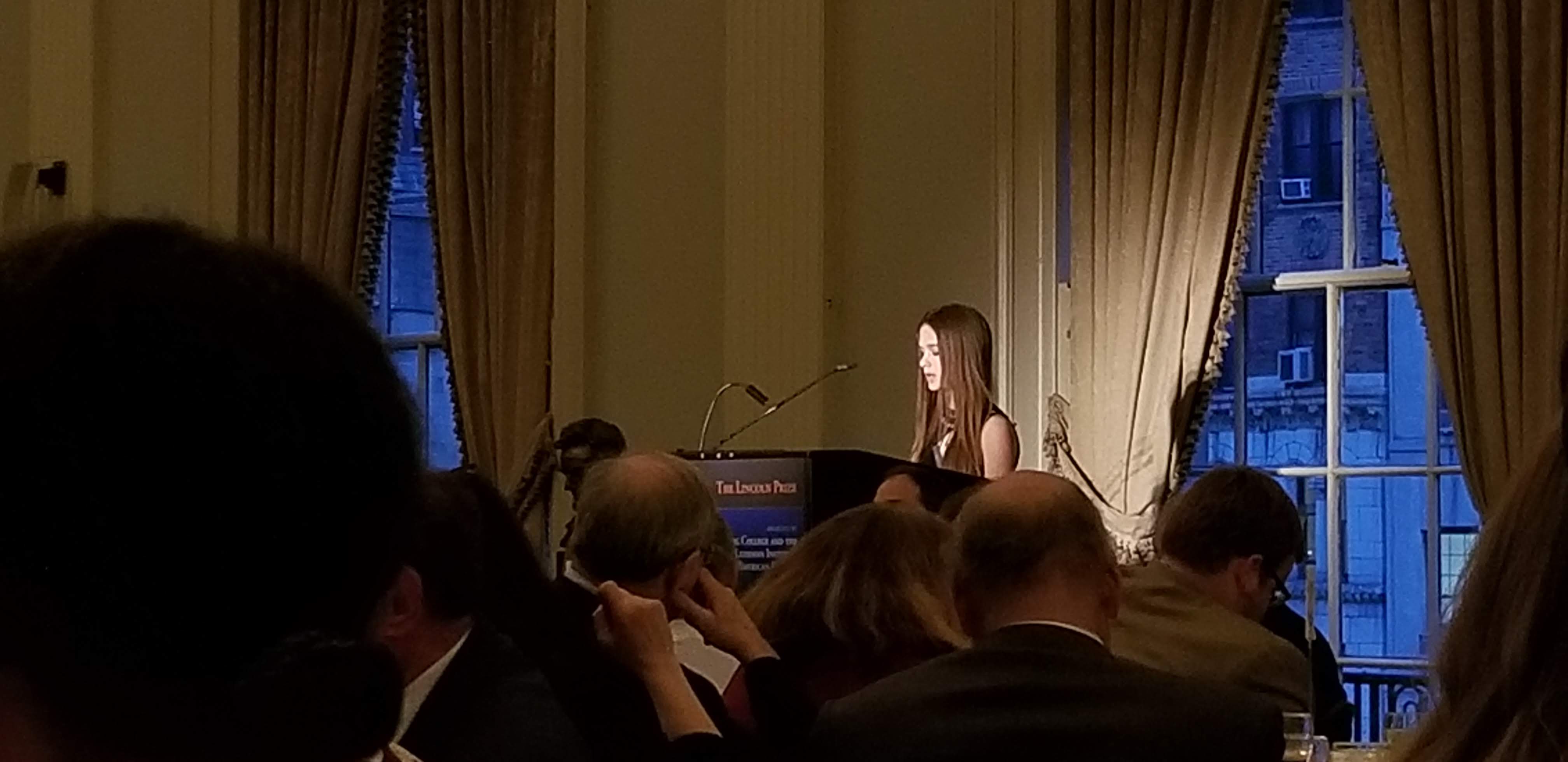 Jim Basker returned to the podium to introduce the winners of the Civil War Student Essay Contest, who, every year, come in from all over the country and sometimes farther away to participate in the ceremony. Eliane Spalding, an 8th grader at Irma Lerma Rangel Young Women's Leadership School in Dallas, Texas, read a selection from her 1st place middle school division essay entitled "Lincoln and Davis: Motivational Leaders."
Larry Walker, a Board member of the Gilder Lehrman Lincoln Prize and trustee of Gettysburg College, saluted the finalists for 2019. Of Richard J. M. Blackett's The Captive's Quest for Freedom: Fugitive Slaves, the 1850 Fugitive Slave Law, and the Politics of Slavery (Cambridge University Press), Walker said it was the most comprehensive narrative of fugitive slaves ever written. William W. Freehling's Becoming Lincoln (University of Virginia Press) adroitly connects Lincoln's early years before the Civil War with his early presidency, Walker noted. In reference to Joanne B. Freeman's The Field of Blood: Violence in Congress and the Road to Civil War (Farrar, Straus and Giroux), Walker joked, "If you think things are bad in Congress today, read this book!" Finally, Walker complimented the "subtle and richly touching" Aberration of Mind: Suicide and Suffering in the Civil War–Era South (University of North Carolina Press) by Diane Miller Sommerville. The jury, Walker explained, reviewed 114 books in total for the prize selection.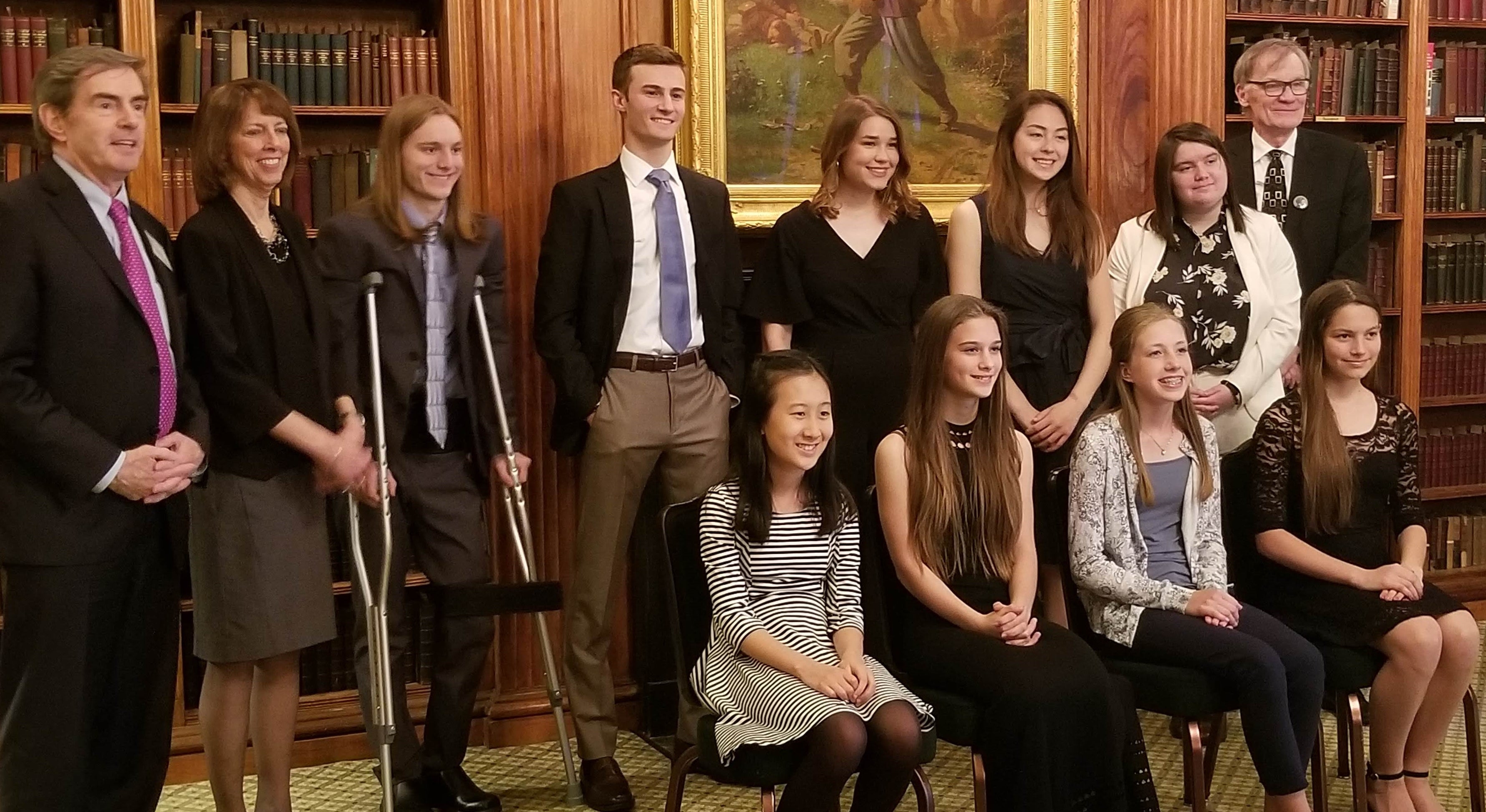 In introducing David Blight and awarding him his prize, Jim Basker made mention of David Blight's previous Lincoln Prize–winning book, Race and Reunion: The Civil War in American Memory (Harvard University Press) as the only book to win both the Lincoln Prize and the Frederick Douglass Book Prize. He gave credit to Blight for never saying no to a request to work with teachers and students, nodding to his work as a professor for the online Pace–Gilder Lehrman MA in American History Program and other direct interaction with the people the Gilder Lehrman Institute serves. Blight started his career, Basker reminded the crowd, as a high school teacher in Flint, Michigan.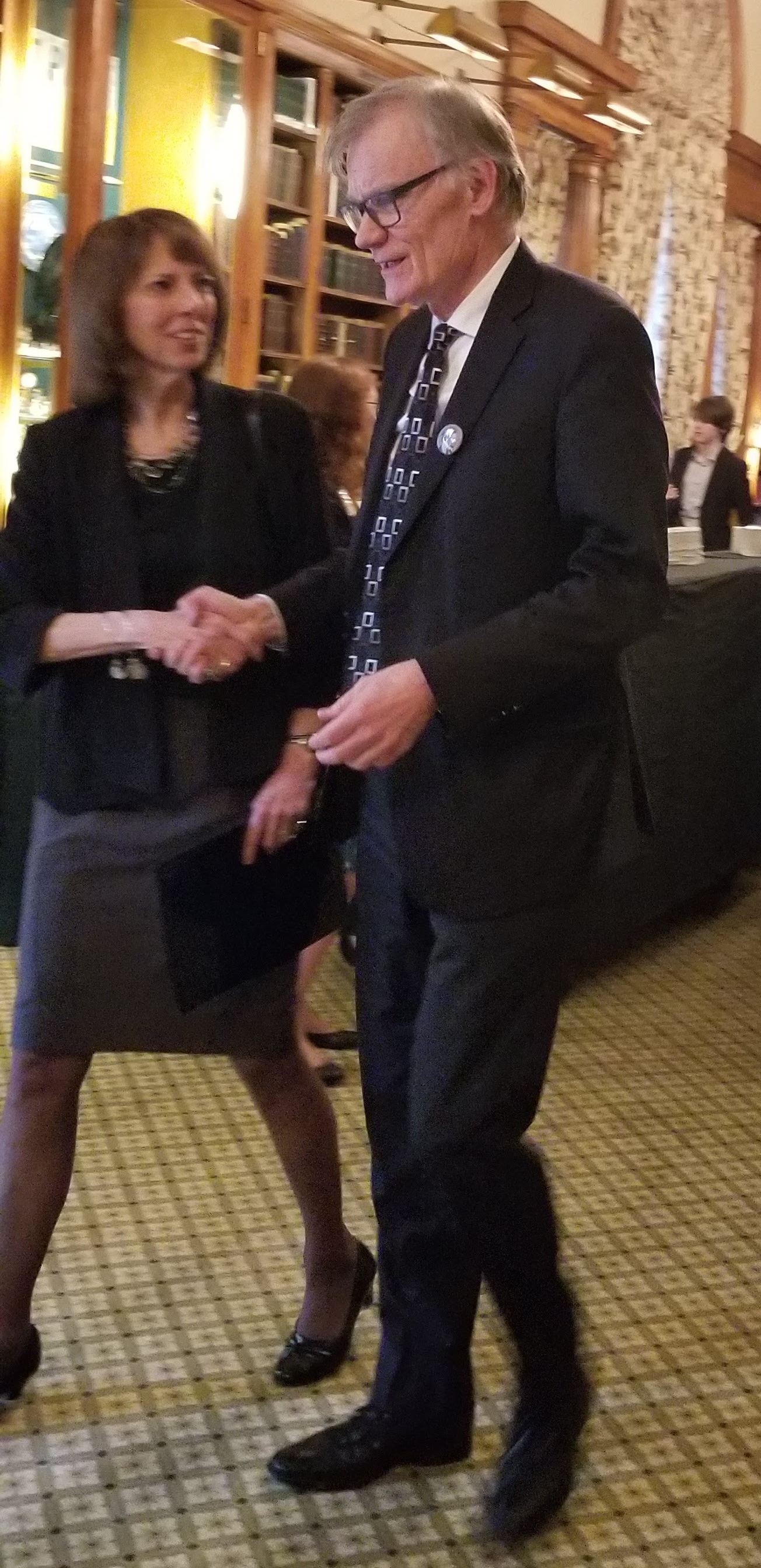 Blight took the podium and immediately said, "Good thing I had an independent jury or you'd think this was an inside job." Blight continued by talking more about others' accomplishments than any of his own, starting with the finalists for the award. In particular, he spoke of his and Richard Blackett's long professional relationship and friendship, remembering that Blackett attended his first paper at a scholarly conference, saying afterwards, "Not bad, mate. Want to have a drink?" Catherine Clinton, another prominent historian in attendance, he remembered staged a spontaneous event in Belfast in which Blight and Blackett debated, after choosing straws to decide sides, whether Lincoln freed the slaves or the enslaved people freed themselves.
Blight moved on to euologise his colleague, David Brion Davis, about whom he said, "You never were in his presence without learning something, even if you didn't want to." In summation about Davis, Blight said, "He reminds me of the humility at the core of what we do."
"This Gilder Lehrman phenomenon," Blight said, "has certainly changed my career and put me in a place I would never have been in."
Blight closed his speech by quoting Frederick Douglass's most powerful words, in a succession of quotes: "Power concedes nothing without a demand" and "It is easier to build strong children than to repair broken men." Douglass, said Blight "did not know what he thought about something until he could sit down at his desk and write it down" and, between 1841 and 1877, "never earned a dime except with his voice and his pen."