Civil War soldiers: Thomas Burpee and his sons
Posted by Sandra Trenholm on Monday, 06/09/2014
The Gilder Lehrman Collection has more than 10,000 letters written by soldiers during the American Civil War, and when you read dozens or even hundreds of letters by the same person, it is very much like reality television. You become involved in the drama of their lives—the war, relationships, finances, and losses. You are with George Tillotson when he learns his four-year-old daughter Lucy died during an epidemic that also threatened his other children. And you can 't help but cringe when Charles Morey is killed on April 2, 1865, just a few days before Lee's surrender. And when James K. Magie tells his wife he is buying supplies in Nashville, Tennessee, and selling them to his comrades (neighbors) at a 100 percent profit, you understand why he warns her not to tell anyone (and you secretly hope he was caught).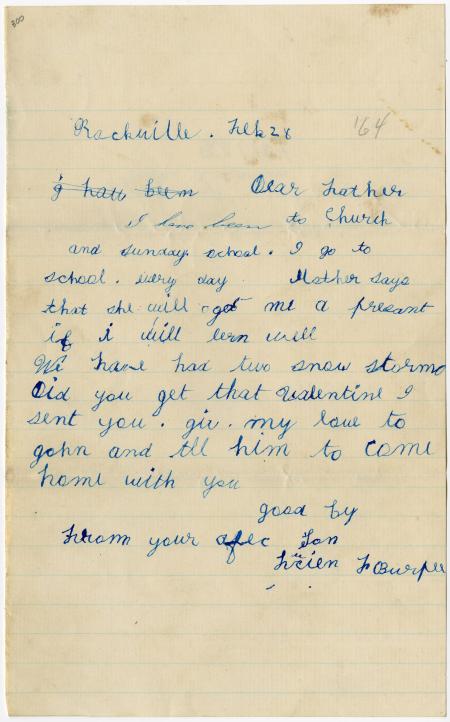 But the conversation is very one sided. In general, people at home kept letters written by soldiers. While soldiers in the field, who had to be able to carry all their belongings, limited themselves to what they valued as absolutely essential. Therefore, letters written to soldiers are rare. When you do come across a letter from home, it begs the question, "Why did this one survive?"
While researching documents for an exhibition, 1864: "Blood and Carnage unequalled perhaps in history," I came across the archive of Colonel Thomas Burpee of Rockville, Connecticut. Our records indicated that Thomas joined the Union Army as a captain in July 1862, served in both the 14th and 21st Connecticut Infantry, and was promoted to colonel on June 9, 1864—the same day he was wounded at the Battle of Cold Harbor, Virginia. Thomas died from his wounds two days later, so I jumped to the end of the collection where I hoped to find his last letter home or perhaps the letter informing his wife of Thomas's death for the exhibition. What I found was a set of letters between Thomas and his two young sons: Charlie, who was four, and Lucien, who was nine, when their father died in June 1864.
As a middle school student in one of our workshops observed, "They must have meant the world to him."