Classroom and Parent Resources for Thanksgiving
Posted by Gilder Lehrman Staff on Thursday, 11/17/2022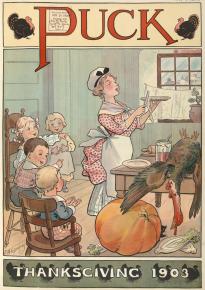 The Plymouth colonists and the Wampanoags shared an autumn harvest feast in 1621 that served as the basis for what we now celebrate as Thanksgiving. Though it continued to be celebrated, first across the colonies and then the United States, it was not until 1863 that President Abraham Lincoln proclaimed Thanksgiving Day a national holiday.
Explore the origins of Thanksgiving, from its earliest inception through its evolution into a recognized federal holiday on the last Thursday of November, with the Gilder Lehrman Institute!
Spotlight and Video on the Thanksgiving Proclamation
Video
Lesson Plan
History Now Essay
Recognizing and celebrating historical holidays—from memorializations of monumental American figures such as Martin Luther King Jr. to remembrances of events like Juneteenth—offer entry points for a deeper exploration of the pivotal moments, key figures, and central conflicts in American history. The Gilder Lehrman Institute offers American historical holiday resources from its Collection of more than 85,000 primary source documents, essays published in its online journal History Now, videos of talks by eminent scholars, lesson plans by American history teachers, and more to help guide discussions, create projects, and gain content knowledge.