Congress Adopts Declaration of Independence: On This Day, July 4
Posted by Justine on Monday, 07/04/2016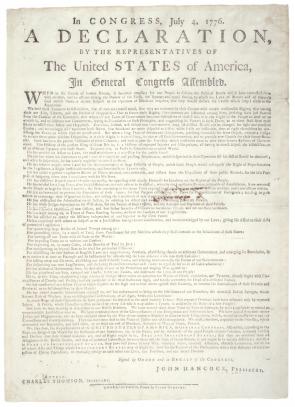 On July 2, 1776, the Continental Congress voted in favor of independence. The following day John Adams wrote home from Philadelphia that "the Second Day of July 1776, will be the most memorable Epocha, in the History of America. I am apt to believe that it will be celebrated, by succeeding Generations, as the great anniversary Festival. . . . from one End of this Continent to the other from this Time forward forever more."
What he did not know was that July 4, the day Congress adopted the Declaration of Independence, would become "the great anniversary Festival."
Learn more in an essay about how the Fourth of July was celebrated in the early republic and our Featured Primary Source on the Declaration. Explore further with an essay on the influence of the Declaration of Independence on the world stage and a brief video on the topic.