Constitution Day Resources from the Gilder Lehrman Institute
Posted by Gilder Lehrman Staff on Friday, 08/10/2018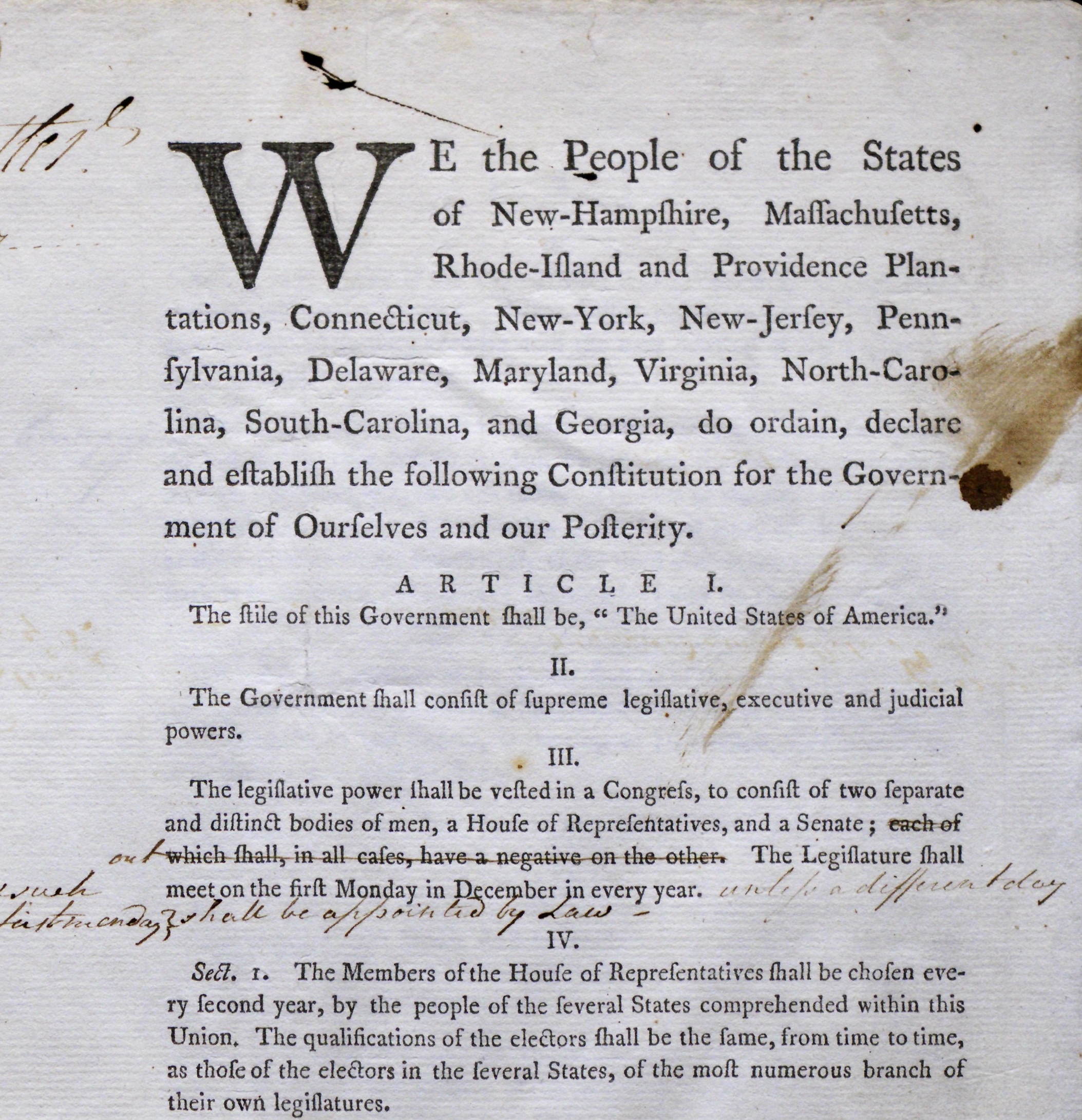 The United States has the oldest written national framework of government in the world. The US Constitution is a dynamic document that has inspired debate since its inception, has been used to justify and later correct deplorable practices, and lives on through wars; technological innovations; political, social, and cultural changes; and other tests of its merits and power.
Constitution Day is Monday, September 17, 2018.
In 2004 Constitution Day, also known as Citizenship Day (and formerly known as I Am an American Day), was federally mandated as a day for all schools in the United States that get federal funding to provide programs on the history of the Constitution. Today, it is more important than ever for all Americans to know about and understand the origins, evolution, and implementation of the country's founding document.
Explore these Gilder Lehrman Institute resources to bring the US Consitution's creation and expansion to life in your classroom:
Online Exhibitions
"We the People": Printings of the US Constitution from the Gilder Lehrman Collection
Spotlights on Primary Sources from the Gilder Lehrman Collection
"Two versions of the Preamble to the Constitution, 1787"
"A brawl between Federalists and anti-Federalists, 1788"
Click for more related Spotlights in History Now.
Classroom Resources and Lesson Plans
Historical Context: The Survival of the US Constitution
Infographic: Differences between Federalists and Anti-Federalists
Lesson Plan: Opposing Viewpoints on the Ratification of the US Constitution
Click for more related lesson plans in History Now.
Essays
from The Constitution: History Now 13 (Fall 2007) including
"Race and the American Constitution: A Struggle toward National Ideals" by James O. Horton
"Ordinary Americans and the Constitution" by Gary B. Nash
"Why We the People? Citizens as Agents of Constitutional Change" by Linda R. Monk
Click for more related essays in History Now.
Videos
Two-minute videos ideal for classroom viewing:
"Constitutional Originalism" with Jack Rakove
"Slavery and the Constitution" with James O. Horton
"Federalists vs. Anti-Federalists" with Carol Berkin
Click for more related videos in History Now.