Detroit Riots of 1967
Posted by Gilder Lehrman Institute Staff on Monday, 07/23/2018
The temperature in Detroit, Michigan, during the last week of July 1967 was in the high 80s with high humidity. At the time, Motor City was undergoing economic changes as automobile factories moved to the suburbs, in part to avoid hiring an integrated workforce. Thomas Sugrue's essay Motor City: The Story of Detroit analyzes the links between jobs and race: "Between World War II and the 1960s, the city's African American population rose exponentially, as hundreds of thousands of blacks were lured to the city by the promise of high-paying industrial jobs. Just as they arrived, those jobs—especially the entry-level positions that had served as the first rung on the economic ladder—were disappearing."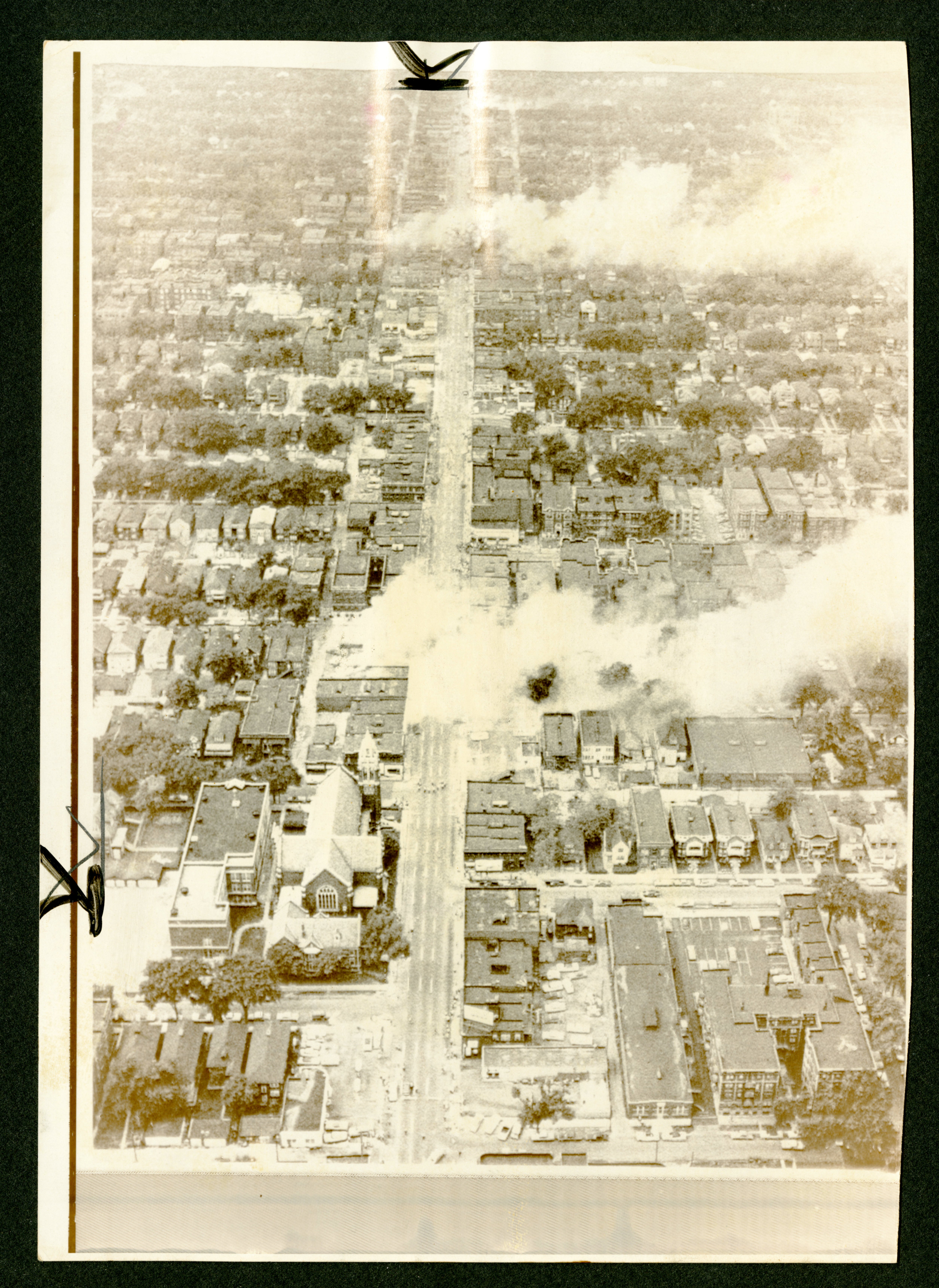 Another element playing into that balmy week of July was the ongoing tension between residents and the police. Police raids were not uncommon in African American neighborhoods. The densely populated Virginia Park was home to 60,000 people in 286 square city blocks.
At 3:35 a.m. on July 23, a police squad raided the United Community League for Civil Action at corner of 12th Street and Clairmount. William Scott, a civil rights activist, operated an illegal after-hours bar, or blind-pig, on the premises. That night, there was a party honoring two black servicemen who fought in Vietnam. Patrons were reluctant to leave the air-conditioned party for the smoldering heat outside. As police attempted to arrest and remove eighty-five partygoers from the bar, the people in the neighborhood gathered to protest.
Michigan governor George Romney's response to Mayor Jerome Cavanagh's plea for help with the ensuing riots was to send 7,000 National Guard and US Army troops. The week of violence left 43 people dead and 342 injured; 1,400 buildings destroyed; 5,000 people homeless; and $100 million in damages.
The Gilder Lehrman Collection has recently cataloged a new acquisition of forty-three images taken by AP and UPI photographers during that week of the Detroit riots in 1967. Images include National Guard troops in the area of the riots, neighborhood residents clearing rubble, and children and a woman walking through 12th Street. News clippings are pasted to the back, showing where the photographs showed up in print. These new Images are wirephotos, images transmitted via telephone or radio. These were usually sent through a photo transmitter. Portable devices, like the UPI photo transmitter 16-s allowed photographers to send images to press outlets over a dial-up signal in an underwhelming eight to nine minutes—if the signal was a good one.
President Johnson appointed a National Advisory Commission on Civil Disorders on July 28, 1967, to investigate an outbreak of riots dating back to 1965. The commission released a 426-page report covering 150 riots that had taken place between 1965 and 1968. The commissioners concluded that military intervention generally worsened the situation, increasing the number of arrests and injuries, particularly to innocent bystanders. They determined that "the rioters appeared to be seeking . . . fuller participation in the social order and the material benefits enjoyed by the majority of American citizens."
Our nation is moving towards two societies, one black, one white—separate but unequal. Reaction to last summer's disorders has quickened the movement and deepened the division. Discrimination and segregation have long permeated much of the American life; they now threaten the future of every American.
The preservation, cataloging, and sharing of photographs such as these are vital to our mission to enhance American history education. They reveal history in ways that textbooks and written sources cannot, showing the people and places deeply affected by national and local conflicts that continue to resonate today.