FDR Dies: On This Day, April 12
Posted by Kristin Miller on Tuesday, 04/12/2016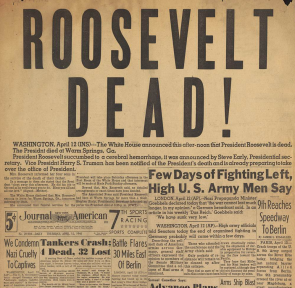 He had led the country for more than a dozen years, guiding Americans through the Great Depression and a global war. On April 12, 1945, Franklin Roosevelt, the leader that many Americans had grown up with, died at Warm Springs, Georgia.
The Gilder Lehrman Collection has a copy of the April 12 New York Journal-American that bears the headline "Roosevelt Dead!" The paper quotes from Eleanor Roosevelt's telegram to her four sons, who were all in military service: "He did his job to the end as he would want you to do."
Winston Churchill delivered a memorial address to Parliament on April 17, 1945, concluding:
It remains only to say that in Franklin Roosevelt there died the greatest American friend we have ever known and the greatest champion of freedom who has ever brought help and comfort from the new world to the old.
The President's body was transported by train from Warm Springs to Washington DC and then on to his estate in Hyde Park, New York, for burial. Thousands of mourners lined the tracks to say goodbye.