Getting to Know Alysha Butler, 2019 National History Teacher of the Year
Posted by Gilder Lehrman Staff on Friday, 09/27/2019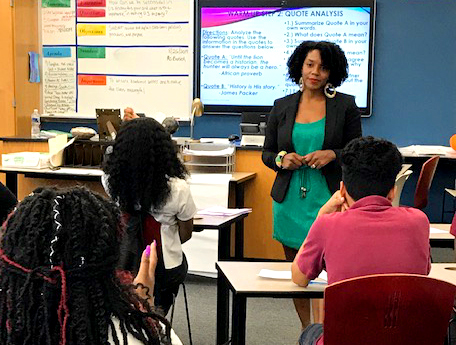 Alysha Butler is a social studies teacher at McKinley Technology High School in Washington, DC. She won the 2019 Daughters of the American Revolution Outstanding Teacher of United States History Award, was a 2019 GrantEd Recipient, and was selected as the 2010 Miramar High School Teacher of the Year.
Along with the nine other finalists for the award, she was asked informal questions by the Gilder Lehrman Institute.
What was your initial reaction upon hearing that you were the national winner?
I was extremely shocked and humbled to be recognized by such a prestigious institution. At the same time, I was very happy to represent the District of Columbia Public Schools. I feel often times teachers from urban schools are underestimated when in fact we work toward the same national curricular goals as teachers in elite and private schools with sometimes fewer resources.
How does being named National History Teacher of the Year make you feel about your teaching so far and aspirationally?
It makes me feel that the message of working to include both the known and unknown voices into our everyday lessons resonates with many, and makes me push harder to continue doing so in my class and share practical ways of implementing such strategies with other educators.
How would you describe your teaching style?
I have often been referred to as a modern-day griot. I love storytelling and try to teach history not as a compilation of facts but as an ongoing story that must be used to understand today.
Do you have a favorite/funny moment from teaching?
One day during the last period of the day, I was teaching a subject that I was particularly passionate about. The students were eager, engaged, and energized—so I thought. Thirty minutes into the lesson, one of my students stood up and said, "I'm sorry, Ms. Butler." She proceeded to exit the room after her identical twin entered the room and assumed her seat. Her sister, my actual student, said she didn't want be late to my class and asked her twin sister to sit in for her when I called role. Apparently, the entire class was aware of the plan except for me. I couldn't be mad because I thought the plan was quite ingenious and it turns out that her twin sister really enjoyed the lesson.
State one fun historical fact about the town you live in or grew up in.
Hallandale Beach, Florida, is currently home to a large Black, Latino, and Jewish population. However, it was originally settled by employees of industrialist Henry Flagler.
What was the last great history book you read?
Frederick Douglass: Prophet of Freedom by David Blight and The Warmth of Other Suns: The Epic Story of America's Great Migration by Isabel Wilkerson
What is your favorite historical site or museum?
The National Museum of African American History and Culture, National Portrait Gallery, and Baltimore Museum of Art
If you could travel back in time and meet any historical figure, who would it be and why?
I would love to meet Frederick Douglass. I am always in awe of his unwavering courage and self-confidence in an era in which academics sought to scientifically prove he was inferior.
What is your favorite historical film or series?
I absolutely love the new Roots series for its cinematography and push for more historical accuracy.
Do your students have a favorite historical topic or era?
My students are always interested in Reconstruction. It really helps them to understand modern-day events, policies, and relations.
What advice would you give to young people in high school or college who may be considering a career in education but are unsure?
People are bombarded on a daily basis by images, statistics, policies, systems, and people that seek to tear others down. Why not be a source of inspiration and work to build up others through education and awareness of their past, present, and overall potential?