The Gilder Lehrman Institute presents Joe Welch with the 2018 National History Teacher of the Year Award
Posted by Gilder Lehrman Staff on Monday, 10/15/2018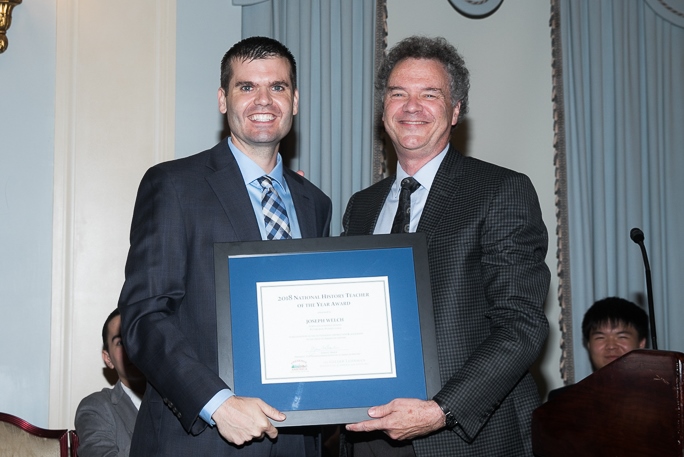 On October 10, 2018, in the Grand Ballroom at the Yale Club in New York City, Joseph Welch of North Hills Middle School in Pittsburgh, PA was formally presented with the 2018 National History Teacher of the Year Award.
At the event, which marked the fifteenth anniversary of the award, Gilder Lehrman Institute staff, affiliate teachers, trustees, and others celebrated not only the recipient but also the teaching of history in America.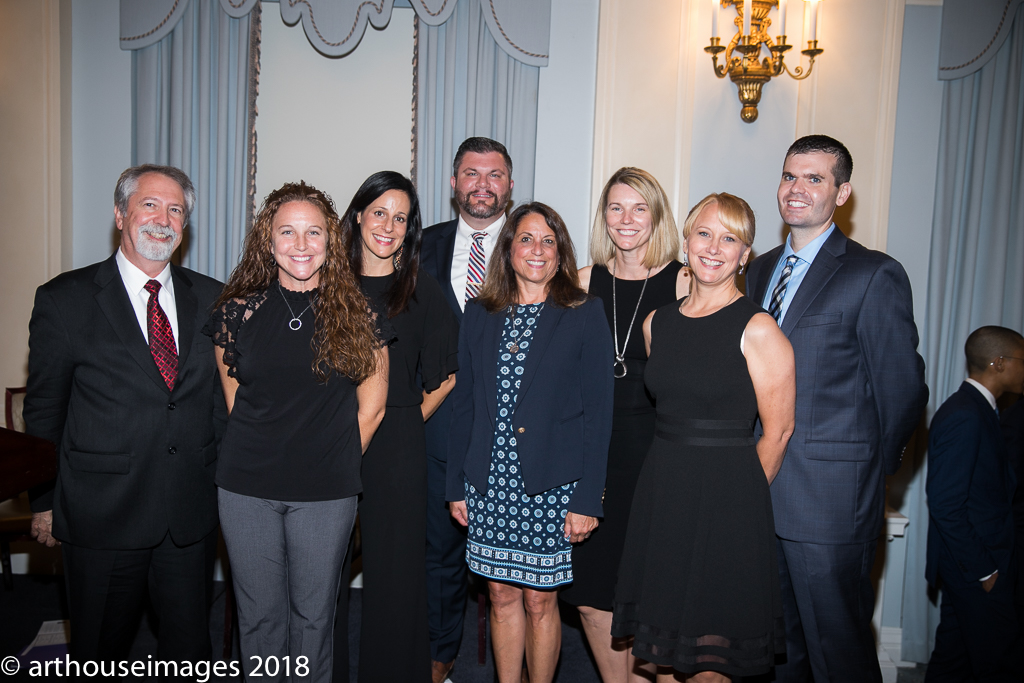 Seven past winners of the award were in attendance: Rosanne Lichatin (2005), Tim Bailey (2009 winner and current Director of Education at the Gilder Lehrman Institute), Jill Szymanski (2013), Michele Anderson (2014), Mary Huffman (2015), Kevin Cline (2016), and Sara Ziemnik (2017). Past state winners were also present.
The program began with Gilder Lehrman Student Advisory Council member William Lohier's introduction of Gilder Lehrman President Jim Basker. Lohier, a Stuyvesant High School senior, paid tribute to his current history teacher and thanked Basker for making the Gilder Lehrman Institute accessible to all.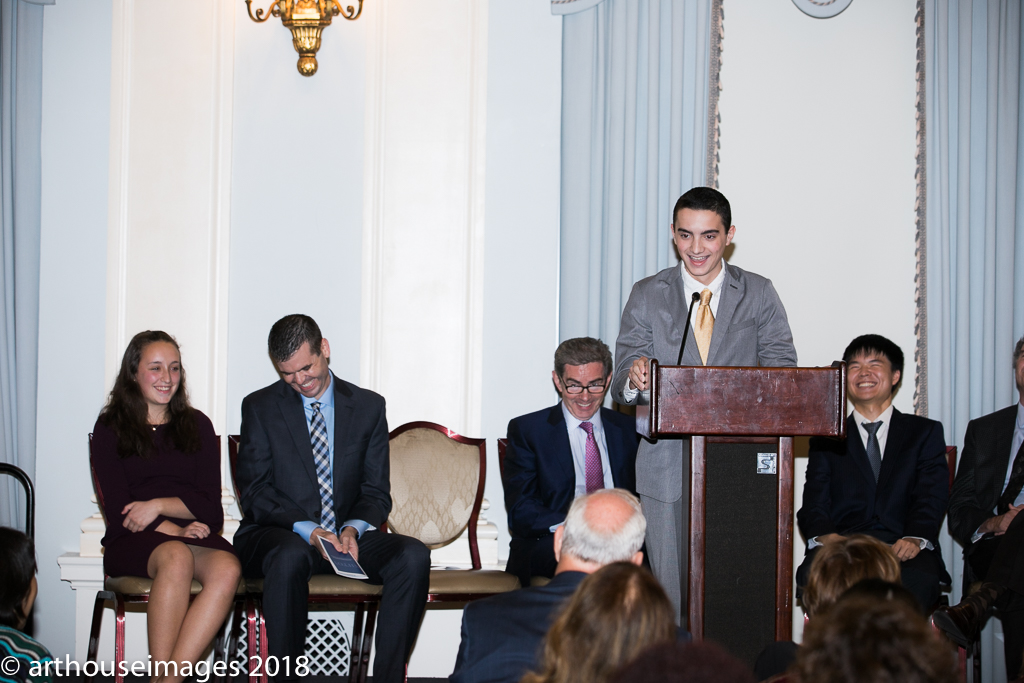 Jim Basker reminded the audience of the mission and scope of the Gilder Lehrman Institute's work through the Affiliate School Program, exhibitions, the Hamilton Education Program, and national book prizes. He then introduced two of Joseph Welch's past students, Hannah Sciulli and Douglas Bensch, both now high school sophomores, who spoke to Welch's mastery at relating historic issues to modern trends, making history current for today's students. The students described being constantly surprised by Welch's willingness to dress in historical costume and engage with them on an imaginative level.
Kenny Wong, a student at Stuyvesant High School and a member of the Gilder Lehrman Student Advisory Council, introduced award presenter Professor Edward Ayers, President Emeritus of the University of Richmond and National Humanities Medal Winner. 
Professor Ayers, who referred to the Gilder Lehrman Institute as "one of the great treasures of our country," addressed the problem of thinking about history as a subject in school rather than as a lifelong pursuit. Ayers likened teaching history to teaching a foreign language, which enables conversations in the real world. He spoke eloquently of how people today "feel lonely in the present," "cut off from the time before," "unsure of how to connect with [the time] to follow," and suggested that history offers that yearned-for connection.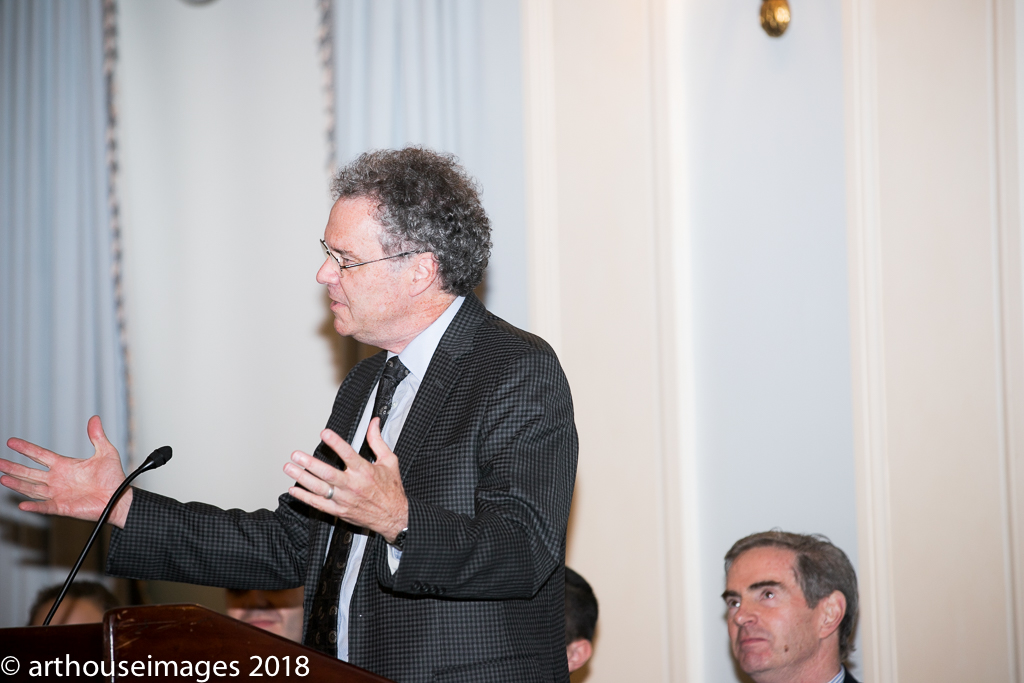 Professor Ayers ceded the stage and presented the History Teacher of the Year Award plaque to Joseph Welch, who humbly accepted it from the revered but approachable scholar. Welch thanked many in the audience, including his wife, to whom he proposed in Times Square on his last visit to New York in 2007, and his daughter (his son being a little too young to attend). Generating knowing laughter from the crowd, he spoke of his gratitude for the "free posters" from the Institute that he uses frequently at his Affiliate School. Welch then more seriously voiced his appreciation to Professor Ayers and the Gilder Lehrman Institute for their shared quest to broaden the audience for American history and include diverse narratives in historical study.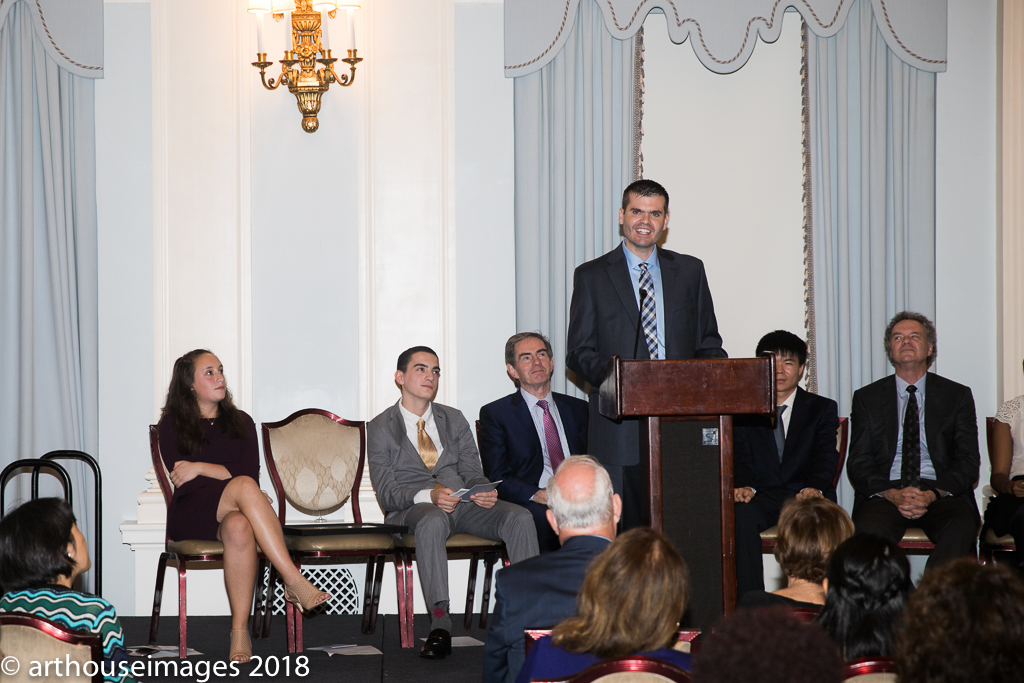 Welch noted that, as the youngest National History Teacher of the Year award winner ever, he represented a Millennial perspective, one that "appreciates experience over [physical] things." True to his age and the testimony of his former students, he made reference to his preference for Ed Sheeran over Justin Timberlake, paraphrasing Sheeran: "My job is as an entertainer, and I cannot entertain people who don't want to be entertained." Admitting that he was not an "entertainer" (though his students might disagree), Welch segued into the heart of his speech, his teaching philosophy. History, argued Welch, holds a place for everyone in its narrative, as long as emotion, personal voice, and empathy are central to its instruction. He referenced the oft-quoted line from Hamilton, "When you got skin in the game, you stay in the game," leaving room for student William Lohier to spontaneously finish the verse, "but you don't get a win unless you play in the game."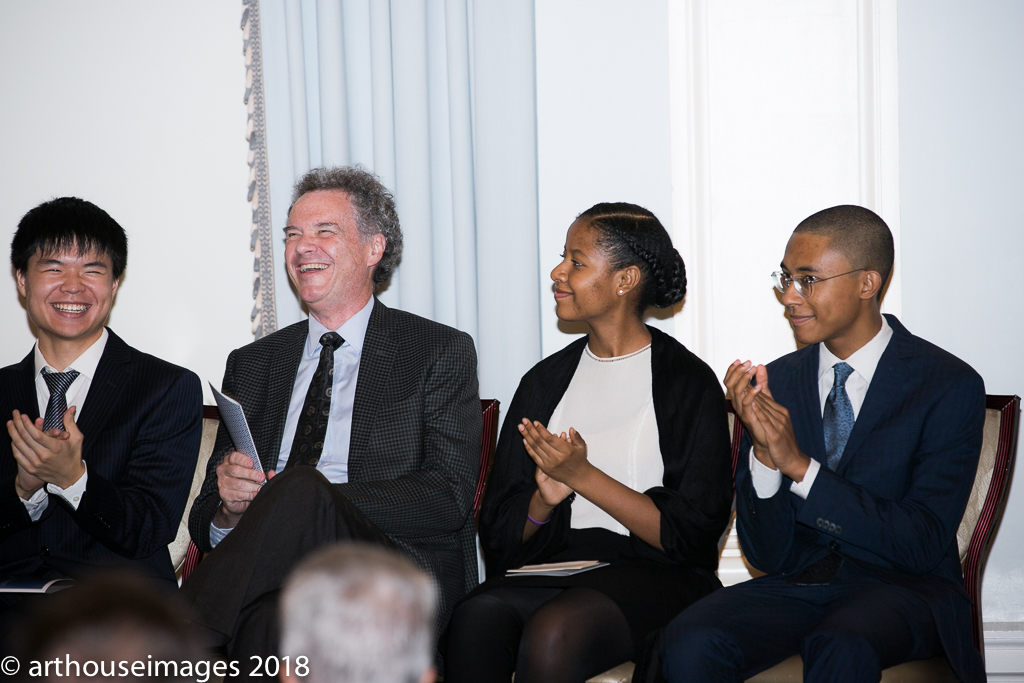 After Welch's remarks and the applause they garnered, Naomi Nesmith, a Fort Hamilton High School student and member of the Gilder Lehrman Student Advisory Council, closed the ceremony by reminding the crowd that imparting self-worth to students is just as important as imparting wisdom, and that great history teachers help students not only to become better historians, but better people.