Introducing Cherry Whipple, the 2018 Texas History Teacher of the Year
Posted by Gilder Lehrman Staff on Tuesday, 05/07/2019
Cherry Whipple
Texas History Teacher of the Year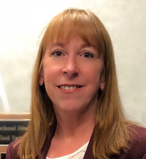 Since 2004, 749 exemplary American history teachers from elementary, middle, and high schools in all fifty states, Department of Defense schools, Washington DC, and US territories have been named State History Teacher of the Year. The National History Teacher of the Year is named in the fall. The 2018 State History Teachers of the Year were asked informal questions by the Gilder Lehrman Institute. 
Do you have a favorite/funny moment from teaching?
Each year we take our students on a learning excursion to New Mexico. This past year we included a visit to Meow Wolf as one of our evening activities. The kids were so blasé as we were entering, but I began making it a competition to "solve" the puzzle of the House of Eternal Return. Watching teenagers race from room to room trying to find the secret was memorable, as was the sheer happiness they exhibited.
Tell us one fun historical fact about the town you live in or grew up in. 
Tom T. Hall, the country singer, wrote a song about my home town, "Thank You, Connersville." My mother knew him and I grew up listening to his music.
What was the last great history book you read?
Every year my students read chapters from A People's History of the United States by Howard Zinn, so I reread the chapters every year. This year I plan to add An Indigeous Peoples' History of the United States by Dr. Roxanne Dunbar-Ortiz to my reading list.
What is your favorite historical site or museum?
I take my students to visit the LBJ Library each year. I love to look at all the memorabilia from LBJ's presidency, especially seeing so many artifacts from the 1960s. 
If you could travel back in time and meet any historical figure, who would it be and why?
I would like to travel back in time to meet Mark Twain. I am fascinated by his social and political views of the late nineteenth century. I imagine having a conversation with him would leave me in stitches.
What is your favorite historical film or series?
My favorite historical film is Hotel Rwanda. 
Do your students have a favorite historical topic or era?
Students enjoy the 1920s era of history. This is the time when we do a project-based learning unit with student groups publishing a magazine on the culture of the twenties modeled on the satirical model of Puck magazine, which went out of publication in 1918. In order to support student engagement, we hold a Speakeasy Speed Dating activity where students take on the persona of various 1920s and 1930s historical characters, including costumes and props. 
What advice would you give to young people, in high school or college, who may be considering a career in education but are unsure?
Teaching is more than a career, it is a calling. If you are interested in a career in education but aren't sure, I suggest taking on a smaller role working with young people to determine if teaching is something you would enjoy. If it's not, there are many other education-related careers available that may better suit your needs, including educational aspects within public policy, government, and social service.