Introducing Rhonda Koppelmann, the 2018 Missouri History Teacher of the Year
Posted by Gilder Lehrman Staff on Tuesday, 02/26/2019
Rhonda Koppelmann
Missouri History Teacher of the Year
Since 2004, 749 exemplary American history teachers from elementary, middle, and high schools in all fifty states, Department of Defense schools, Washington DC, and US territories have been named State History Teacher of the Year. The National History Teacher of the Year is named in the fall. The 2018 State History Teachers of the Year were asked informal questions by the Gilder Lehrman Institute.
Do you have a favorite/funny moment from teaching?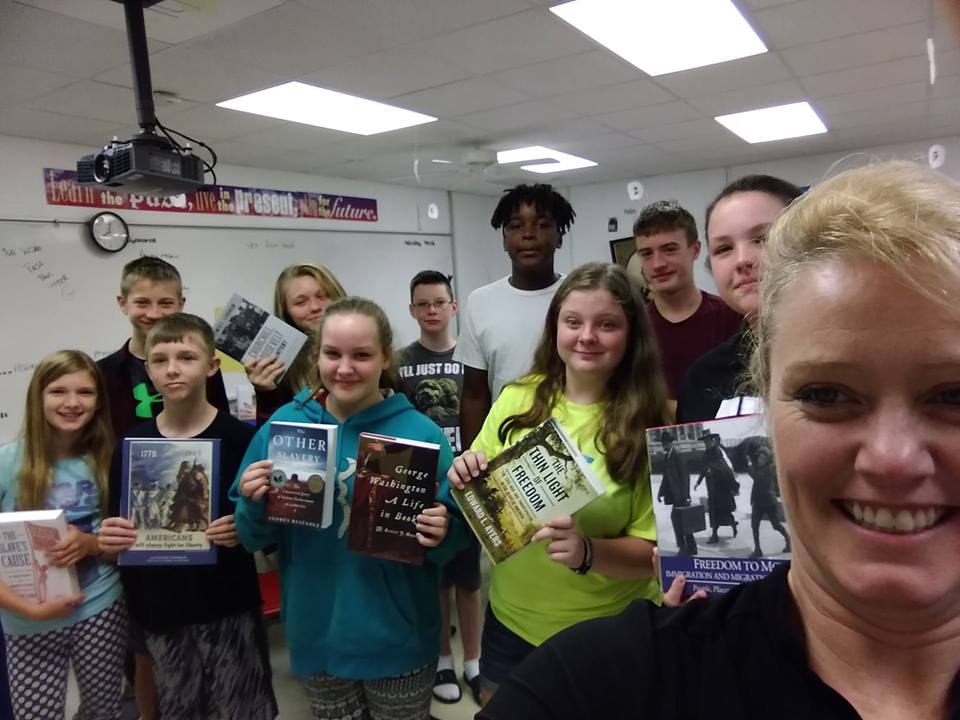 Once I offered extra credit for any student would could get ten signatures on a petition to end woman's suffrage. My students will never forget women's suffrage because many female teachers signed their petition!
Tell us one fun historical fact about the town you live in or grew up in.
In 1940, as he campaigned across the state for a US Senate seat, Harry Truman visited my home town of Cuba, Missouri. Legend has it that he decided to give a speech and became perplexed as to why no one would stop to listen to him. He soon learned that the locals preferred attending the county fair over listening to a politician. No worries for Truman; he just took his speech to the county fair.
What was the last great history book you read?
Unbroken: A World War II Story of Survival, Resilience, and Redemption by Laura Hillenbrand
What is your favorite historical site or museum?
I love Gettysburg, Colonial Williamsburg, Boston's Freedom Trail, Chicago's Field Museum of Natural History, and anything to do with the Smithsonian.
If you could travel back in time and meet any historical figure, who would it be and why?
Wu Zetain, the only female emperor in Chinese history. She controlled an empire in an era when women were considered unfit to rule. Or, maybe agent 355. She was a spy for the patriot forces during the Revolutionary War. Her name was never revealed, but it is suspected that she played a key role in uncovering Benedict Arnold's treason.
What is your favorite historical film or series?
HBO did a fantastic miniseries adapting David McCullough's biography on John Adams.
Do your students have a favorite historical topic or era?
Over the fourteen years I've taught, my students seem to have the most interest in eras that deal with battles—I think because this is when we see the greatest changes happen in history.
What advice would you give to young people, in high school or college, who may be considering a career in education but are unsure?
The biggest thing individuals need to ponder when considering teaching as a career is whether they have a passion for their subject area. The teacher sets the tone and excitement level of the classroom. If you have no passion for what you do, it will show. Oh, and be sure to visit and/or substitute at varied levels of education. Some of us are designed for elementary, some for high school, and the rest of us are just crazy enough to love middle school.
---

Click here to nominate a teacher for the 2019 state and national awards.