Mormons Arrive in Salt Lake: On This Day, July 24
Posted by Kristin Miller on Sunday, 07/24/2016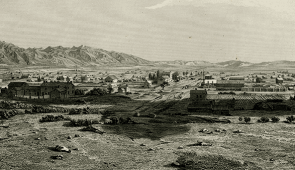 From the time of the founding of the Church of Jesus Christ of Latter-day Saints in 1830, its members, also known as Mormons, faced persecution. In 1844, the church's founder, Joseph Smith, was murdered in Illinois. Seeking a safer place to settle, a large group of Mormons emigrated to the Salt Lake Valley, arriving on July 24, 1847. There they established the religious state of Deseret.
Fourteen years later Samuel Russell, his mother, and his sisters emigrated to Salt Lake. The next spring, Russell joined a "down-and-back" wagon train to escort new pioneers to the settlement. It was a six-month round-trip for the wagon crews.
In this letter, dated June 10, 1862, Russell describes some of the hazards he and his crew encountered on their journey from Salt Lake City:
'Tis 3 weeks last friday since we left the city. all day Saturday we lay in emigration & on Sunday ascended the little mountain & began our mud & water march which held good untill we had crossed Hams fork  The road from the little mountain by way of parleys park – to the weber & till we got out of Echo was one of the roads you seldom read about  in that time we had 13 turnovers 30 or 40 times to unload stuck wagons, after hitching on oxen and breaking by chains 'till we found it would not pay, One individual wagon has been to unload 11 different times.
You can read Mormon settler Samuel Russell's complete letter about his journey here.