New World War II acquisition: Pearl Harbor patriotic poster from 1942
Posted by Sandra Trenholm on Monday, 11/26/2012
Following the Japanese bombardment of the US Naval base at Pearl Harbor, Hawaii, on December 7, 1941, the United States declared war on Japan and Germany and immediately mobilized the country for war. "Remember Dec. 7th!" is a propaganda poster intended to promote a sense of nationalism and boost support for the war effort. It combines imagery suggesting the destruction of the base—smoke and a tattered American flag—with a quotation from Lincoln's Gettysburg Address: "We here highly resolve that these dead shall not have died in vain." Invoking Lincoln could both give comfort to Americans and remind them of the sacrifice of previous generations.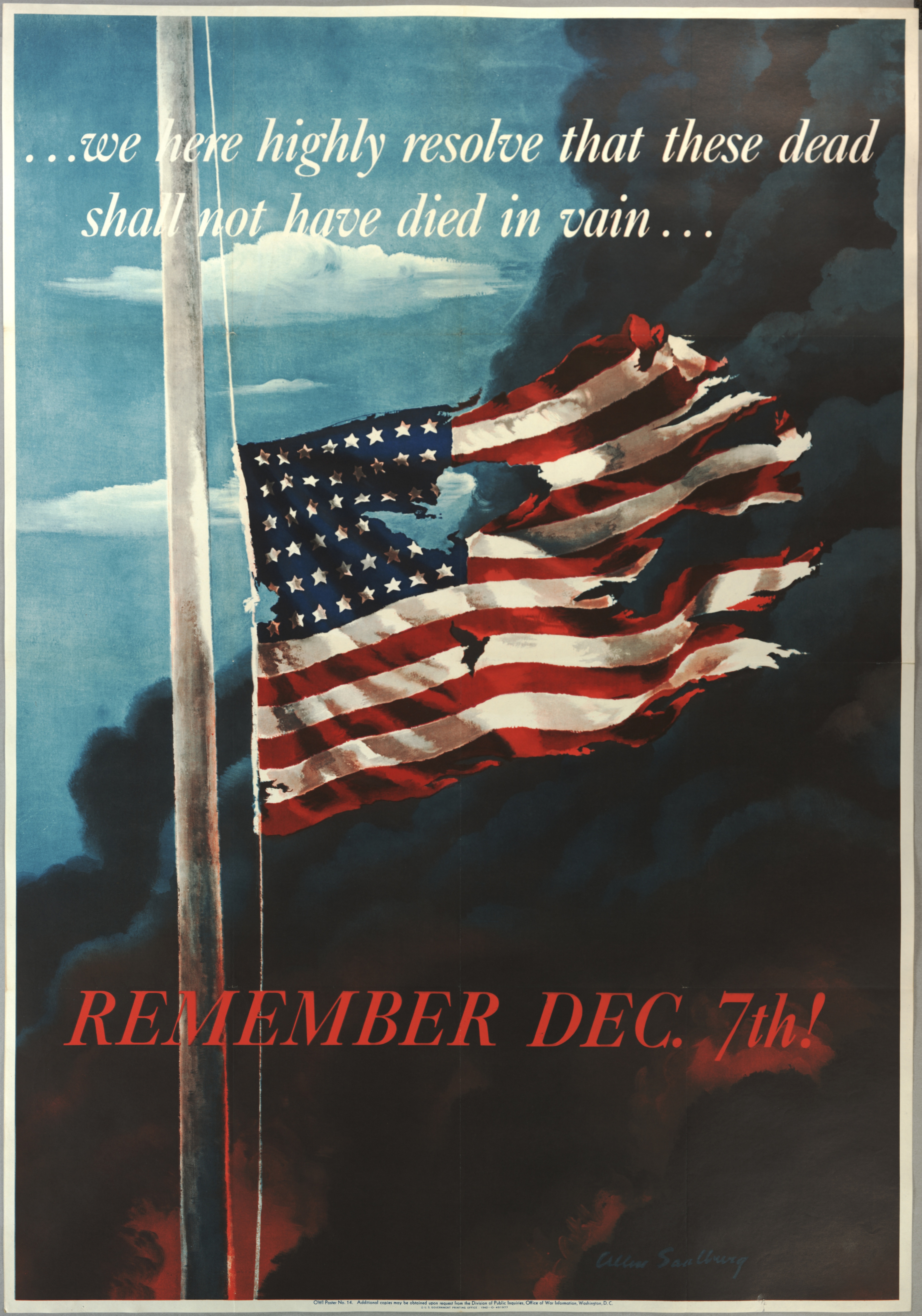 Printed early in 1942, it uses the phrase "Remember Dec. 7th" rather than "Remember Pearl Harbor," which is a slogan that became prevalent later in the war.
This poster, along with nearly forty others, was recently acquired by the Gilder Lehrman Collection to expand our World War II holdings. The new acquisitions cover military recruitment, food and metal conservation, nursing recruitment, and buying war bonds.
You can explore many of our World War II holdings in our online catalog, or review some of our soldiers' collections highlighted below.
Hilldring served as a major general, assistant secretary of state, and first director of the Civil Affairs Division within the Office of the Chief of Staff (US military government in Europe and Japan). His collection includes documents, photographs, military awards, personal effects, an American flag, and a captured Korean flag. His scrapbooks contain photographs of Berlin and concentration camps.
Sidney Diamond (1922–1945) enlisted into the American Armed Forces in mid-April 1942, interrupting the chemical engineering degree that he was undertaking at City College in New York City. Diamond was sent to the South Pacific in June 1943, where he served as first lieutenant in the 82nd Chemical Battalion. On January 29, 1945, Diamond was killed by a Japanese knee mortar while acting as a forward observer during an assault on Fort Stotsenburg, north of Manila. Throughout his time in service, Diamond maintained a lively correspondence with Estelle Spero, his sweetheart and subsequently fiancée, who preserved his letters. An inventory is available.
Henley was a member of the 2nd Squad, 1st Platoon, "G" Company, 3rd Battalion, 29th Marines. The collection includes photographs, photo albums, his squad book, a telegram and a letter to his wife, three medals, a certificate showing he fought in China, a Japanese flag he brought home from Okinawa, and other miscellaneous items. The photographs are from China, the Pacific, Okinawa, US Armed Forces, devastation from the war, and Japanese POWs and dead.
This collection includes approximately 1500 letters primarily between Sylvia Greenfield Weiner and her husband Morris "Moe" Weiner. Moe Weiner served in the US Army Quartermaster Corps from 1943 to 1946. He trained at Fort Lewis, WA, and elsewhere and then was posted to England, where he served from 1944 until his discharge in 1946. Morris traveled in Europe after VE-Day before returning home. Sylvia Weiner was employed as a social worker when the United States entered World War II.
Frank Follweiler kept a journal written while he was on board Tank Landing Ship LST-383 during the D-Day invasion. Many of the diary entries are short notations. "Left . . . Eng. Mon. June 5 for our fourth invasion . . . D-Day is Tues June 6 . . . Arrived Tues June 6 at 4 PM Bad Weather could not unloaded . . . thousands of planes filled the sky we seen the gliders come and also the parachute troops."; with ID bracelet, Occupation arm patch, campaign ribbon, cigarette lighter, etc.
This collection includes materials written by Patton to Rene and Frank Stockdale, with a signed and dated 3-star general's flag. The letters, written to two personal friends in Britain during the last eighteen months of World War II, chronicle Patton as his Third Army swept through Italy, France, and Germany. The earliest letter dates to twenty days before Patton was appointed commander of the Third Army. The correspondence includes letters relating to Patton's car accident: "It seems unfair that a man who had gone through as much as he had during the war should be crippled by a silly automobile accident." Patton died three days after the date of this letter.
Ten panoramic photographs of various African American World War II units include Company "G" 11th QM Training Regiment, Camp Lee, Virginia.